Harry Styles has a twin, and he works at Starbucks.
The employee was discovered by a car full of teens, who shared the experience via TikTok. There, the video has racked up more than 262,000 likes and nearly 2,000 comments from stunned fans. The video prompted the internet to briefly come together, joined in its search for the Styles lookalike.
The short video shows the lookalike, whose name is Sean according to his name tag, simply performing his job. The teens in the car, obviously blown away by his resemblance to Styles, can hardly contain themselves in the video. "Are you Harry Styles," one of them asks. Just after, the driver informs Sean that he resembles the 25-year-old musician, to which Sean simply replies "thanks."
https://twitter.com/90lwts/status/1218829944412868613
User @fridasakaj posted the video to TikTok, and in no time it was picked up by users all over the web. After Twitter user @90lwts shared it—earning the post nearly 11,000 likes and 1,500 retweets—the hunt for Sean, Harry's long-lost twin, began in earnest. People from all over flocked to the post, searching for the Starbucks in the video.
https://twitter.com/MaccaStrawberry/status/1218968416867905536
https://twitter.com/ninabubblygum/status/1219042208696934400
One of the teens in the video, Colin Cardwell, even responded to @90lwts Twitter post and was quickly pounced on by thirsty users questioning after the Starbucks location. He did not share the location.
WHERE WAS THE STARBUCKS

— bri ⁷ AGUST D-2 (@jcmisvu) January 20, 2020
A wave of people flooded the post, hunting for Sean and his Starbucks. When many of them realized they may never meet Harry's lookalike in person, they instead began hunting for his online profiles.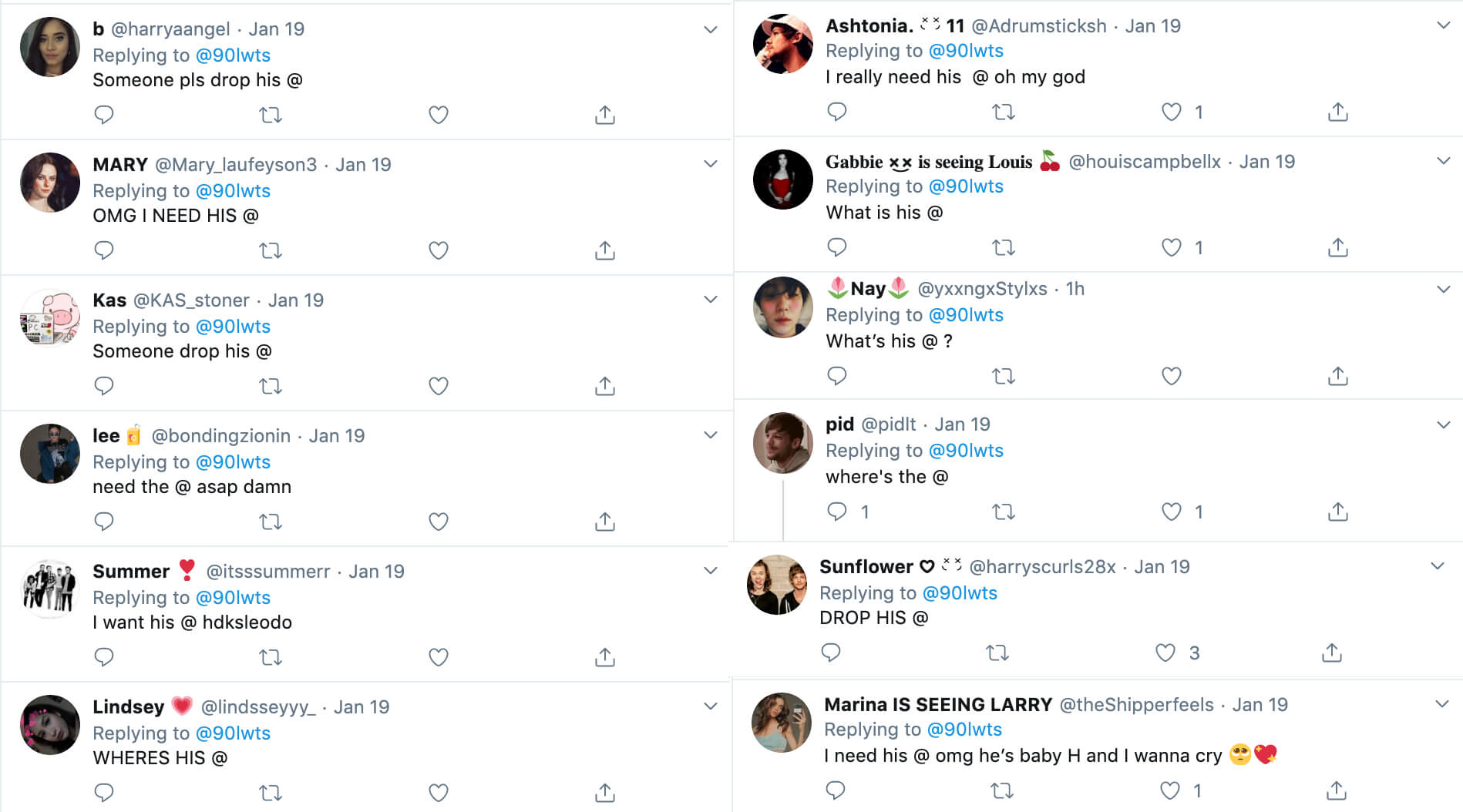 The Twitter user who shared the video did, ultimately, manage to track down Sean's online presence. They did not share it with the other eager Styles fans. "FOUND MANS @ FINALLY LMAO," they wrote.
FOUND MANS @ FINALLY LMAO

— anna (@90lwts) January 20, 2020
Despite the overwhelming consensus that Sean is cute as all get-out, not everyone thinks he looks like Styles. Several other comparisons were drawn, but the majority of people agreed that if he doesn't look like Styles, he definitely looks like Dylan O'Brien from the Maze Runner films.
If Harry Styles and Dylan O'Brien had a child, that's how he would look like

— A♒ (@xalexhaikx) January 19, 2020
https://twitter.com/sumaiya_aimi/status/1218989794350522369
One user even saw Evan Peters from American Horror Story in Sean's beautiful face.
I see Evan Peters

— junky #renewannewithane (@Torix_xoxo) January 21, 2020
Many people are still hunting for Sean's online profiles, but at least a few have managed to track him down. Whether or not he's ready for it, chances are good that this Starbucks employee's follower count is about to skyrocket.
---
NOW HEAR THIS:
How the Teens of TikTok Are Finding Empowerment

Introducing 2 GIRLS 1 PODCAST, a weekly comedy show where Alli Goldberg and Jen Jamula (two actors who perform bizarre internet content on stage) have hilarious and humanizing conversations with Bronies, top Reddit mods, professional ticklers, video game archaeologists, dating app engineers, adult babies, cuddling specialists, vampires, Jedi, living dolls, and more.
Subscribe to 2 GIRLS 1 PODCAST in your favorite podcast app.
---
READ MORE:
H/T Capital FM