Here at the Daily Dot, we swap GIF images with each other every morning. Now we're looping you in. In the Morning GIF, we feature a popular—or just plain cool—GIF we found on Reddit, Canvas, or elsewhere on the Internet.
The Big Apple ain't easy. There are an estimated 8 million stories in Gotham, all jostling for billing. And that's just the ones who live there.
New York City has been a magnet for out-of-towners since its founding, when the Dutch simply couldn't keep the English out of it, and before that, when the Dutch surprised the people living on the land by declaring that it belonged to the Dutch now. The constant influx of people who don't know how to be New Yorkers brings an Eternal September phenomenon, wherein old-timers sigh heavily, wave the newbies over, and have long, meaningful conversations which begin, "Look, kid…" and end with someone losing his apple-cheeked innocence.
New Yorker Nathan Pyle has created a graphic GIF guide to tips and etiquette chez NYC: revolving door rules, subway suggestions, clues about cabs, shoe sense, and more. Time moves fast in the city, so his four and a half years qualify him as a Real New Yorker (except to people born there; they have all, however, moved to Newark or Arizona). He plans to put them into a calendar or a book or some other project eventually, but for now, they reside on his Blogspot blog.
We like this one for its essential New Yorkness: Look, some things just don't work. It's how the city works. Don't ask questions. Don't fight it. Just freaking deal already. You're in New York, goddammit.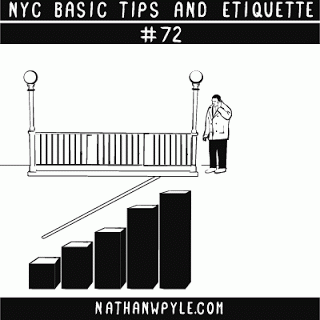 GIF by Nathan Pyle/Blogspot