GameStop spread out its annual conference (which became virtual thanks to the COVID-19 pandemic) for store leaders over several months with plenty of chances for employees to participate in contests. But one of those contests easily became more scrutinized than the rest.
The Incisiv TikTok Dance Challenge, according to the listing on GameStop's conference page, is more or less what the title suggests. It's a contest where store leaders can recreate TikTok's Red Wine Challenge that went viral a few months back—while not mandatory, store leaders are encouraged to get their teams involved—and upload a YouTube or Instagram link to a designated website.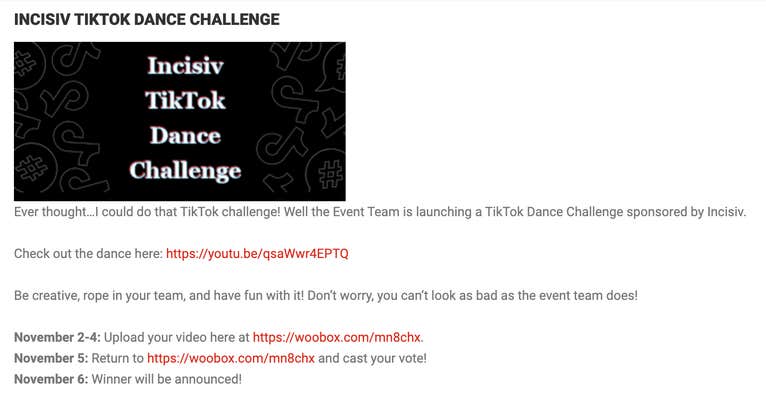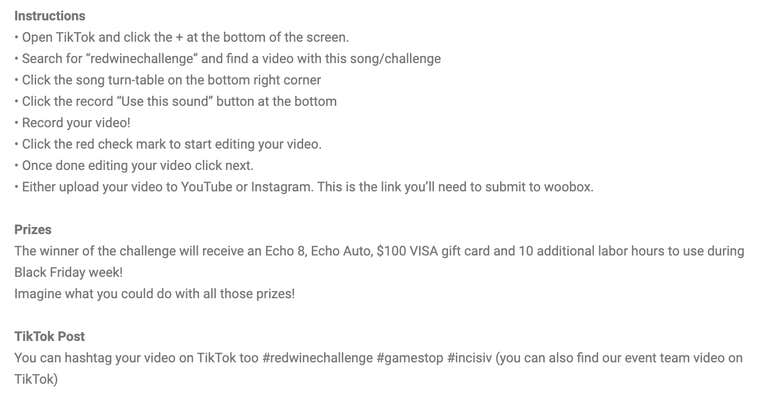 GameStop even provided an example of what it should look like.
The grand prize? The chance to win "10 additional labor hours to use during Black Friday week," among other prizes.
"Imagine what you could do with all those prizes!" the post reads in a cheery tone.
The contest rules have since been removed from GameStop's website, and according to a Reddit poster on r/GameStop, a Facebook post advertising the contest was removed after the post "received mostly negative feedback." However, the site where GameStop employees can upload their TikTok videos is still live, as is the page where a handful of entries have been uploaded.
And as more people learned about the contest online, they couldn't quite believe that not only was it a real thing but also that the prize is the opportunity to work more. Some highlighted the conditions of how awarding hours at GameStop worked—and just how it rarely benefited the people who work there.
"Every store is allotted a certain number of hours to staff their workers," @bluucircles explained. "You're not allowed to go over those hours. GameStop is now literally making employees dance for more hours."
Competing against fellow employees through dance so that a corporation can award a store 10 hours so people are actually paid for doing their jobs? Sounds kind of dystopian. But also, GameStop tried to stay open when the initial coronavirus lockdowns took place earlier this year and argued that it was an "essential business" as cases rose in parts of the U.S., so maybe it's not that much of a stretch.
Must-reads on the Daily Dot
H/T Kotaku