Game of Thrones is already full of musicians, but the hit HBO show just landed its biggest pop star yet.
Fans are buzzing about the appearance of Ed Sheeran in the season 7 premiere, donning the Lannister red and playing a song that caught Arya Stark's ear. While he was impossible to miss, many of the other cameos have flown under the radar until after the episodes have aired—and even those whose appearances were announced previously have been difficult to spot in Westeros. For instance, the National recorded a rendition of "The Rains of Castamere" well before the Icelandic band Sigur Rós performed it on the show. Here's every musician we've encountered thus far.
Every musician cameo on Game of Thrones
1) Gary Lightbody, Snow Patrol
The Snow Patrol front man's involvement with Game of Thrones came early during the filming of season 3. He eagerly shared a photo of himself in costume online a few days after posting a photo of himself with showrunners David Benioff and Dan Weiss.
Lightbody plays a musician among Roose Bolton's men, who've captured Jaime Lannister and Brienne of Tarth in the season 3 episode "Walk of Punishment." Curiously enough, he's performing "The Bear and the Maiden Fair," which is also the title of a future episode when Jaime saves Brienne from a literal bear pit.
2) Will Champion, Coldplay
Is Coldplay harboring a cold-hearted killer with their drummer? Champion makes a blink-and-you'll-miss-it appearance as a drummer who performs at the wedding of Edmure Tully and Roslin Frey, which you'll know better as the Red Wedding.
Although Champion is an accomplished drummer in real life, Catelyn Stark notes in A Storm of Swords that the musicians playing are pretty terrible. That's because the musicians are actually sellswords and knights who signal the start of the massacre when they begin to play "The Rains of Castamere."
Later on, Champion comes full circle as part of Coldplay's Game of Thrones musical for Red Nose Day.
3) Orri Páll Dýrason, Georg Hólm and Jón Þór (Jónsi) Birgisson of Sigur Rós
Would Joffrey Baratheon still have dismissed the musicians who played "The Rains of Castamere" at his own wedding if he knew who they were? Probably. What did they play? You guessed it, "The Rains of Castamere."
After "The Lion and the Rose" aired, Sigur Rós released it on iTunes and YouTube for their fans to listen to in full, with plenty of snarky comments to follow.
4) Brann Dailor, Bill Kelliher, and Brent Hinds of Mastadon
The Atlanta Georgia-based metal band wasn't long destined for the land of the living in Westeros. Almost just as soon as we were introduced to the band members, who played wildling extras in "Hardhome," they were killed and rose again as wights.
READ MORE:
Since their deaths and reawakening at Hardhome, members of Mastodon have appeared on two more episodes of Game of Thrones, which might make them more like "recurring guest stars" more so than proper musician cameos. Drummer Bran Dailor can be spotted in the season 7 premiere, titled "Dragonstone," in one of Bran Stark's visions of the Army of the Dead beyond the Wall.
Bill Kelliher and Brent Hinds showed up in the season 7 finale, "The Dragon and the Wolf" as wights who stood at a standstill as the Night King and Viserion took down the Wall with blue flames.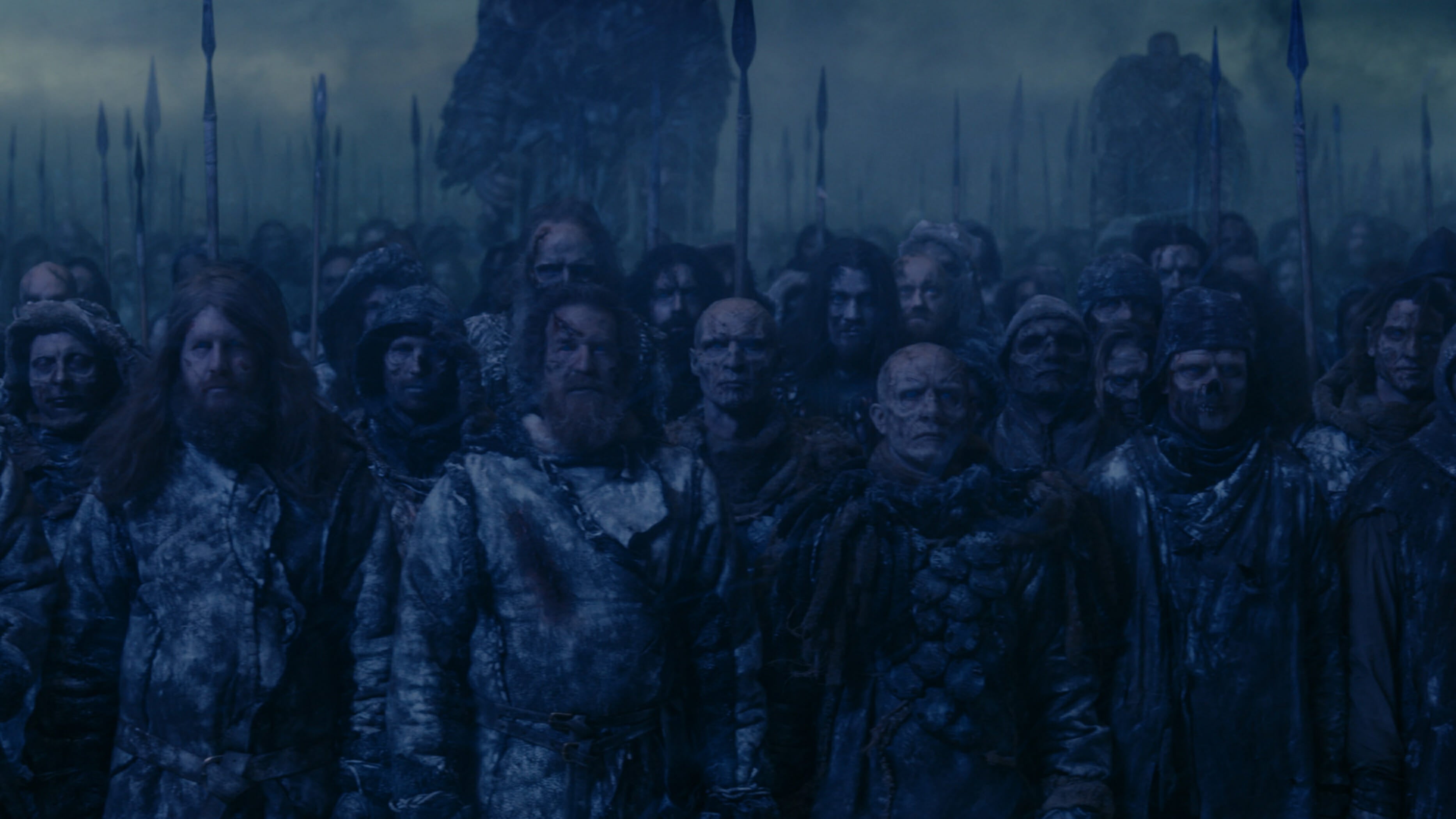 5) Of Monsters and Men
Icelandic indie folk band Of Monsters and Men made a cameo during the show's sixth season. The photos of lead singer and guitarist Nanna Bryndís Hilmarsdóttir, Ragnar "Raggi" Þórhallsson (who sings and plays guitar), and Arnar Rósenkranz Hilmarsson, the band's drummer, were originally thought to be just extras before a reader on Watchers on the Wall spotted the band members. Instead, they appeared as a traveling band in Braavos in the brutal episode, "The Door."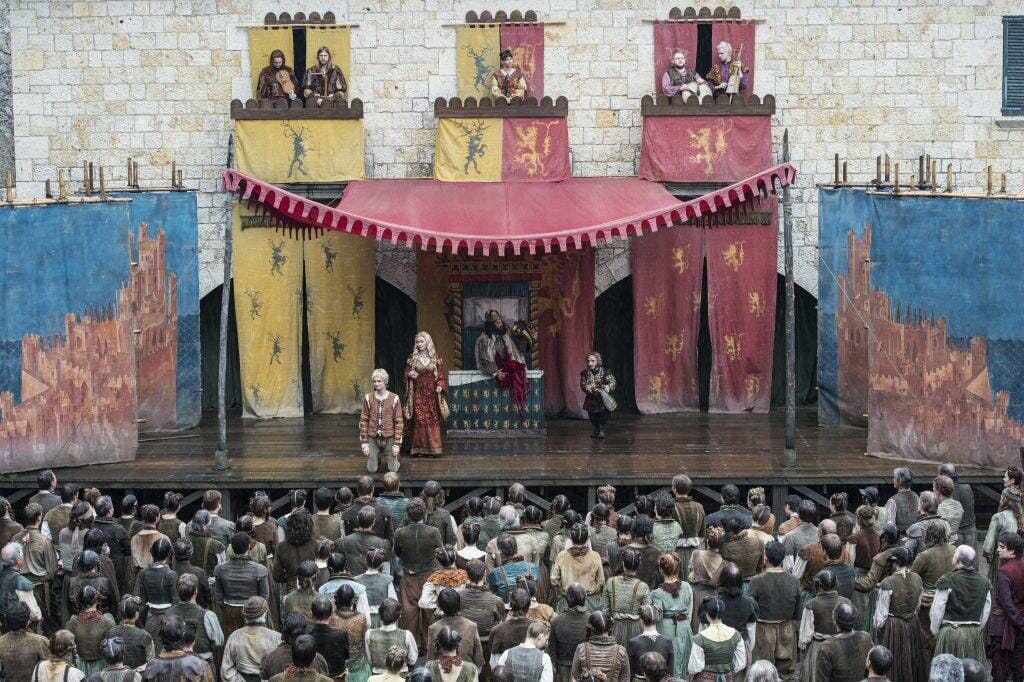 Ed Sheeran's appearance in season 7 of Game of Thrones was confirmed by showrunners David Benioff and D.B. Weiss revealed at SXSW, but nobody expected him to be in the season premiere or to have as much screen time. If anything, the camera focused a little too much on Sheeran, making sure fans realized it was the British singing and what family colors he was wearing.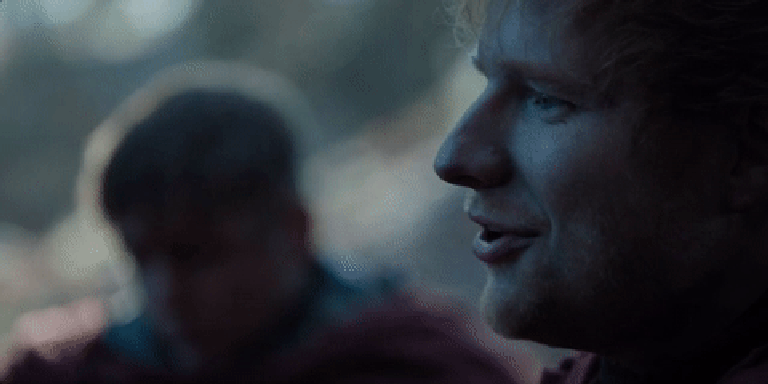 It's an interesting scene, to say the least: The campfire banter allowed Arya to catch up on what had happened to King's Landing while learning more about the Lannister men. As for the song Sheeran sings, it has its origins in A Storm of Swords and is originally sung by Symon Silver Tongue. And while Symon pledged to sing to Cersei and Tywin Lannister, the song is actually about Tyrion and Shae. 
He rode through the streets of the city,

down from his hill on high,

O'er the wynds and the steps and the cobbles,

he rode to a woman's sigh.

 

For she was his secret treasure,

she was his shame and his bliss.

And a chain and a keep are nothing,

compared to a woman's kiss

For hands of gold are always cold, but a woman's hands are warm…
Tyrion orders Symon killed instead of paying. What does it all mean for Ed Sheeran? Who knows, but his days are likely numbered.