If you've ever wanted to read the entire run of Marvel's Black Panther, now's the time. The digital comics site Comixology just launched a temporary sale offering (almost) every single Black Panther issue for free, available to anyone with a Comixology account.
Comixology didn't make any kind of public announcement, but this offer is certainly a tribute to Chadwick Boseman. His depiction of Black Panther was widely celebrated, inspiring a surge of love for the character and his home country of Wakanda. The Comixology sale includes 256 issues dating back to the 1970s, a catalog that under normal circumstances would cost hundreds of dollars to buy.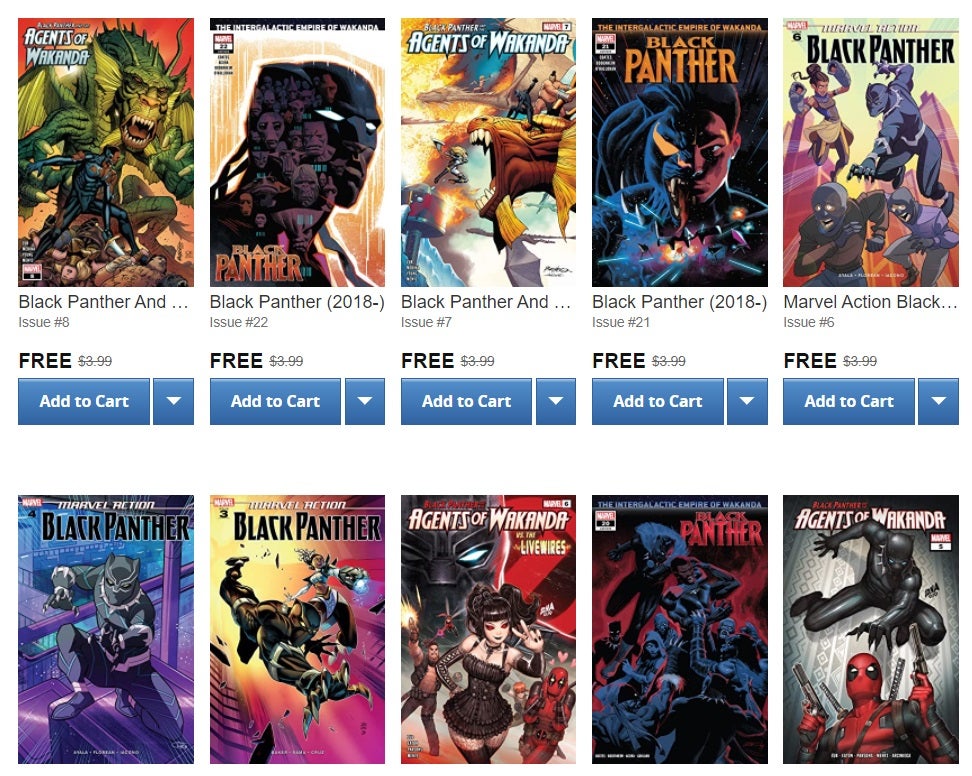 Black Panther—aka King T'Challa of Wakanda—was introduced in a 1966 issue of Fantastic Four. This comic set the scene for Wakanda's superior technology, along with T'Challa's personality and his complicated relationship with Marvel's American heroes. However, it also has some pretty racist undertones, like many Marvel comics in the 1960s.
Over the next few decades, Black Panther became a prominent character in the Marvel universe, headlining his own solo series and joining the Avengers team. But he didn't really get his due until the 21st century, when he (and various other Wakandan characters like his sister Shuri) began to star in more mature and thematically complex storylines of their own.
You can check out the highlights in our ultimate guide to classic Black Panther comics, and for more recent titles, we have an obvious recommendation: The ongoing 2016 Black Panther relaunch written by Ta-Nehisi Coates and drawn by Bryan Stelfreeze, which earned widespread critical acclaim.
To get your hands on those free digital comics, it's a simple matter of creating a Comixology account, adding them all to your basket, and "buying" them so they're in your library before the sale ends. It's not clear how long the offer will last, so you should probably get started ASAP.
---
Today's top stories