President Donald Trump on Wednesday tried to mock House Speaker Rep. Nancy Pelosi (D-Calif.) by tweeting out a photo of what was reportedly a very contentious meeting at the White House, saying she had a "meltdown."
However, the attempt at mocking may not have had the desired effect Trump was hoping for—as the photo quickly drew thousands of people to praise Pelosi for standing up to the president.
The meeting, according to the New York Times, began as an update on the situation in Syria but quickly devolved into name-calling. Depending on who recounted the meeting, the name-calling led to people storming out.
Following the meeting, Trump tweeted that Pelosi had a "meltdown" (attaching the photo) and that the Democrats "stormed out of the Cabinet room."
Meanwhile, according to the Times, Senate Minority Leader Chuck Schumer (D-N.Y.) said the president called Pelosi a "third-rate" politician and that Trump said he "didn't want this meeting."
"Nervous Nancy's unhinged meltdown!" Trump tweeted, attaching the photo.
Nervous Nancy's unhinged meltdown! pic.twitter.com/RDeUI7sfe7

— Donald J. Trump (@realDonaldTrump) October 16, 2019
Trump's photo—which shows Pelosi standing up and pointing at Trump as members of the administration and several lawmakers sit at a table (some of whom have their heads down)—caught steam online, with people praising Pelosi.
Others pointed out Trump's tweet may not be showing what he hoped it did.
wait…you think…you think this makes HER look bad

that's what you think

okay https://t.co/Sj0qkgFTfo

— Patton Oswalt (@pattonoswalt) October 17, 2019
What I see in this picture is one woman standing tall in front of a sea of men. And doing a better job at it than all of them. Queen. https://t.co/oF0M3iF34s

— Allison Winn Scotch (@aswinn) October 16, 2019
what a visual. Pelosi appears to be the only woman at the table.

just before this moment, Trump called her a "third rate" politician. https://t.co/kYGPcbtVYn

— Sarah Ferris (@sarahnferris) October 16, 2019
A photo for the ages. The most powerful woman in America standing up for our betrayed allies, while all the president's men sit in cowardly complicity.

He tweeted a photo of his own weakness. https://t.co/7ZCHT2gzZR

— Changing Hands Bookstore (@changinghands) October 16, 2019
Oh dummy, you should delete this. She is getting you told and your buds are hanging their heads in shame. https://t.co/Z0KXnN56ko

— Glenda Gilmore (@GilmoreGlenda) October 16, 2019
A guy who claims to be a genius in branding just gave us an iconic official White House picture of Speaker Pelosi standing up to him. For the first time in far too long a time, thank you, Mr. President.

— Adam Parkhomenko (@AdamParkhomenko) October 16, 2019
Then there was this.
https://twitter.com/thereidfeed/status/1184675174806888448
Soon enough, Pelosi's Twitter account had Trump's tweeted photo as the new header picture on her account.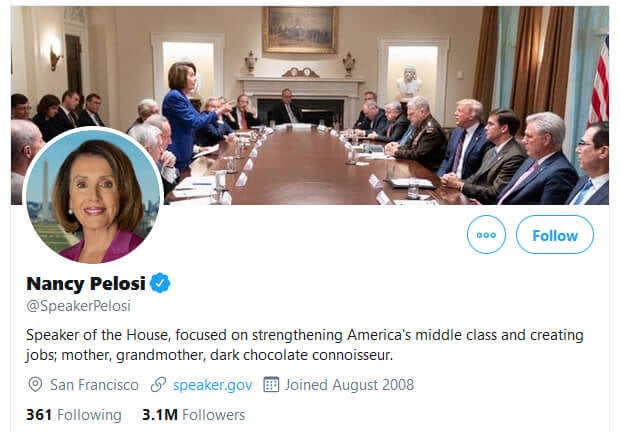 Which is probably not something someone would do if they had a "meltdown."
READ MORE: