The stars meme began taking over everyone's Twitter feeds last week. People copy and pasted different Unicode stars that seamlessly flowed into a corresponding photo. The effect was magical (for a Twitter meme), and it produced surprisingly earnest tweets for a website that often loves roasting and criticizing people.
A couple of days ago, saxophonist and Meme King Kenny G decided to participate in the meme. Kenny G added musical note characters to the stars. He added a photo of himself playing the sax, and he positioned the musical notes in the tweet to look like they are coming out of his instrument in the photo.
It was a perfect addition to the meme. But Dolly Parton had an even better comeback. Yes, Parton can play the saxophone, too!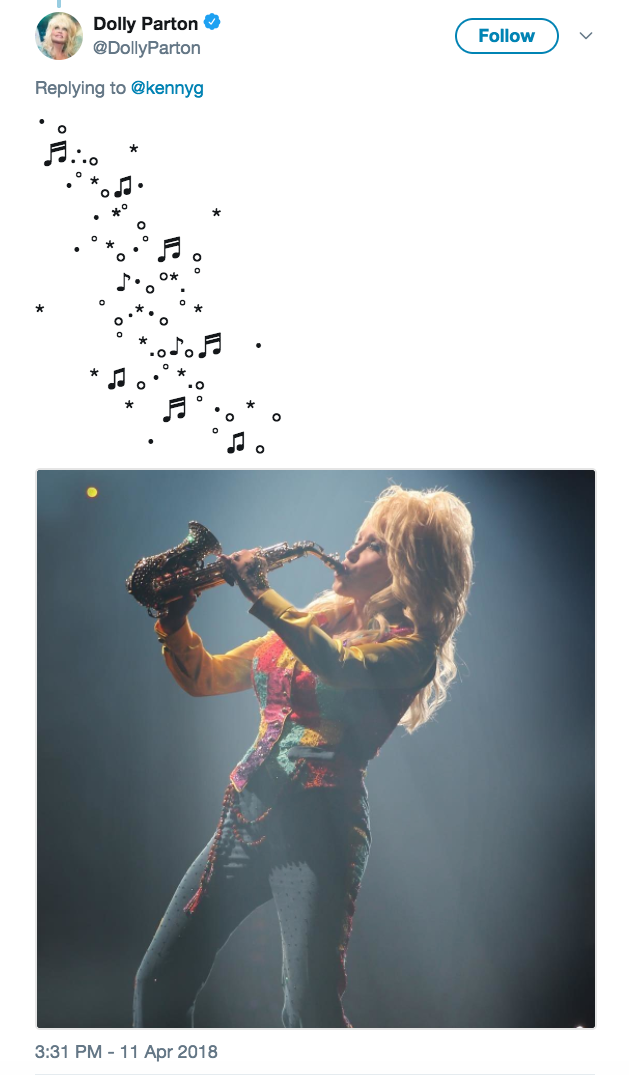 After Parton's response, other people wanted it on this Twitter thread, like CNN anchor Jake Tapper (he included a photo of himself cracking opening a Colt 45).
・ 。
♬∴。 *
 ・゚*。♫・
  ・ *゚。   *
  ・ ゚*。・゚♬ 。
   ♪・。°*. ゚
*  ゚。·*・。 ゚*
   ゚ *.。♪。♬ ・
  * ♫ 。・゚*.。
    * ♬ ゚・。 * 。
    ・  ゚♫ 。 pic.twitter.com/XHwh4qGH61

— Jake Tapper (@jaketapper) April 12, 2018
And Avenged Sevenfold's Synyster Gates.
・ 。
♬∴。 *
 ・゚*。♫・
  ・ *゚。   *
  ・ ゚*。・゚♬ 。
   ♪・。°*. ゚
*  ゚。·*・。 ゚*
   ゚ *.。♪。♬ ・
  * ♫ 。・゚*.。
    * ♬ ゚・。 * 。
    ・  ゚♫ 。 pic.twitter.com/21E6IoBljS

— Synyster Gates (@SynysterGates) April 12, 2018
So who won this Twitter thread? Dolly Parton, obviously. The answer is always Dolly Parton.