We crawl the web so you don't have to.
Sign up for the Daily Dot newsletter to get the best and worst of the internet in your inbox every day.
Hello fellow citizens of the internet! Andrew here. Welcome to today's edition of web_crawlr.

Happy Friday! Our top stories today are about: Orca memes making a comeback in a big way, a ransomware group threatening to release pictures of patients from a plastic surgery clinic in Beverly Hills, former President Trump being left speechless during a recent interview, and how the internet is reacting to Elon Musk appearing to accept a challenge to fight Mark Zuckerberg in a cage match.
After that, our Senior Culture Editor Tiffany has her "This Week on the Internet" column for you.
Since it's Friday, that also means it's time for our weekly news quiz. Scroll down below to answer the question. If you guess correctly, you'll be entered to win a "Blogs in Bloom" shirt!
See you tomorrow!
— A.W.
---
⚡ Today's top stories
With orca attacks continuing, a perfect storm of events led to the orca memes gaining new momentum as a now-viral photo shows one of them getting the microphone.
The internet is reacting with shock, awe, and memes after Elon Musk appeared to accept a challenge from Mark Zuckerberg to fight head-to-head in a cage match.
Former President Donald Trump bragged during an Fox News interview about pardoning a drug dealer, but was left speechless after being informed that his new proposed drug policy would see them executed.
A notorious ransomware gang is threatening to release "pictures of patients" it claims it hacked from a plastic surgery clinic in Beverly Hills, California.
---
We crawl the web so you don't have to. Sign up to receive web_crawlr, a daily newsletter from the Daily Dot, in your inbox each day.
---
🌐 Take our weekly news quiz!
Are you the most online reader of web_crawlr?
Prove it by answering our question of the week! The answer can be found somewhere in one of our newsletters from this week.
If you answer correctly, you'll be entered to win our brand new "Blogs in Bloom" shirt, and we'll shout out five people who won the shirt!
A delivery driver recently went viral for issuing a PSA urging people to stop lying on a certain app to get free food. Which app was he talking about?
Think you know the answer? Sign up for web_crawlr so you can answer next week's question!
---
🗣️ This Week on the Internet
The virality of the Titanic sub incident is teaching everyone about the depth of the ocean
In each edition of web_crawlr we have exclusive original content every day. On Fridays our Senior Culture Editor Tiffany Kelly recaps the most pressing online discourse of the week in her "This Week On The Internet" column. If you want to read columns like this before everyone else, subscribe to web_crawlr to get your daily scoop of internet culture delivered straight to you inbox.
---
🕸️ Crawling the web
Here is what else is happening across the 'net.
✈️ One family's attempt to go on vacation apparently ended in serious disappointment after their passports were allegedly stolen aboard a flight.
🤖 This worker used AI to create her resume, and got a callback from every single company she applied to.
🚗 A Tim Hortons drive-thru customer found themselves an inadvertent eavesdropper on a private work conversation during her recent trip to the restaurant.
⛔ A recent TikTok video has a clear on-screen message for online sellers: "BEWARE OF SCAMMERS IF SELL ON DEPOP."
💡 Make tonight the Cage of Enlightenment with the top 10 must-watch Nicolas Cage movies you can stream right now.*
👀 In an era where more and more people are concerned with their digital privacy, a recent video has shed light on the extent to which employers can spy on their workers using apps like Microsoft Teams.
☕ A former Starbucks worker's recounting of a time when a customer's response to a simple mistake caused a physical manifestation of her anxiety is resonating with viewers.
🖱️ From the Daily Dot archive: Can we ever get back the excitement of logging on?
📺 A new teaser trailer for Zoey 102, Paramount+'s Zoey 101 sequel movie, shocked longtime fans with its debut.
*The Daily Dot may receive a commission in connection with purchases of products or services featured here.
---
📅 Meme of the Week
We love a new object labeling meme template.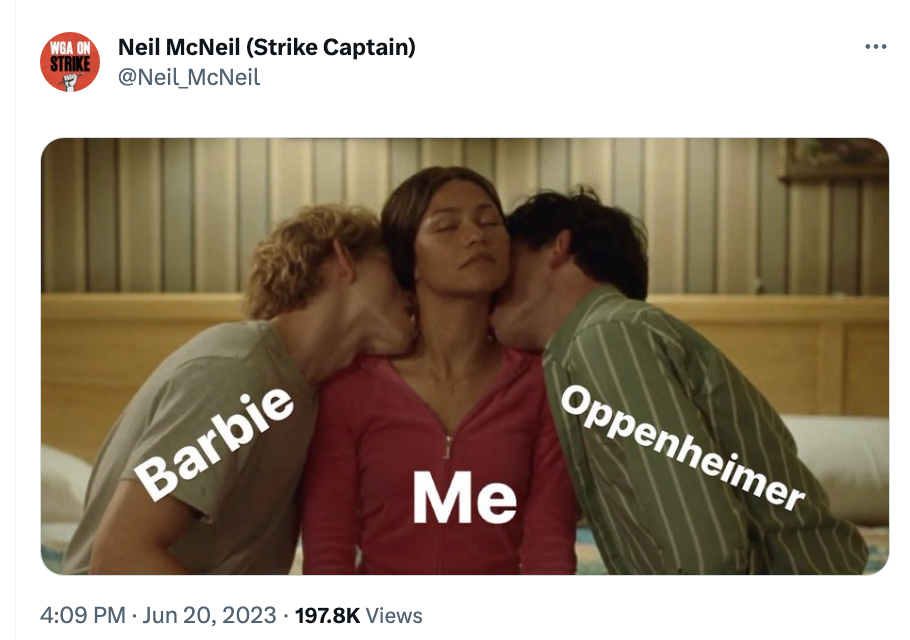 ---
🎶 Now Playing: "Movies" by Weyes Blood 🎶