You can find almost anything on the internet. Few things on the web, however, are as pure as one simple, wonderful YouTube channel: "Dad, How Do I?"
This incredibly wholesome YouTube channel was created by and solely features Rob Kenney. According to an interview with Shattered Magazine, Kenney has been contemplating the channel for years but didn't have the time until quarantine reared its head. Now, the channel has more than a dozen charming, useful videos, all uploaded in the last month or so.
When his own father left when he was 14, Kenney said he was robbed of the option to ask for fatherly advice. Now, he provides it to all the fatherless kids, teens, and full-grown adults out there.
Even users with their own wonderful fathers will enjoy Kenney's content. Each video addresses a different, useful task. His short uploads—the longest video clocks in at just over 20 minutes—teach viewers how to hang a shelf, fix a toilet, and tie a tie. One even educates viewers on "how to be good to yourself." It might be the most wholesome thing the internet has to offer.
These videos are not simple how-tos, either. Kenney makes sure that you get every ounce of dadness he can jam into each upload. In his 'How To Tie A Tie" video, he makes sure to clarify how to choose a tie that goes with your shirt. When he's teaching viewers to be good to themselves, he even includes an acronym out of the word "self." In case you were curious, it stands for "Serving others, Exercise (and Eat right), Learn, and Forgive." Yes, there are two "e's.," don't @ him.
Kenney's videos are intended to provide the important advice society expects fathers to impart. Now we can all learn to shave our faces and use a stud finder with YouTube's most uplifting creator. He even makes dad jokes. What more could you ask for?
Kenney uploads a fresh how-to video every Thursday. As of May 26, he also plans to put out "Tool Tuesday" videos, which will educate viewers about a new tool every week.
Within the last few weeks, in particular, Kenney's channel has blown up. After a few Reddit and Twitter users discovered his content and shared it, his reach spread even further. Now, the entire internet is obsessed with his educational, on-point videos.
People online can't get enough. Once news of his channel was out there, his subscriber count skyrocketed. Twitter commenters noted that his subscriber count, which was at only 88,000 a few days ago, has soared. Currently, the "Dad How Do I?" channel has 1.3 million subscribers.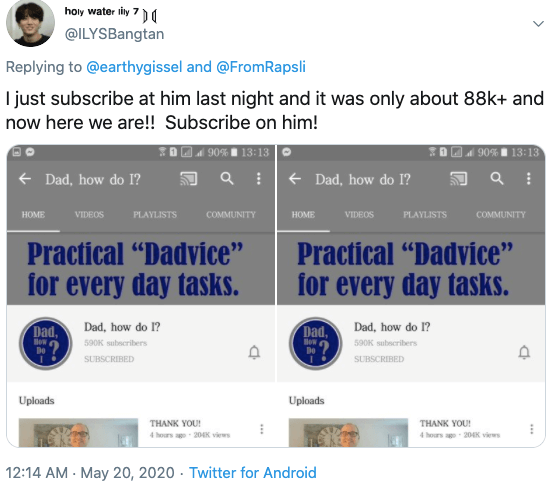 Following his abrupt surge in popularity, Kenney even uploaded a thank you video. In it, he tearfully extends his heartfelt gratitude to all of his new subscribers. As one commenter noted, his bungling of the mandatory dad joke somehow enhances his dad vibes.
Kenney has two adult kids of his own, who presumably learned all of his lessons—and spectacular dad jokes—years ago.
The Daily Dot did not hear back from Kenney by publication time but will update the story.
READ MORE: