One of the most popular games on Twitter right now is making up sets of fake teen texting acronyms. We all know the old standards: LOL, WTF, and LMAO are still just as popular as ever, even if nobody capitalizes them anymore. But this new meme jokes that kids are using the acronyms for low-key texting about communism:
https://twitter.com/NashZachary/status/956961357655609344
or Ratatouille: 
is your child texting about ratatouille?

brb – bring remy butter
lol – lets operate linguini
smh – systematically moving hair
tbh – tiny beautiful hands
stfu – serve the food up
idgaf – i denounce gusteau's a failure
idc – incredibly determined chef
btw – bring the wine

— memes (@memeproviderz) January 15, 2018
or The Great British Bake-Off: 
https://twitter.com/mollylroberts/status/957637939428696064
or Tolkien's Silmarillion: 
Is your child texting about the Silmarillion?

LOL: Lay Of Luthien

FFS: Fëanor Forges Silmarils

LMAO: Look, Melkor, Arda's Over you

TTYS: Túrin Turambar it's Your Sister

STFU: Shoot! The Fearsome Ungoliant!

IMO: Illúvatar's Musical Originality

— elena cecilia (@elena_cecilia5) January 29, 2018
The more obscure the theme, the funnier these memes get. But how did they become so popular all of a sudden?
Jokes about how various parent-targeted guides to teen slang heroically miss the mark have been around forever. Remember when the New York Times got duped about Seattle grunge slang in the '90s? It was brilliant, and people are still talking and writing about it now. And why not? New teen slang guides still come out every month, with varying degrees of accuracy and timeliness.
That same joke has evolved over time into online banter about how moms don't know what LMAO means. The fake acronyms have gotten pretty extreme!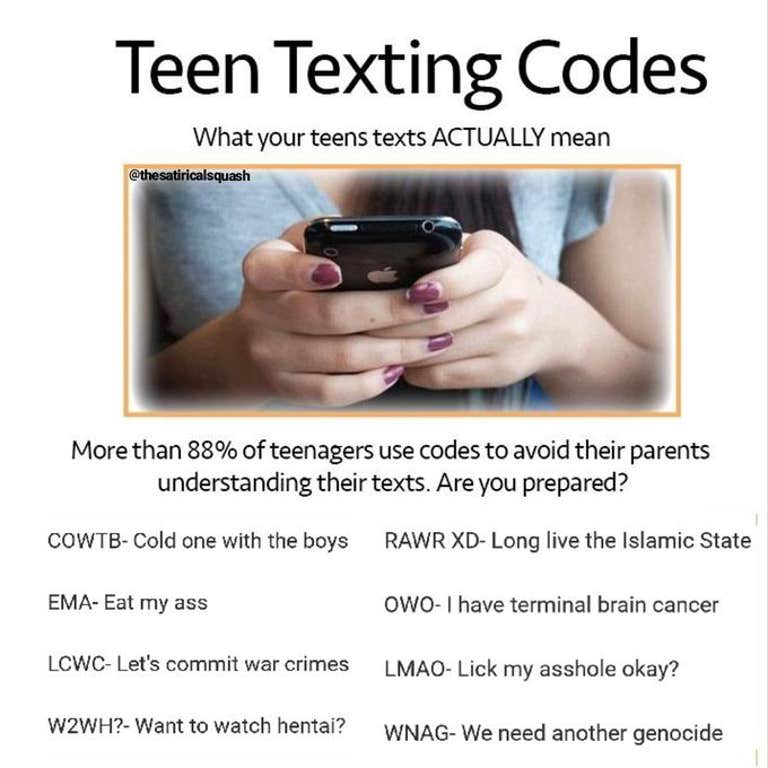 The example that seems to have set off the current boom comes from cyberpunk author Bruce Sterling, who posted "Is your child texting about anarcho-communism?" in September 2017. It went modestly viral on Tumblr and was reposted by popular geek blog BoingBoing.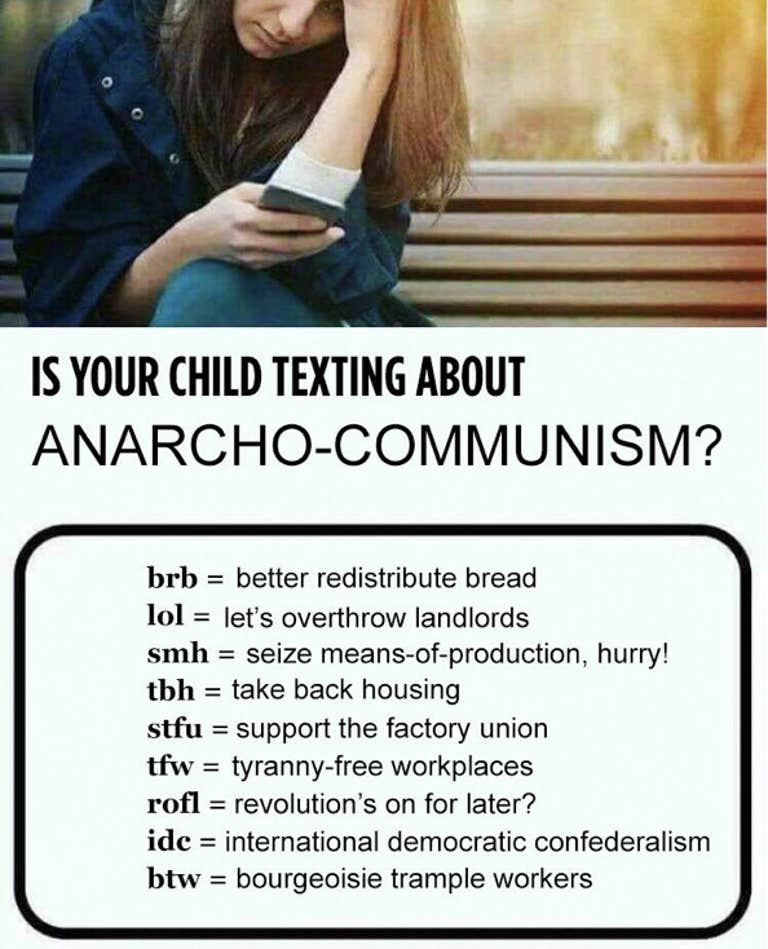 The image Sterling used, borrowed from an earlier "Is your child texting about communism?" meme, became a standard format for "child texting" memes:
https://twitter.com/spillmybIood/status/953930593850372096
Is your child texting about the Victorian Era? pic.twitter.com/UJOmgagwoV

— Women's History Uncovered (@WomensHistoryFB) December 4, 2017
But, on Twitter, most of the memes are totally text-based. These have been around since at least 2012, but when Twitter increased its character limit from 140 to 280 in late 2017, it opened the possibility for longer, funnier versions of the joke.
Now there are dozens of these blowing up the timeline:
Parents, your kids are texting sinners!!
LMAO: Loosening my abortion outfit
TGIF: That's good infused-weed fudge
BRB: Bring ripe boobies
FUC

— єaяƒ ʕ•.•ʔ dæ (@earfdae) August 30, 2012
Is your child texting about the War of 1812?

LMAO – loyalist militia attacking ohio
WTF – warn the federalists
SMH – send more horses
GTG – garrison troops guarding
FML – fort mackinac liberated
BBW – british burning washington

— your bff alex (@psybermonkey) January 25, 2018
has your child secretly been talking online about the mariners?

btw – buhner tuesday why

lol – love our leake

ffs – fly fedora sims

smh – such motter hair

omg – only marco gonzales

lmao – let mitch always outfield

brb – boomstick rounding bases

know the signs

— Editor Joe Veyera (@JoeVeyera) January 28, 2018
Has your child joined a secret Australian birding site?

BRB – Beautiful Rainbow Bee-eater
LOL – Lots of Lorikeets
WTF – Wow! Tawny Frogmouth!
OMG – One More Grebe
BTW – Behold! a Tiny Weebill
AFAIK – Ah Fuck, Another Irritating Koel

— Michael L (@wtb_Michael) January 28, 2018
And some of them have scored a 2-for-1 by referencing other popular memes, like Tide Pods.
Is your child texting about Tide pods?

tbh – tide banquet happening
f2f – far too forbidden
atm – ate tide mouthfuls
pmsl – pods make sublime lunches
stfu – swallowing tide feels unruly
idc – ingesting detergent carelessly

— Bobby Palmer (@thebobpalmer) January 16, 2018
There's even a bot by Darius Kazemi that writes these jokes automatically by pulling phrases from books to match the acronyms:
Is your child texting about Nikolai Gogol's The Inspector-General?

FML: for money lent
WTF: weigh the following
FFS: for fuller satisfaction
BRB: be required by
SMH: system may help
IDC: is directly contrary

— Is Your Child Bot (@isyourchild) January 29, 2018
Is your child texting about Saxo Grammaticus's Danish History, Books I-IX?

IDC: its deviser claims
IRL: is really little
HMU: her mind upon
BTW: by their wondrous
TGIF: that Gretter is first
DTF: desire the flowing

— Is Your Child Bot (@isyourchild) January 27, 2018
It seems, however, that some people are already tired of this game and have taken it to the next level of absurdity: texting memes that reference texting memes.
https://twitter.com/mushbuh/status/957748051275235328
https://twitter.com/jrobertlennon/status/958044805975691267
Is your child texting about the is your child texting meme?

TMI – This Meme's Iterative
WTF – Way Too Forced
OFC – Overused For Centuries
OTT – On The Twitter
IDGI – It Doesn't Get Interesting
LMAO – Let's Make An Original

— LSDean / Dead Bo¥ | Stream I Stopped Waiting (@DeadBoyUK) January 21, 2018
LOL. Which, in teen texting slang, means I am "Loving OnLine" today.