In these starkly divided times we're living in, it seems as though virtually anything can be fodder for fiery debate or discourse on social media. Even something as simple and innocuous as a charcuterie board isn't safe from the internet's ire, as we've unfortunately now learned.
Yes, a charcuterie board—in which a variety of cured meats, cheeses, and various accompaniments are aesthetically laid out, typically on a wooden carving board—has sparked a controversy on Twitter. It all started earlier this week when a woman who goes by "Anjelloca Houston" on Twitter posted a photo of a fancy-looking charcuterie board that she had made for lunch. (She has since locked her account.)
She's got some ham, salami, brie, cheddar or other hard cheese there, as well as gherkins, Marcona almonds, toasts, and jam. All in all, we'd give it a solid 8/10, as far as charcuterie boards go.
So naturally, some troll had to come along and make Houston feel bad about indulging in her lunchtime treat. From a since-deleted account, another user retweeted her, adding the comment, "What rich people eat, I guess."
In a followup tweet, Houston fired back, defending her charcuterie board.
"This is the kind of shit I fucking hate," she wrote. "I grew up on food stamps in the projects. I worked my ass off for every penny I have, which isn't a lot, and which supports me and my parents."
"Don't judge me," she continued, adding that the whole thing had cost her less than $20 to prepare at home.
Charcuterie debate
As Houston's tweet defending her charcuterie board went viral, people began debating whether or not the meal is, indeed, "what rich people eat." Because despite the fact that these boards can often be found on pricey restaurant menus, they absolutely have working-class roots—as many were happy to point out.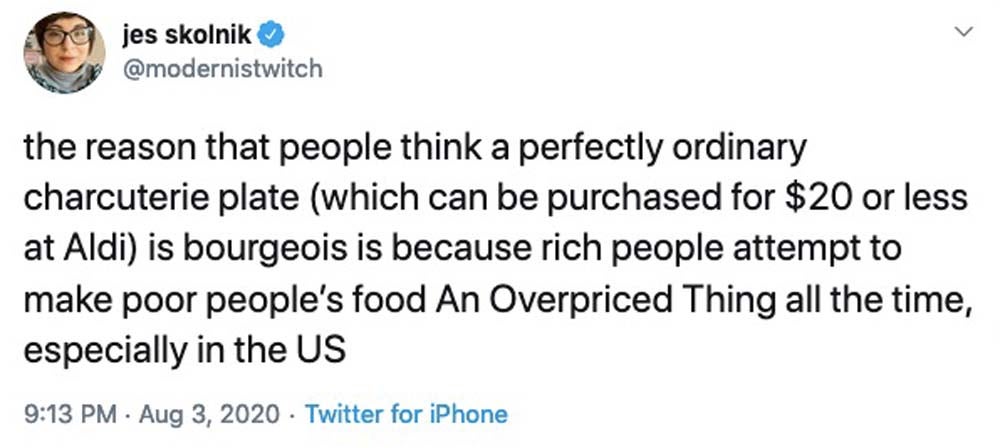 And if you really wanna get into the thick of it, plenty of others made sure to remind us that Lunchables are also technically "charcuterie" by definition. You know, as in the relatively affordable, mass-produced snacks meals parents put in their kids lunch?



As Houston later updated, this charcuterie debacle started because of a "Charc Week" promotion for the Texas grocery chain Central Market and she loves puns.
We should have known that sharks—or "charcs," as it may be—were behind this the whole time. Maybe Trump is onto something here with his vehement dislike of the underwater predators, after all.
READ MORE: