Video games are always a popular choice for Christmas. Unfortunately, one kid didn't receive the game he asked for: Big Chungus.
What is Big Chungus?
On Dec. 7, a Colorado GameStop manager named Justin Laufer shared a bizarre story about a GameStop employee's mom asking for Big Chungus, a PlayStation 4 game featuring a pear-shaped Bugs Bunny on the cover. Supposedly, the Big Chungus game is developed by No Man's Sky's Hello Games, features Dante from Devil May Cry, and is rated AO for Adults Only. But that's not the whole story.
Is the Big Chungus PS4 game real?
The Big Chungus game isn't real of course, but the poor, anonymous mom wouldn't know better. She ended up running over to a Colorado GameStop and asking for the game as a Christmas gift.
"I just had a customer come in to my store, sweet lady, who was trying to pick up a game for her son who works at a GameStop in another state," Laufer said on Facebook. "And she showed me the picture of the game and asked me if I had it in stock. As I [refrained] from laughing out loud I said um ma'am I think this is a joke."
The Big Chungus meme quickly took off, thanks in part to its emergence on Twitter and a backlog of Big Chungus video game covers designed by the meme's original creator, redditor u/GaryTheTaco.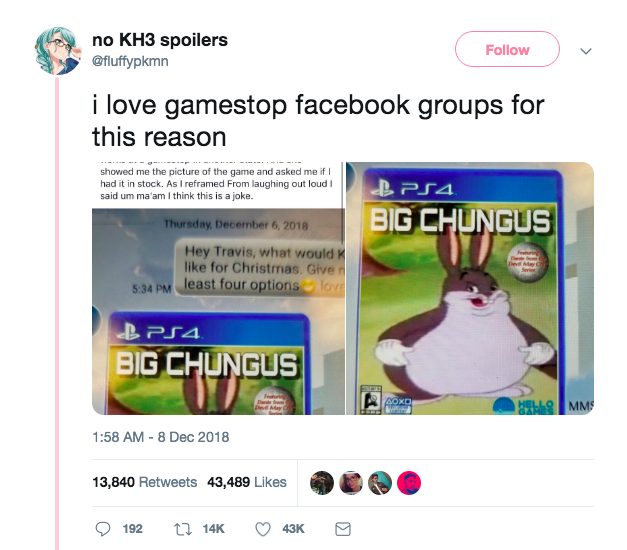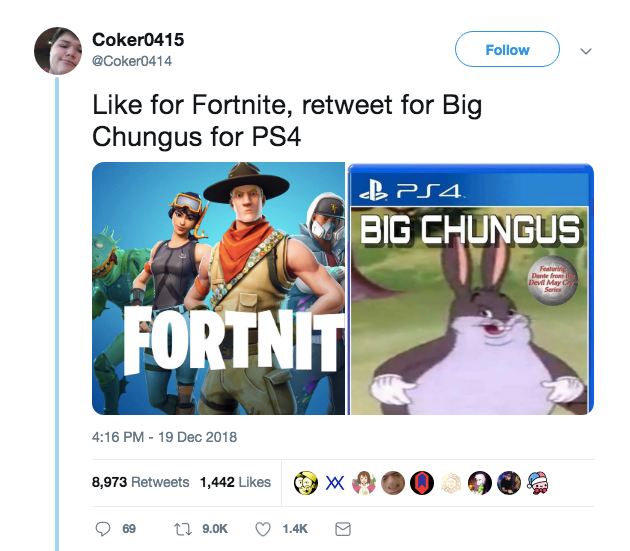 Nobody hmu for the next 2 years, I'm busy pic.twitter.com/1nZOHWjg5p

— Yaki (@TeriyakiSweat) December 22, 2018
How old is Big Chungus?
For the record, Bugs Bunny's bizarre appearance featured in the Big Chungus meme isn't photoshopped. In the iconic Merrie Melodies short Wabbit Twouble, Bugs picks on a stockly Elmer Fudd by making himself look big and round. The word "chungus," on the other hand, seems to come from video game journalist Jim Sterling, who regularly uses the term as a catch-all, according to Know Your Meme. Throw the word "big" behind "chungus," and suddenly, you've got the award-winning Big Chungus PS4 game.
@JimSterling new game BIG CHUNGUS. pic.twitter.com/vGraaVR2E5

— Zapper216 (@Zapper216) December 22, 2018
https://twitter.com/seasonsindecay/status/1076928298754535424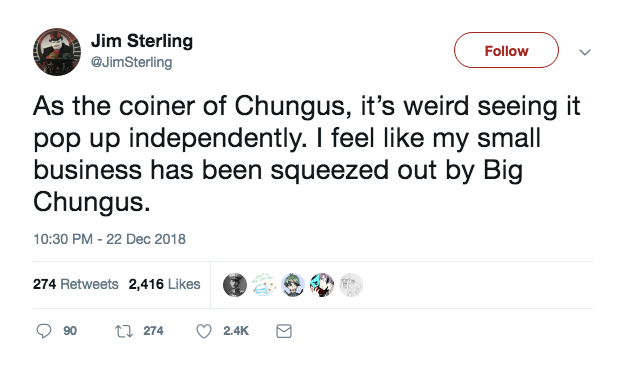 The box art quickly spawned a wide variety of Big Chungus memes featuring Bugs on various video game cover parodies as Big Chungus. Since then, Bugs Bunny's Elmer Fudd impression has broken out from video game covers. He is now the Big Chungus, and he regularly appears in memes about everything from Outback Steakhouse to Big Chungus' size and shape compared to other cosmic entities.
The best Big Chungus memes
It didn't take long for the internet to explode with Big Chungus memes, many of them riffing on popular video game titles. Below is only a small sample of the best Chungus memes.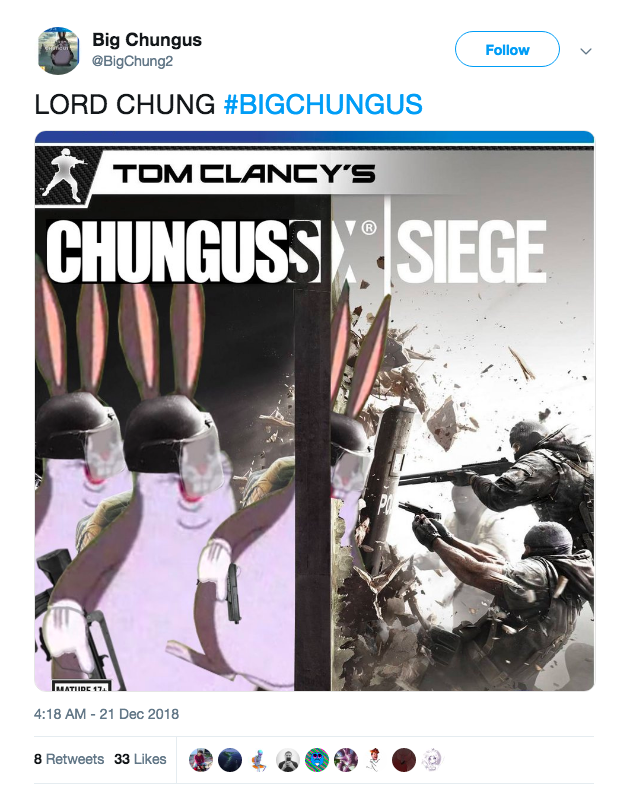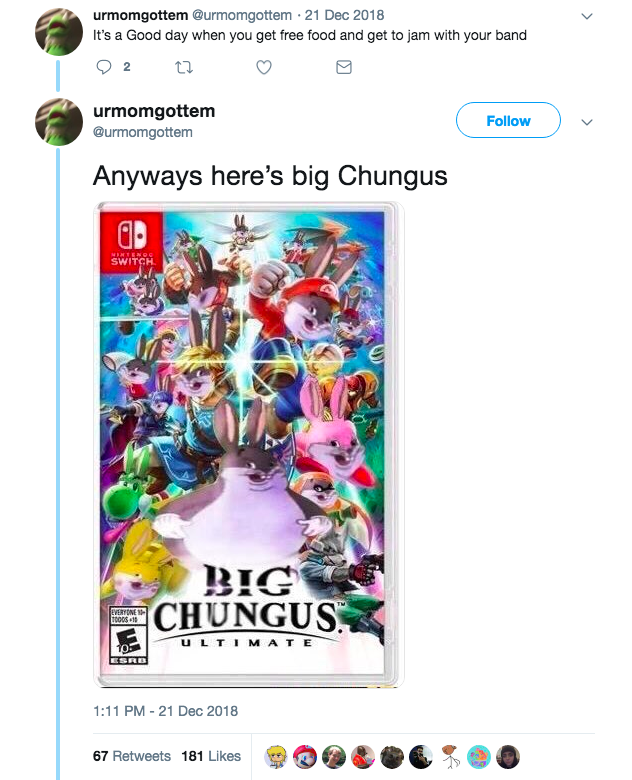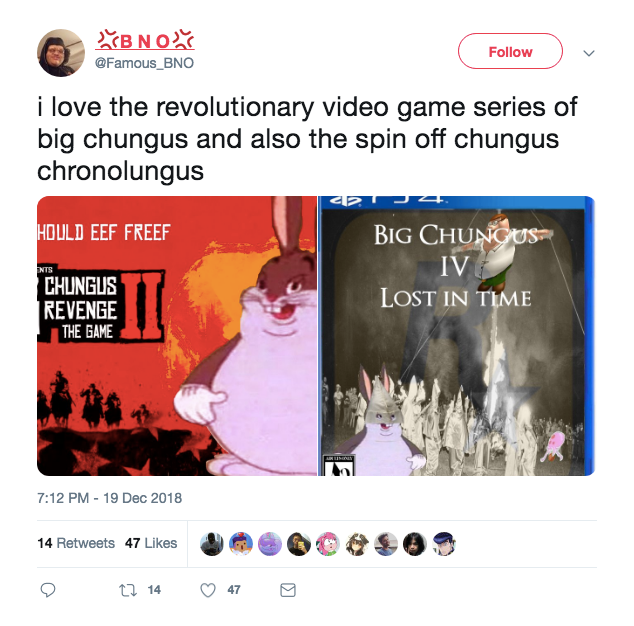 https://twitter.com/BiggusChungus/status/1077222717957595137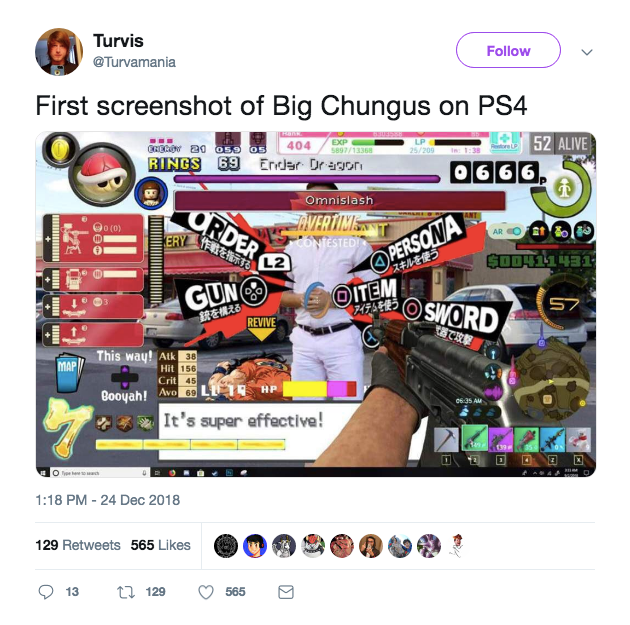 https://twitter.com/BiggusChungus/status/1077577981755883520
THE BIGGEST OF CHUNGS #BIGCHUNGUS #Universe pic.twitter.com/cZi6moQvva

— Big Chungus (@BigChung2) December 25, 2018
READ MORE:
Why are Big Chungus memes so popular?
For people outside the gaming community, the Big Chungus meme may not make a lot of sense. But the meme landed at the perfect time thanks to the Christmas season. During the mad dash for holiday presents, parents unfamiliar with video games are thrown into a strange, bizarre world where it's tough to tell the difference between a parody and a real title.
In this case, one kid was able to dupe his mom into thinking Big Chungus was a real game, whether on purpose or by accident. In a year filled with Fortnite dances, Drake streaming with Tyler "Ninja" Blevins, Super Smash Bros. on Switch, and the Overwatch League becoming a legitimate esports organization, it's absolutely hilarious that a parent would confuse an internet meme with a real video game, no less during the busiest retail season of the year.
In other words, there's only one time of year where a parent could fall for Big Chungus, and it's Christmas.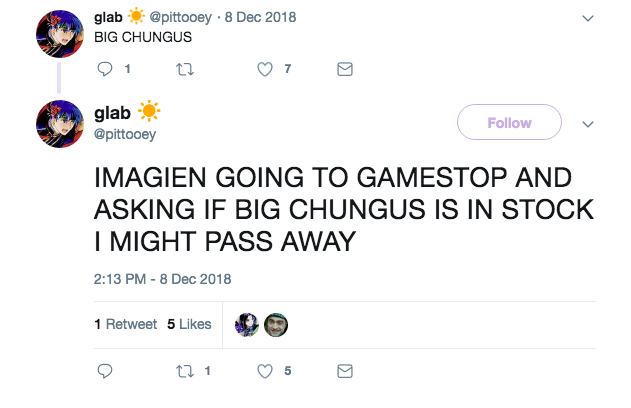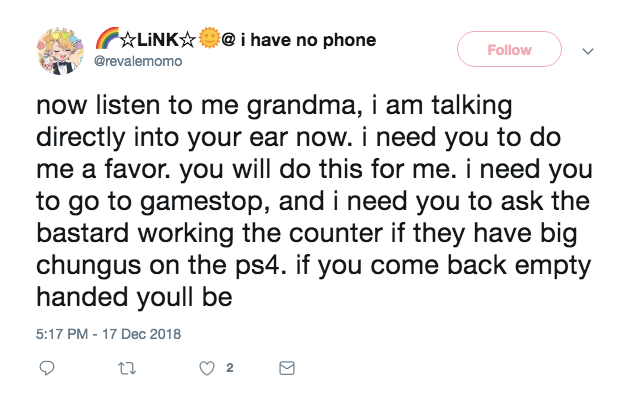 Hello @GameStop

When Will Big Chungus For The Playstation 4 Come Out

Thank You pic.twitter.com/fAoJd9EHEy

— Ken (@The12thGripper) December 20, 2018
It isn't just the holiday season itself, it's also the meme's timing. The Big Chungus meme hit r/comedyheaven on Dec. 1, and Laufer posted about his bizarre GameStop experience on Dec. 7. That same day, Super Smash Bros. Ultimate released on the Nintendo Switch, sparking an enormous wave of memes around blushing girls, Pikachu having sex, and Isabelle being horny.
Big Chungus arrived right when the gaming community took over Twitter and flooded the internet with memes. The joke's bizarre, surreal humor blended right in with Smash fans wondering whether Pikachu fucks and who creator Masahiro Sakurai would add into Smash next.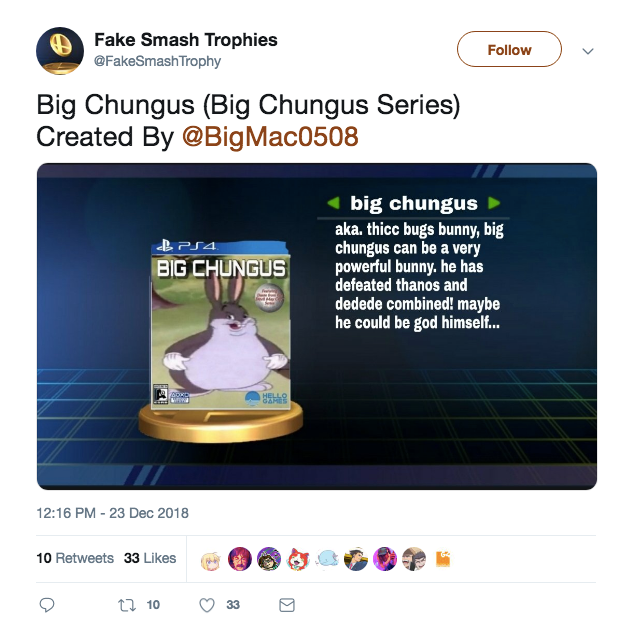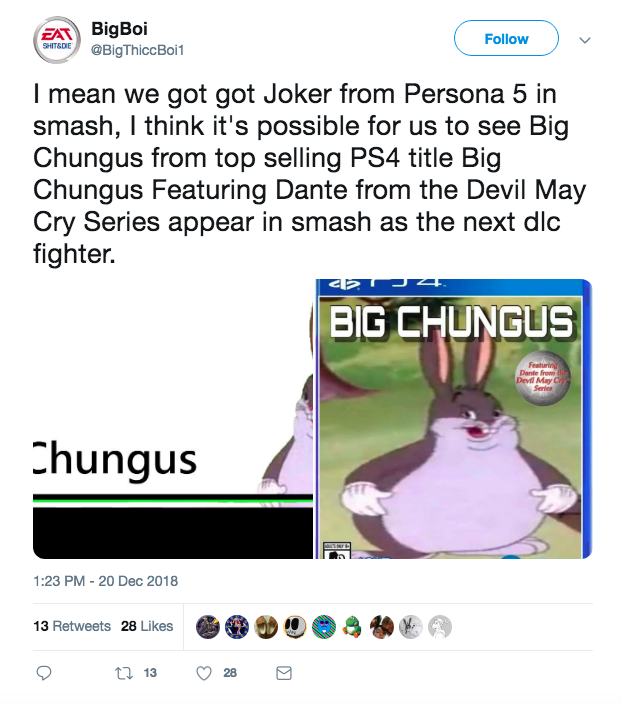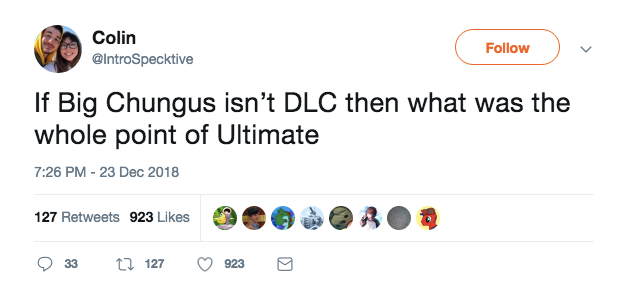 Best of all, though, the Big Chungus meme is stupid. It makes no sense. It's the kind of meme you post late at night on Twitter, laugh about with your friends while high, or randomly send to people on your contact list and wait for a response. It doesn't hurt either that "Big Chungus" sounds like a euphemism for a penis, either.
Big Chungus memes are funny because they require very little thought to understand. It's just Big Chungus. It's the kind of meme that could only go viral while a huge portion of the world is enjoying time off after a year that's overstayed its welcome.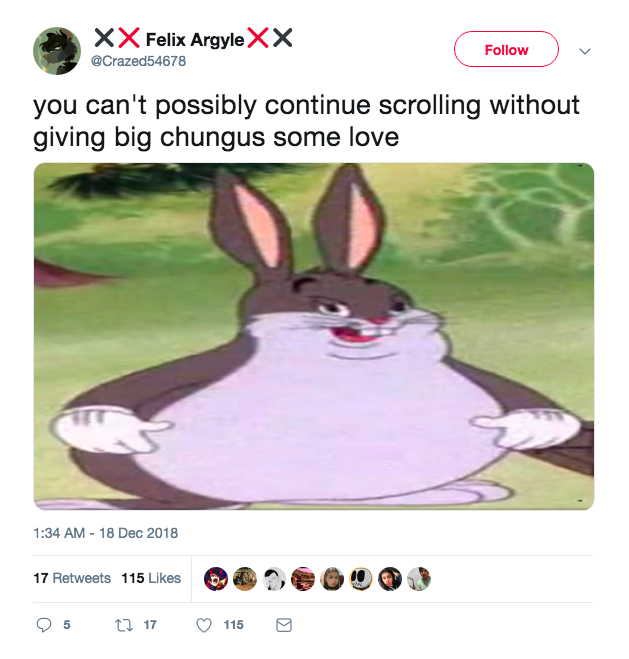 Like and RT for big Chungus
Ignore for Ariana Grande pic.twitter.com/LUeouma77M

— Big Poppa Pigeon (@PoppaPigeon) December 25, 2018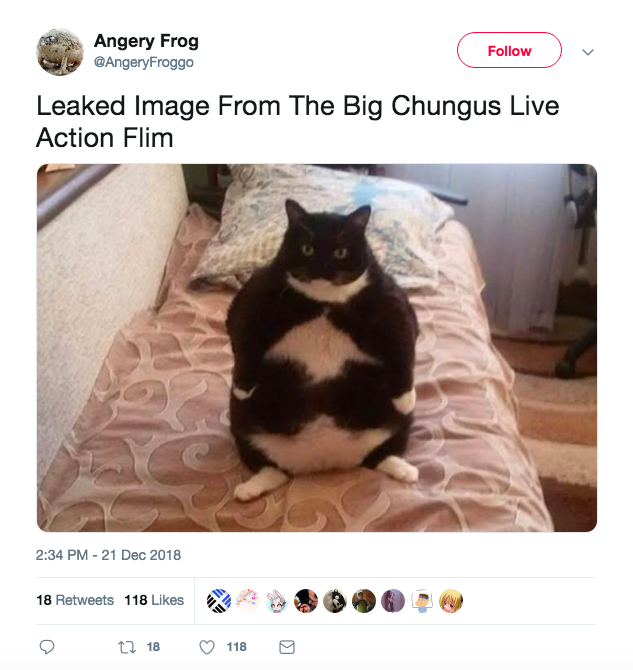 https://twitter.com/Investifeels/status/1076682365395705856
https://twitter.com/duckdog_inc/status/1076576486973472768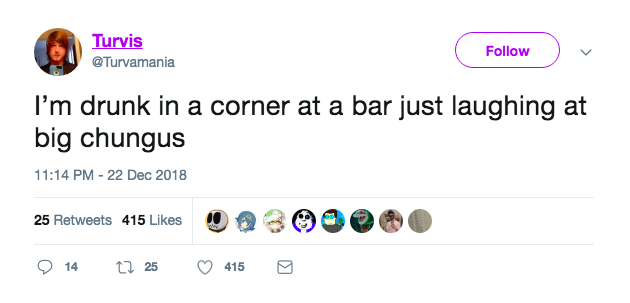 Some memes are smart, others are horny. Big Chungus is dumb, and it likes it that way. Make sure to pick up your copy of the Big Chungus PS4 game your local GameStop.
Editor's note: This post has been updated for clarity and context.