Atticus is a popular Instagram poet with more than a million followers, whose "thing" is wearing a mask to hide his identity (a former reality TV star). He's been called out as a plagiarist, though he continues to publish books. Now he's being called out for allegedly profiteering during a pandemic.
A glance at Atticus' Instagram shows he's still producing terrible poetry, and on Wednesday he posted a link to purchase face masks, ostensibly to protect yourself and others from coronavirus, as the CDC recently recommended. "For every mask sold, we will be donating a medical mask to a local hospital or healthcare professional," the caption reads. "We are in this together."
While some commenters applauded this or claimed they'd ordered, others expressed anger over him making a profit off a global pandemic, as there was not much clarification on the post. On his website (where he sells clothing, books, and wine), he's charging $12 for one cotton mask, or $30 for for three. It doesn't note whether any of the profits will go to healthcare workers, just that "a medical mask" will be donated to "a local hospital or healthcare worker in Los Angeles" for every cotton mask purchased.
It's also not clear if this means he's donating medical-grade personal protective equipment (PPE) that so many other people are lacking right now, and if so, how he was able to get it. Many wondered why he doesn't just donate the medical masks anyway. (In addition to a lack of clarification, he was also accused of deleting comments.)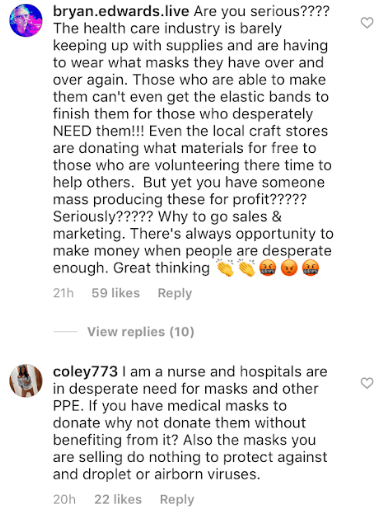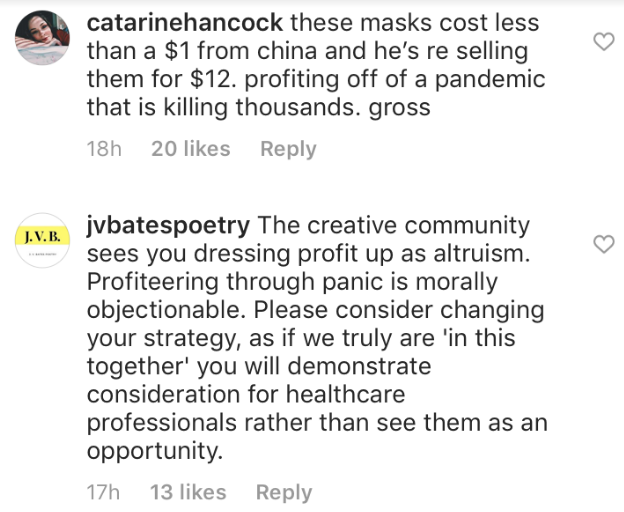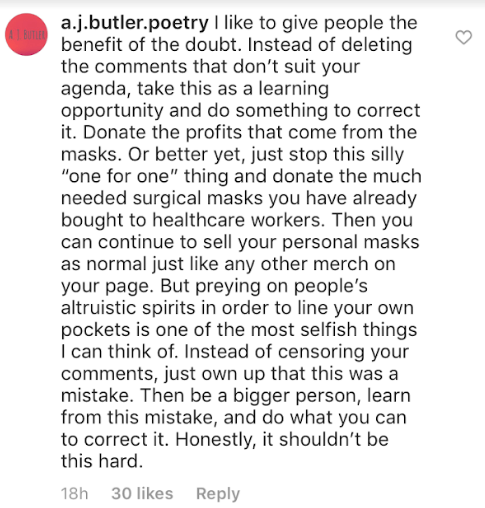 He's not the only person accused of grifting during the pandemic: Last month, the New York Times profiled a Tennessee man who was hoarding items like hand sanitizer (and was later forced to donate them after being contacted by the state's attorney general), and celebrities, politicians, and media personalities have all been accused of trying to profit in some way. Last month, Facebook banned ads for face masks, though it later apologized for flagging pages and groups that were donating them.
We've reached out for comment and clarification.
Update April 13, 8:56am CT: The original Instagram appears to have been deleted. A representative for Atticus sent us clarification on who they're working with for this project, which is also now on the website as well:
1) For every mask sold, we are donating one medical-grade face mask through DonatePPE.org, a doctor run 501(c)(3) doing amazing work for COVID Relief.
2) We carry no stock of cotton masks or medical masks. Every mask ordered is bought and printed on demand. Every medical mask donated is through a monetary donation to DonatePPE.org a 501(c)(3). We hold no inventory.
3) There is a disclaimer on the product page of our website stating: "These are not a replacement for medical-grade PPE (Personal Protective Equipment). Please follow the recent recommendations from the CDC regarding the use of cloth face masks."
READ MORE: