In the fall of 1995, it was virtually impossible to escape "Wonderwall," the infectious and vaguely familiar hit song by the English rock band Oasis.
Fronted by perpetually feuding siblings Noel and Liam Gallagher, Oasis hit number two on both the U.K. and Irish Singles Chart with "Wonderwall," the third single released off their second studio album (What's the Story) Morning Glory? It became something of a staple on pop radio—and one of a handful of songs that every dude with an acoustic guitar learns to play. 
The ease of learning the song, plus the explosion of YouTube in the early aughts, led to the Anyway, Here's Wonderwall meme, which pokes fun at the many people covering the song and the amateur guitarists who bring their instruments to parties just to play a song like "Wonderwall."  Here are some interesting facts about the meme, the song, and its place in pop culture history.
Anyway, Here's Wonderwall
1) The meme originated in two separate, unrelated fashions
There are two origins of the meme. The first is a photo uploaded to WeKnowMemes in March 2012. The photo shows a young holding a guitar at a campsite and smiling. The caption reads "I don't know that one….here let me play 'Wonderwall.'"
Labeled Scumbag Amateur Guitar Player, a reference to the another popular meme, Scumbag Steve, the image then spread to other photo-sharing sites like 9gag, Reddit and FunnyJunk.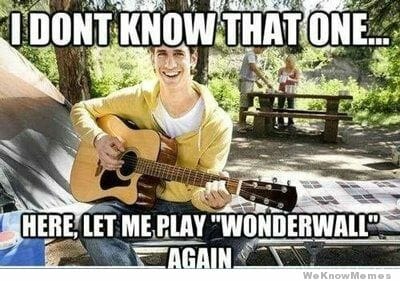 In December 2013, Julia Banks uploaded a video to her YouTube channel titled "Anyways Here's Wonderwall," which featured a brief ukulele cover of the song before Banks busts out a parody about the commercialization of Christmas. Her phrasing became a popular way to redirect conversation on Reddit.
2) The meme mocks how easy the chord is to play
The song's popularity is due not only to it being damn catchy but because it's pretty damn easy to master. Due to the lasting popularity and simple chord progression of the song, it's one of the most frequently covered songs and equally mocked songs of the last few decades.
This video explains the chord progression and proves just about anyone who picks up a guitar can learn to play the Oasis tune in a matter of days.
3) The joke exploded after CollegeHumor did a riff on the meme about how easy it is to get laid
In an interview with NME in 1996, Noel Gallagher stated Meg Mathews, his future wife, was the inspiration for "Wonderwall." After Gallagher and Mathews divorced in 2001, the songwriter retracted that statement, saying "the meaning of that song was taken away from me by the media who jumped on it, and how do you tell your Mrs. it's not about her once she's read it is? It's a song about an imaginary friend who's gonna come and save you from yourself."
The song scored points with Gallagher's ex and has probably helped countless young men woo young women, making this College Humor parody titled "Learning Guitar to Get Laid" even more hilarious.
"There are literally thousands of chords," the guitar lothario explains, "but only four of them are needed to play 'Wonderwall.'"

READ MORE:

4) The most popular meme of it doesn't even involve the words to "Wonderwall"
With success comes imitation, and countless cover bands and garage band heroes added the song to their set lists. "Wonderwall" has been covered and released by numerous artists, including Ryan Adams and One Direction.
Perhaps the most popular cover of the song isn't really a cover at all. Jon Sudano has over a half million subscribers to his YouTube channel, which consists mainly of videos of him doing covers of popular songs but inserting the lyrics from the Smash Mouth tune "All Star."
This "Wonderwall" and "All Star" mash-up begins with Sudano stating "Anyway, Here's Wonderwall" before breaking into the familiar chord progression.
5) There's a ton of weird crossovers with Anyway, Here's Wonderwall and other pop culture flashpoints
The Anyway, Here's Wonderwall meme seems to be the go-to phrase anytime someone in a movie or TV show picks up a guitar. For example, the meme was added to a clip from Rick and Morty, with Julia Banks's voice intro-ing the song. It's also very popular with the weird future-world guitar slayer from Mad Max.
6) The oddest Anyway, Here's Wonderwall of them all forgoes a guitar pick
The song is played with a dildo instead. Seriously.
7. The Gallagher brothers have (sort of) made their opinions known about the meme
The brothers have never commented publicly on the Anyway, Here's Wonderwall meme. But while it's unknown how Liam and Noel feel about the parody, they're not exactly fans of actual artists ripping off the song. One such case involved Green Day and their hit "Boulevard of Broken Dreams," which boasts almost identical chord progressions.
In 2006, Noel Gallagher accused the punk trio of copying "Wonderwall," saying, "If you listen, you'll find it is exactly the same arrangement as 'Wonderwall.' They should have the decency to wait until I am dead [before stealing my songs]. I, at least, pay the people I steal from that courtesy."
Classic, Noel. Anyway, here's "Wonderwall"…
Editor's note: This article is regularly updated for relevance.