President Donald Trump and his administration have often been accused of anti-Semitic statements and actions, most notably when former press secretary Sean Spicer claimed Adolf Hitler didn't gas people.
Now, a Twitter account launched by Trump's former White House communications director, Anthony Scaramucci, is engaging in blatant Holocaust denialism.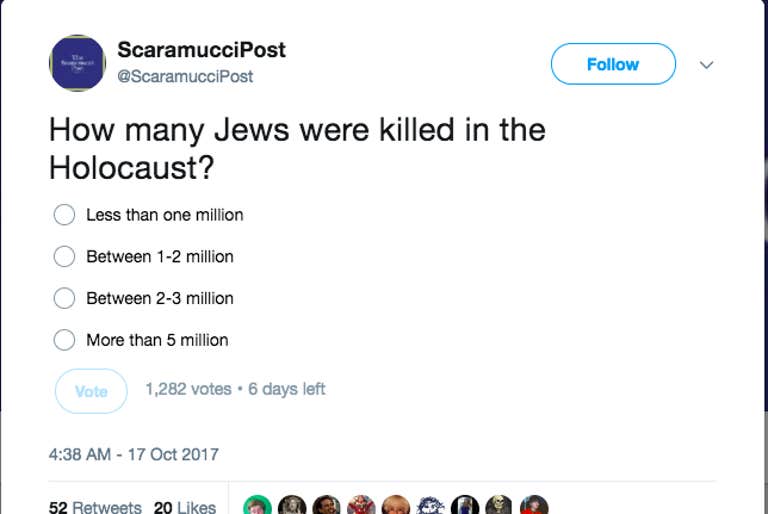 That is a poll posited by the new media venture from Scaramucci, the Scaramucci Post, which launched this October. At the launch, Scaramucci infamously said he didn't know what the company would become, but apparently "alt-right egg avatar troll" was on the table.
The estimated number of Jewish people killed in the Holocaust, according to the United States Holocaust Memorial Museum, is approximately 6 million. Scaramucci's poll is asking people if they really think Nazis killed fewer Jews than that, advancing a form of Holocaust denialism.
People on Twitter were swift to inform him of that.
This isn't a fun quiz for Twitter. There already is a correct answer. The existence of this poll insinuates there are opinions to be had.

— Dawn K. (@JulyJane) October 17, 2017
Scaramucci remained in the Trump administration for less than two weeks before he resigned. His brief tenure was marked by an endless cascade of missteps and led to both former Chief of Staff Reince Priebus and former Press Secretary Sean Spicer exiting their White House roles.
Scaramucci did not immediately respond to a request for comment.
Update 8:25am CT, Oct. 17: The Scaramucci Post poll in question has been deleted.
Update 8:58am CT, Oct. 17: The poll was apparently posted by Scarmucci Post staffer Lance Laifer without Scaramucci's knowledge. Laifer tweeted that the "intent of the poll was to highlight ignorance of the basic facts of the Holocaust." He also apologized.
We have updated the headline to reflect the latest developments.
https://twitter.com/ScaramucciPost/status/920274523324329985
https://twitter.com/ScaramucciPost/status/920274958126927872
https://twitter.com/ScaramucciPost/status/920275331268993024