What do you say when you see an especially big lad? After today, it's "In awe at the size of this lad. Absolute unit."
The meme started with a tweet by @mrreptoid, commenting on these photos of British hotelier David Morgan-Hewitt, who hosted Queen Elizabeth at the Goring Hotel.
https://twitter.com/mrreptoid/status/941086402787397632?lang=en
Impressed with Morgan-Hewitt's physical stature, @mrreptoid seems to have coined the phrase "absolute unit" to describe a large person.
"Absolute" is a favorite intensifier in British lad culture, used by the same U.K. bros who refer to their jokes and quotidian adventures as "banter."  It's also used in a dry, ironic sense by people spoofing a certain subset of young, male Britain. One popular example is a meme where some lads refer to their friend as "the absolute madman" for lying down on the floor. "Absolute" was also recently seen in the trend of calling Labour leader Jeremy Corbyn "the absolute boy."
"Absolute unit" is a superlative often applied to athletes and fighters that we in America might call "a savage" or "a beast."
It's a funny word, basically.
Soon, "absolute unit" was being used to describe anything of unusual size. On r/scottishpeopletwitter, one popular post applied to an overstuffed Pokemon Pikachu doll: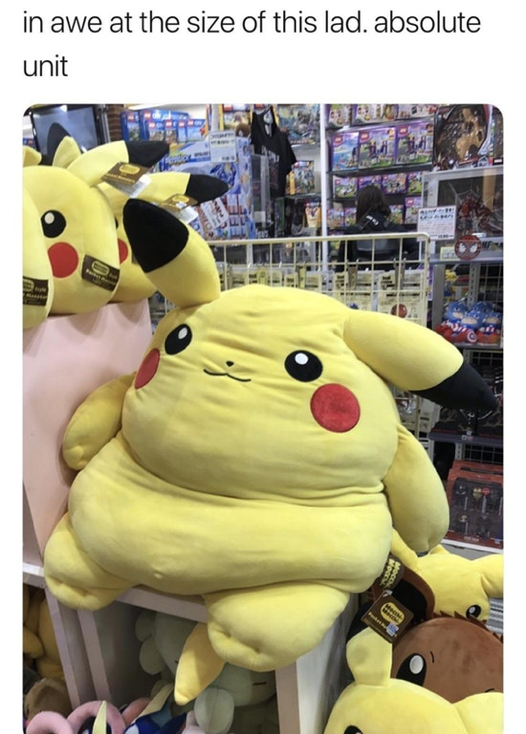 The "absolute unit" designation replaced "thicc" or "wide" as a cheeky way of describing someone huge. "Thicc Kylo Ren" (a.k.a. "Ben Swolo") from Star Wars: The Last Jedi is an absolute unit:
I am in awe at the size of this lad. Absolute unit pic.twitter.com/aPI35hADlr

— Twaterd (@Twaterd) January 4, 2018
So are a fat Yoshi, alt-right agitator Matt Forney, Koch family heir Wyatt Koch, and fat cat Tubbs from Neko Atsume: 
https://twitter.com/_FIZZzz_/status/948693986109263872
https://twitter.com/AsianWifeHaver/status/948312167790542853
I couldn't stop thinking about The Ginger Shirt Lad, the absolute unit, Mr. 2017, Wyatt Koch. So I wrote this. https://t.co/nUoFymvlKu

— David Roth (@david_j_roth) December 22, 2017
the size of this lad! absolute unit pic.twitter.com/cZauTkPwEu

— our beautiful rat king (@TENDERpbj) January 4, 2018
In short, an absolute unit no longer refers to a fine athletic specimen: it now refers to anything really big. It could be a person, a character, or even an empire.
https://twitter.com/m2ultra/status/949145432810184704
This joke is destined to run its course, like all memes, but it applies to so many situations that it will certainly be used as a callback whenever it applies to some new meme. If you remember this one and bust it out a few months from now, it will be you who is the absolute unit.