April Fools' Day is the one time of the year where you can pull a trick on your unsuspecting friends and not be considered a jerk.
The halcyon days of whoopee cushions and unscrewed salt shakers are long over. If you want to truly shock and impress on this most mischievous of holidays, you need to elevate your April Fools' Day game to the digital realm. Here's how.
1) Offer your friend's services on Craigslist… without them knowing
Since launching in 1996, Craigslist has been a boon for anyone in need of a roommate, looking to get rid of unwanted furniture, or on a job hunt.
It's also been a blessing for would-be pranksters. Just ask the guy behind this Star Trek post or the Baltimore Ravens fan who convinced an unsuspecting 49ers supporter to fork over $6,000 for non-existent Super Bowl tickets. If it weren't for Craigslist, the popular humor site Don't Even Reply wouldn't even exist.
In short, the classified ads website lends itself for the perfect April Fool's Day prank. It's quick to setup, easy to access, and only takes an email confirmation to pull off.
Your best best is to post an ad on Craigslist's Casual Encounters section on your victim's behalf—the dirtier the better*. If you want to tone things down a notch, post instead to the Jobs section under General Labor, offering your friend's lawn-mowing services free of charge (plus tip, of course). The important thing in both cases is to provide personal contact information. Email address or telephone number work fine. Sit back and enjoy the ensuing chaos.
2) Fake a tweet on someone's behalf
Lemme Tweet That For You doesn't hack into Twitter account, but it's the next best thing.
The site, created by New York ad agency OKFocus, lets you create fake tweets using someone else's account by simply entering their Twitter handle into the appropriate box.  Once you input that information, you have free range to put words into your victim's Twitter mouth.
The service even gives your fake tweets multiple likes and retweets, making them appear even more legitimate at first glance.
Take the Daily Dot's Assigning Editor Cooper Fleishman, for example. Did you know that he has a weird diaper fetish?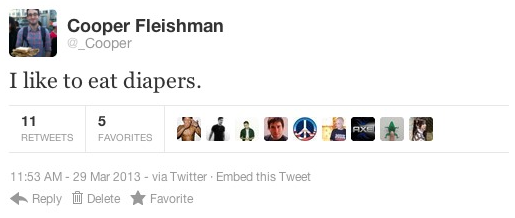 Or that he just loves Justin Bieber?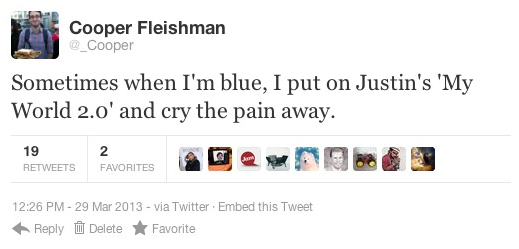 3) Declare someone dead on Facebook
In 2009, Facebook introduced memorialized pages, a feature that allows users to preserve the memory of friends and family members who have passed away by turning their Facebook profile into a digital shrine of remembrance for the departed.
It's a nice gesture, albeit one that has not been without controversy. It's also the perfect way to prank someone on the social network, especially those who have a tendency to overshare and update their feed with their most banal thoughts. Once a profile is memorialized, that account will be in stasis forever… or until the pranked individual contacts Facebook to reverse the decision.
So, how do you go about in declaring someone dead on Facebook?
As discovered by BuzzFeed's Katie Notopoulos, all you have to do is fill out a Memorialization Request form. Facebook will ask you for the person's name, email address associated with the account, your relationship to the deceased (it's best to say you're a close family member to be on the safe side), that person's Facebook URL, and proof of death.
The latter might appear to be an unsurpassable obstacle in effectively pulling off this prank, but Facebook is surprisingly lax in terms of what evidence you can submit to prove someone has died. A cursory Google search of your victim's name along with the word "obituary" ,may yield a workable proof of death. And yes, you'll likely find an obit for someone who has a rather unique name. Trust us on this one.
But if declaring someone dead on Facebook is too macabre for your liking, you could always replicate one of these five memorable pranks.
4) Pull down your friend's YouTube video
Unlike the other entrants on this list, YouTube is a trickier platform for pulling pranks.
At first, we thought of suggesting buying "thumbs down" for a friend's videos, but that costs too much money for it to be worthwhile. While it's ridiculously cheap to buy fake views, purchasing bulk dislikes came out to $15 for 300 downvotes.
And even if you shelled out the cash, chances are that you'd only be helping out your friend's video in the long run.
"YouTube dislikes (thumbs down) are of interest for those who want to make their video ratings look more natural," states one site offering the service.
So how do you execute a good prank on YouTube, and how do you do it on the cheap?
Take down notices.
Filing a YouTube Copyright Notification Infringement form, much like Facebook's Memorialization document, is incredibly easy to do. Even better, you don't even have to claim that your friend violated your copyright. Among the reasons listed for why someone would want to take down a video are "inappropriate content" and "abuse/harrassment," two categories that don't really delve into legal matters.

As has been the case for the other prank ideas, make sure you exercise caution should you go through with this plan. YouTube warns that "[misusing] this process may result in the suspension of your account or other legal consequences."
5) Get someone shadowbanned on Reddit
We had some trouble coming up with a good prank for Reddit.
We decided to ask the administrators of the social news site directly if they had any good suggestions. Unfortunately, they have yet to reply. As a result, we turned to someone else who has (or had) intimate knowledge of Reddit: Scopolamina.
For the unfamiliar, Scopolomina was Reddit's biggest purveyor of sexually explicit content. He also has the distinction of accruing the most karma, collecting more than 1.85 million points in less than a year before he was banned from the site for allegedly being involved in a pay-to-post scandal.
After having multiple alternative accounts banned, Scopolomina's suggested finding out your victim's Reddit handle and then message an administrator to tell them that it belongs to him. The end goal is to get that specific account shadowbanned, meaning that the user would still be able to use Reddit but any submission or comment he or she attempted to post will not appear.
While not as immediately satisfying, this particular prank could result in weeks of frustration.
* Be careful. Only execute this plan if you know for a fact that your victim will be amused. Otherwise, you could end up in prison.
Photo via Grombo/Wikipedia, illustration by Jason Reed