The hashtag #PitbullDropOff has been circulating the last couple of days, which claims that people are euthanizing their pit bulls in the interest of public safety, or finding them on Craigslist and taking them to kill shelters. It's yet another hoax from 4chan.
A May 13 post on 4chan's racist, homophobic, and misogynist/pol/ message board set out the parameters for this latest outrage campaign. While "naive pitmommies and various other low IQ individuals" seem to be the target here, the thread is filled with racial and homophobic slurs and ignorant ideas about pit bull ownership.
A comment on the original post, which urges posters to "escalate the hysteria," says: "Love it. I would have likened it to brown violence though."
As pointed out by Snopes and Reddit, the photos accompanying many of the posts are easily reverse image searched; many are years old or from other websites. Burner Twitter accounts are promoting the hoax, and focusing on the stereotype of pit bulls as a violent breed. This photo is from a 2011 post on StubbyDog.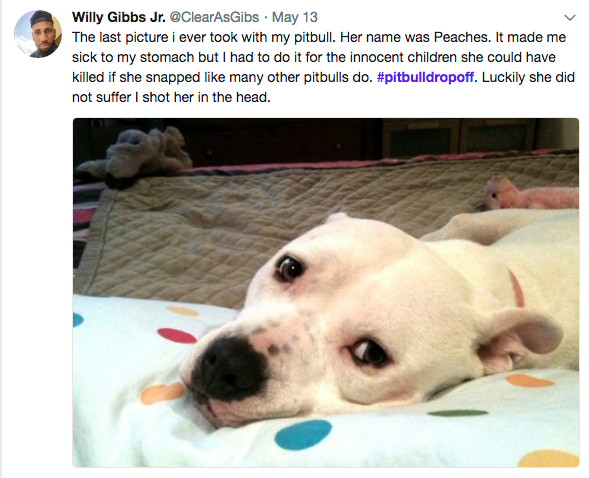 The motivation for this stunt seems to be making people look stupid, but the 4chan thread is filled with casual use of the N-word and comments about women ("pitmommies") being emotionally irrational dog owners. "Women are brain damaged," goes one comment. "Giving them rights was a mistake."
This falls in line with other 4chan campaigns. Last month, it pushed the conspiracy theory that users are being forced into hormone replacement therapy; last summer it furthered a hoax that Antifa Twitter accounts were encouraging followers to punch white women.
The hashtags #ShutDownPitbullDropOff and #StopPitbullDropOff were created to counter the hoax, but it appears burner accounts have infiltrated those as well.
H/T Snopes