Adolf Hitler has been called a lot of things—a monster, possessed, and insane.
Now the mass murderer is being called the "smartest person in history," thanks to 4chan.
The dictator has topped a public poll on The Top Tens which has asked people to vote on the smartest people in history. Hitler edged out the likes of Albert Einstein, Leonardo Da Vinci, and Isaac Newton thanks to a post on Reddit's r/4chan forum linking to the poll.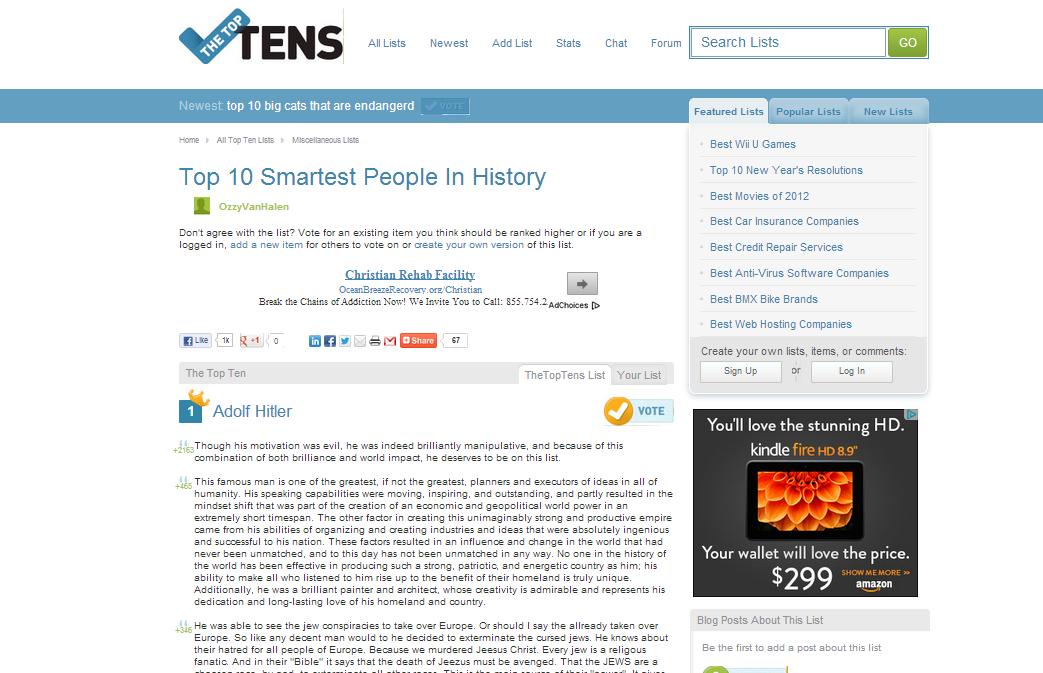 The Top Tens poll is just the latest one 4chan has decided to have some fun with over the past six months.
In August, 4chan hijacked a public Mountain Dew poll which asked fans to vote for the name of a new flavor. The top results were "Gushing Granny," "Fapple," and "Hitler did nothing wrong."
In November, Time magazine's Person of the Year poll was gamed by 4chan, Internet Chat Relay (IRC), and Reddit users to have North Korean leader Kim Jong-un take the top spot.
Kim collected 5.9 million votes thanks to a Java script created by IRC user _js5. The script was also used to spell "KJUGASCHAMBERS" using the first letter of each candidate's name. Kim ultimately lost the cover to President Barack Obama, but was crowned the people's choice winner.
4chan followed up this epic prank with Operation White Man Can Jump which unsuccessfully attempted to have only lighter-skinned players start in the 2013 NBA All-Star Game.
The discussion of Hitler's intelligence is older than the Internet itself. Numerous websites have tried to tackle the claim over the years. The top comment on The Top Tens poll sums up how many of these online discussions over the years have evolved.
"Though his motivation was evil, he was indeed brilliantly manipulative, and because of this combination of both brilliance and world impact, he deserves to be on the list," read the top comment, which has received more than 2,100 thumbs up.
Photo by Kerem Tapani/Flickr