Sixteen years after the first The Walking Dead comic was released, the series will come to a surprise conclusion.
More than 193 issues have been released in the decade-and-a-half since Robert Kirkman began his award-winning series. The end comes with no massive plot twists, press tours or final, emotional story arcs. Many fans were likely expecting a gore-filled sob-fest to conclude years of dedicated reading.
Instead, today comes the release of what Kirkman described as "a sprawling epilogue."
The Walking Dead's final issue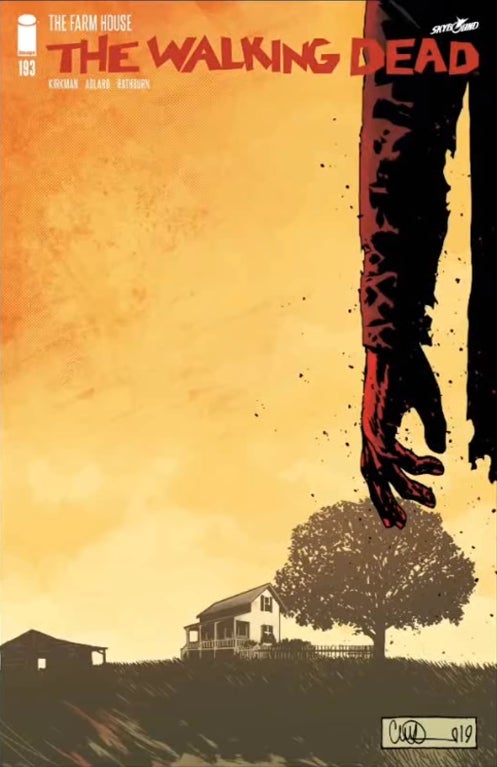 Kirkman and artist Charlie Adlard's bloody series concluded in much the same manner as the plot-twists and surprise deaths landed—with no warning. Kirkman and Adlard even teased future issues in hopes of throwing fans off the scent. They went so far as to release fake cover art for issues that will never come to be. According to the Hollywood Reporter, Kirkman himself conceived the ruse in hopes of preserving the surprise behind the finale.
"I hate knowing what's coming," Kirkman reportedly writes in the final issue of his beloved series. "As a fan, I hate it when I realize I'm in the third act of a movie and the story is winding down. I hate that I can count commercial breaks and know I'm nearing the end of a TV show. I hate that you can feel when you're getting to the end of a book, or a graphic novel."
"I love long movies for that very reason," he continued on the final pages of issue 193. "You lose track of time because you went in convinced that you're going to be there for a long time, but the story moves at such an entertaining and engaging pace that by the time the movie's wrapping up … you can't believe it's already over. Surprise, it's over! All I've ever done, all a creator can really do … is tailor-make stories to entertain themselves, and hope the audience feels the same way. That's all I've ever been doing … and it seems to work most of the time."
Considering Kirkman created a comic that maintained popularity for a decade-and-a-half, he might have the right idea. The Walking Dead comic sold more than 50 million copies worldwide and inspired numerous television shows. That's not to mention all the merch. The multi-billion dollar franchise could certainly have yielded far more money if Kirkman chose to continue it, but the creator has long been a fan of shaking things up.
Today's surprise ending comes after last month's issue killed off the titular character, Rick Grimes.
The final issue will serve as an epilogue to Grimes' story, Kirkman said. The issue is reportedly "extra-sized," which hopefully means that it packed plenty of extra content into those final, precious pages. Among his words on the final pages of the comic, Kirkman explained why the ending was structured this way.
"The Walking Dead has always been built on surprise. Not knowing what's going to happen when you turn the page, who's going to die, how they're going to die … it's been essential to the success of this series," Kirkman said. "It's been the lifeblood that's been keeping it going all these years, keeping people engaged. It just felt wrong and against the very nature of this series not to make the actual end as surprising as all the big deaths … from Shane all the way to Rick."
READ MORE:
Got five minutes? We'd love to hear from you. Help shape our journalism and be entered to win an Amazon gift card by filling out our 2019 reader survey.