When it debuted in April 2017, The Handmaid's Tale was met with a chorus. This isn't fiction! It's happening now! It's a documentary! It debuted a few months after the Women's March, in the wake of Trump's first few months as president, when we were looking for parallels to resistance and outrage. This resonance helped the show gain a solid fanbase and pick up Emmys, but in the last year it has also been parodied on SNL and Funny or Die, joked about by Katy Perry, and inspired some truly tone-deaf branding.
Season 2, which debuts April 25 on Hulu, returns with some of the previous season's tone, but the show now has to avoid falling into parody itself.

The first episode reacquaints viewers with the handmaids who defied Aunt Lydia (Ann Dowd) and refused to murder a fellow handmaid in the finale. In a long cut, Offred (Elisabeth Moss) and others are muzzled and led to the gallows but then the gotcha moment comes, soundtracked by Kate Bush's "A Woman's Worth." They're not actually going to die, because they're needed as incubators for the patriarchy. Aunt Lydia is here to offer them redemption. Though not really because she's still going to electrocute them in the rain for defying her, and we have to see an extended scene of that as well, even though it doesn't really add anything to the story. As the title card is about to appear, Moss' character says in voiceover, "Our father, who art in heaven. Seriously? What the actual fuck?" and I cringed so hard I thought I might have popped a blood vessel.
Season 2 is the new fiction, written without Margaret Atwood's book as its foundation. The book is a depiction of life from one woman's point of view, from inside the oppressive world of Gilead, and season 1 mostly adhered to that, though there were certainly criticisms that it centered on "white feminism." But the first two episodes of the second season, "June" and "Unwomen," are a little too enthusiastic in their depiction of women being tortured or punished. If you weren't a fan of the violence in the first season, you'll likely have a hard time with the first episode, especially when the mass hanging of women is played off as an elaborate prank.  
The new season also takes us out of Gilead. We see in the first episode (six episodes were available for review) that season 2 will revolve around Offred taking back her real name, June, and attempting to escape with the help of Nick (Max Minghella). We get more flashbacks to life before Gilead, which is a welcome reprieve from the violence and despair. The gratuity eases up after the first two episodes, and the season comes into focus more when it starts exploring the journeys of other female characters.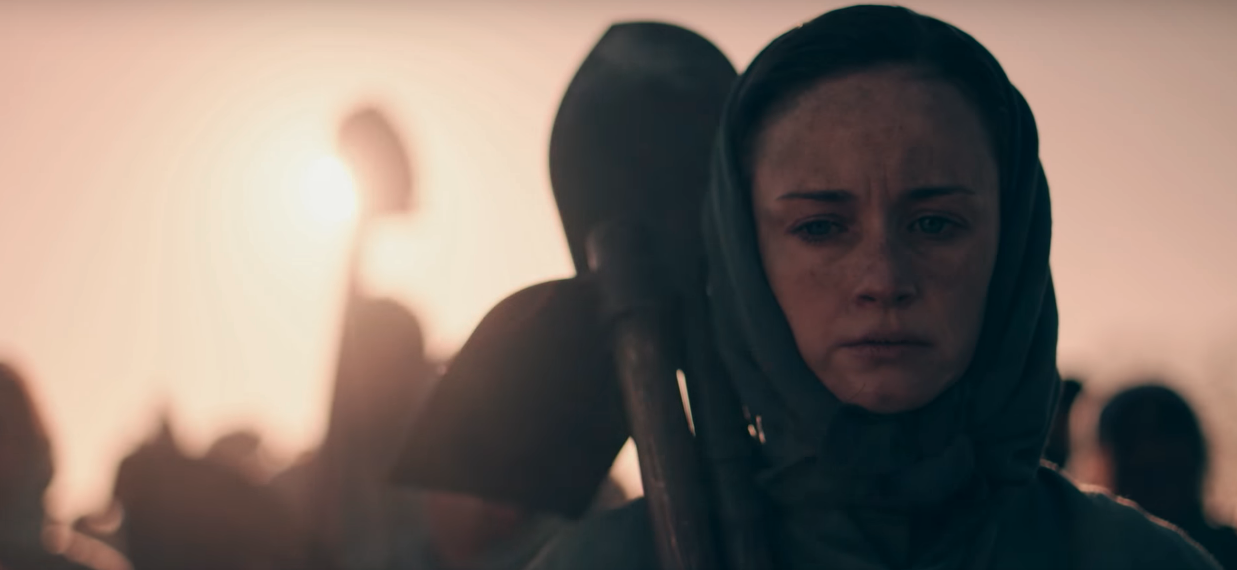 The addition of backstory for Emily/Ofglen (Alexis Bledel), who was banished to the Colonies and forced into manual labor, gives the series more room to breathe. We see the college where Emily once worked and how she was advised to hide her sexuality as the regime grew in power. We're given more context for the political views Serena Joy (Yvonne Strahovski) held before Gilead, and how she struggled to square those views with being a woman.
In one of June's flashbacks, a nurse at a hospital questions her about being a working mother after her child falls ill at school, a sign of the ideology to come. We also get a glimpse of her mother (Cherry Jones), an activist who informed her feminist ideals, though the two clash over their commitment to activism. There's one winking (and meta) nod in episode 3: "You raise your daughter as a feminist and she spends all her time waiting to be rescued by men," June says.
June's journey to freedom allows her to more aggressively explore her past and future, as she is with child now, but also struggle with exactly what freedom entails. Gilead might be safer than the outside world, and that is a depressing thought, but the boundary between the two is more obscured now. The show struggles with how to handle that divide; in the process it offers a template for how dissent can grow, giving it one more piece of relevance. 
https://www.youtube.com/watch?v=dKoIPuifJvE
Still not sure what to watch on Hulu? Here are the best movies on Hulu, what's new, the best shows on Hulu, the sexiest movies you can stream on the service, and the must-see Hulu originals.