Star Trek: Lower Decks is one of several new Star Trek TV shows in the works at CBS All Access, and it's the first cartoon since the original Animated Series in the 1970s. Created by Mike McMahon (Rick and Morty), Lower Decks is riding the wave of popularity for adult animation, focusing on "the support crew serving on one of Starfleet's least important ships."
Following San Diego Comic-Con 2019, we now have a much better idea of what that will look like. Along with Star Trek: Picard and Discovery, Lower Decks is part of a new raft of spinoffs masterminded by producer Alex Kurtzman, with at least one other animated show in the works.
Here's what we know about Star Trek: Lower Decks so far.
Star Trek: Lower Decks release date
Lower Decks will come out in 2020, probably after the live-action Picard premieres in the spring. It will air on CBS All Access in the U.S., with overseas access yet to be determined. A second season has already been confirmed.
Star Trek: Lower Decks cast
The main voice cast consists of Tawney Newsome, Jack Quaid, Eugene Cordero, Noël Wells, Dawnn Lewis, Fred Tatasciore, Jerry O'Connell, and Gillian Vigman. They're all playing new Star Trek characters, with character designs released at Comic-Con.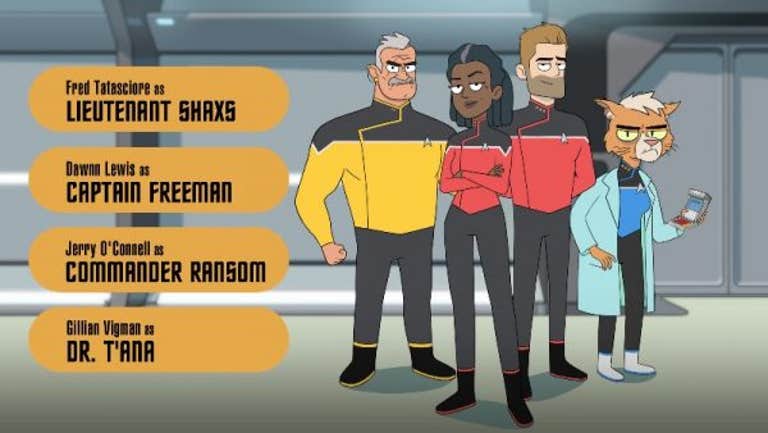 Set after Star Trek: Nemesis, Lower Decks will show a more everyday, less heroic side of the Star Trek universe. During the show's Comic-Con panel, the creators were careful to point out that Lower Decks isn't a parody and will still maintain the tone and ethos of Star Trek, even if the characters are less impressive than the crew of a flagship like the Enterprise.
The cast includes new Starfleet recruits and characters who aren't very good at their jobs, in a ship that does "support work" for the rest of the fleet. Thanks to the freedom of animation over live-action prosthetics, there will be more non-human characters among the cast.
Star Trek: Lower Decks creative team
Showrunner Mike McMahon was a writer and producer on Rick and Morty, and this show will take inspiration from its sense of humor. The other writers and directors haven't been announced yet, but the show went into production in February 2019.
Star Trek: Lower Decks trailer
The trailer isn't out yet, but we can probably expect it in late 2019.
READ MORE:
Want more reviews and interviews from Gavia Baker-Whitelaw? Sign up here to receive her biweekly geek culture newsletter.