Star Trek: Discovery introduced its first gay couple in episode 5, in a sweet domestic scene between Lt. Stamets and his boyfriend, Dr. Culber. That moment was a long time coming, after Star Trek creator Gene Roddenberry wanted to include gay characters in The Next Generation more than 20 years ago.
CBS announced early on that Star Trek: Discovery would feature a gay couple; news that was mostly welcomed with open arms. But inevitably, Stamets and Culber's relationship inspired some backlash when the episode aired. Wilson Cruz, the actor who plays Dr. Culber, had no patience for homophobic viewers. In an eloquent Facebook post, he celebrated the presence of LGBTQ characters in Star Trek—and explained why homophobes are just harming themselves by getting angry.
"I'm not here for your comfort. That's not why we are here. We're here to grow. Star Trek is and has always been here to challenge you to look outside of yourself and to see other people and other experiences in yourself. There is no division between you and me. I am just another human giving and receiving love, just like you. That is all.

You can turn your TV off, sure, but you'll only be cheating yourself. LGBTQ people aren't going to just disappear because you put your head in the sand. We share the planet with you. We have always been here. We will always be here. You just don't want to see us. I'm happy to tell you we won't be invisible anymore."
Cruz has plenty of experience dealing with this kind of response. Best known for his breakout role as Rickie Vasquez in My So-Called Life, he came out as gay when he was 19 years old. Since then, he's been a staunch advocate for LGBTQ visibility, making him an ideal choice for this role in Discovery—just like his onscreen partner Anthony Rapp, who identifies as queer.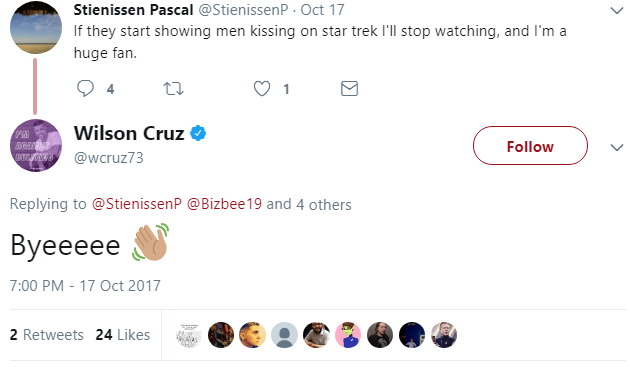 When Star Trek fans object to Discovery's diverse casting choices, it always rings false. As actress Sonequa Martin-Green pointed out before, diversity is baked into the core ideals of Star Trek. The Original Series broke ground by including a black woman and a Japanese man in the main cast, and while the franchise has a patchy track-record, it always had progressive goals. LGBTQ representation was just the next step on that journey.