Each era of Star Trek introduces new Starfleet uniforms, beginning with the color-coded red, gold, and blue of the Original Series. (The infamous "redshirts" were security personnel, although communications officers like Uhura also wore red.)
The Star Trek: Discovery trailer gave us our first look at the show's new uniforms, and they're pretty different from what we've seen before. For one thing, they're all one color.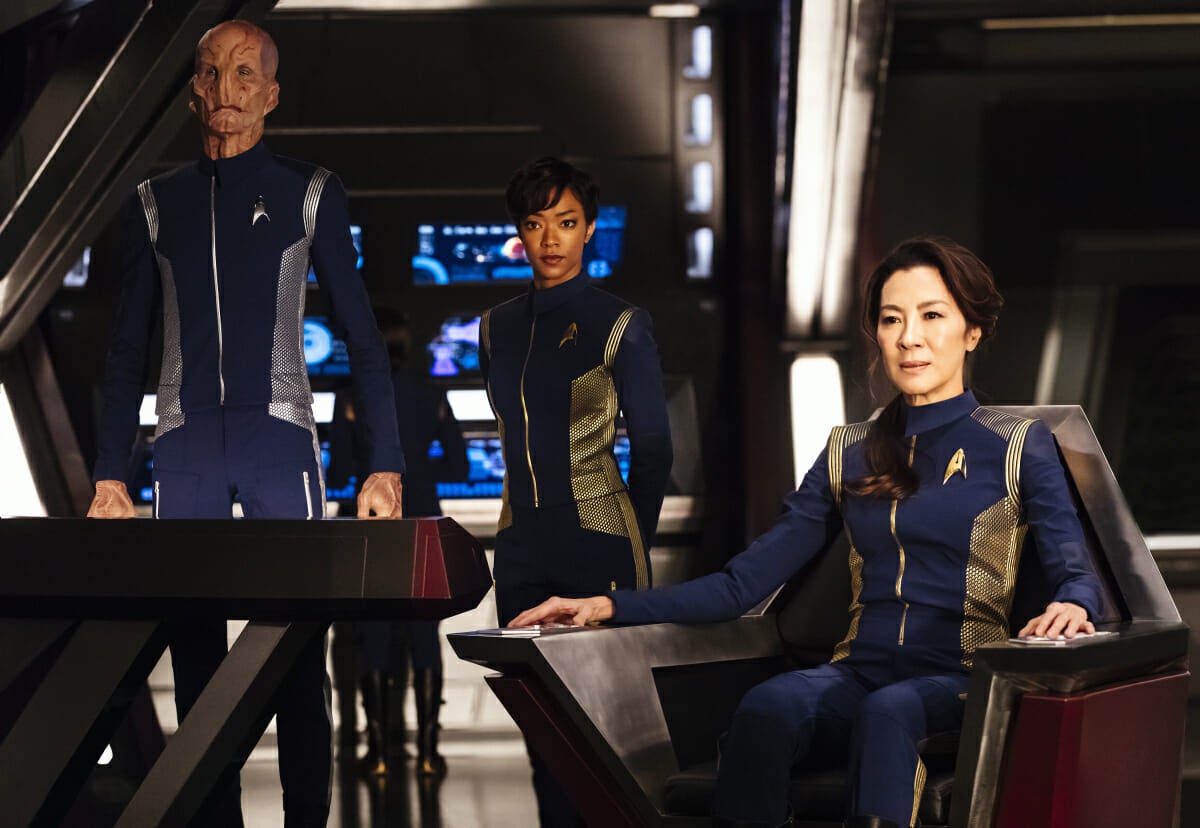 1990s Star Trek used colored panels to signal different departments (i.e. maroon for commanding officers like Captain Picard), but Discovery's uniforms are harder to parse. Everyone wears a formal-looking navy blue suit with metallic trim.
From the characters in the trailer, we can deduce what those metallic colors mean. Commanding officers like Commander Burnham (Sonequa Martin-Green) wear gold, medical/science officers wear silver, and operations/security officers wear bronze. Captain Georgiou (Michelle Yeoh) also gets gold trim on her shoulders.
There's one more significant detail: the rank insignia. J.J. Abrams' reboot movies were criticized for removing the sleeves from Starfleet minidresses, because a crewmember's rank was signaled by braid on the sleeve. Without sleeves, female crewmembers no longer had a visible rank. At first glance, the Discovery uniforms do the same thing. It's hard to tell the difference between a commander and an ensign, which could make things tricky in an emergency situation. But if you look closely, you can see the ranks on their Starfleet badges.

Captain Georgiou has four pips on her badge. Lieutenant Saru (Doug Jones' alien character) has three. It's similar to the pips on the collars of The Next Generation uniforms, when the Starfleet badges were used as communicators. Discovery takes place decades before then, when Starfleet was still using flip-top communicators, like Captain Kirk. So, the badges in Discovery have the same purpose as military rank insignias in real life.