The Star Trek: Discovery trailer is here, and it looks absolutely gorgeous. It breaks new ground in several ways—high production values; a woman of color in the lead role—while still feeling unmistakably Star Trek.
It's also pretty enigmatic, so we decided to take a closer look at its hidden details.
At the edge of the universe, Discovery begins. https://t.co/xIWmNDREAb #StarTrekDiscovery pic.twitter.com/xlpH3Oe238

— Star Trek on CBS All Access (@startrekcbs) May 17, 2017
1. Michelle Yeoh plays a major role, but she isn't Discovery's captain
The trailer focuses heavily on a relationship between two women: Sonequa Martin-Green as Commander Michael Burnham, and Michelle Yeoh as Captain Georgiou. Yeoh is the most famous actor in the show, and Georgiou's mentorship is clearly a major element of Michael Burnham's backstory.
However, while Burnham is Discovery's lead character, Georgiou is just a recurring role. She's the captain of the U.S.S. Shenzhou, but Burnham has always been described as the first officer of the U.S.S. Discovery. So, this trailer may only include scenes from early in the series, before Burnham (presumably) transfers from Georgiou's ship to the Discovery.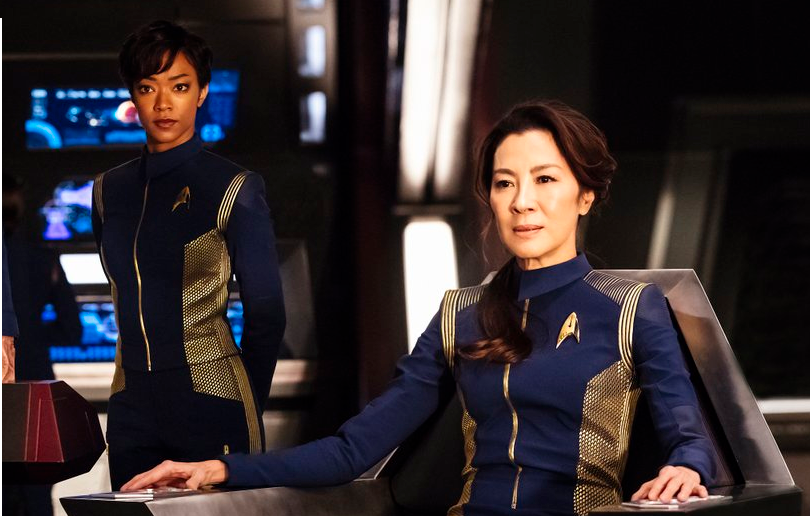 In fact, we still haven't seen much of the U.S.S. Discovery itself. Discovery crewmembers like Captain Lorca (Jason Isaacs) and Lt. Stamets (Anthony Rapp) were announced as lead characters, but they don't appear in the trailer. We mostly just see the U.S.S. Shenzhou, both inside (during bridge scenes with Michelle Yeoh) and out (when Burnham wears a spacesuit.)
2. Sarek isn't just a cameo character
Discovery takes place 10 years before Star Trek's original series and includes a couple of crossover characters. Spock's father Sarek (James Frain) has a supporting role, and this trailer reveals something pretty surprising: He knows Burnham personally. There's even a hint that Burnham was either raised on Vulcan or spent a lot of time there. We see a shot of a child with a Vulcan haircut who appears to be Burnham, while Sarek says, "You will never learn Vulcan. Your tongue is too human."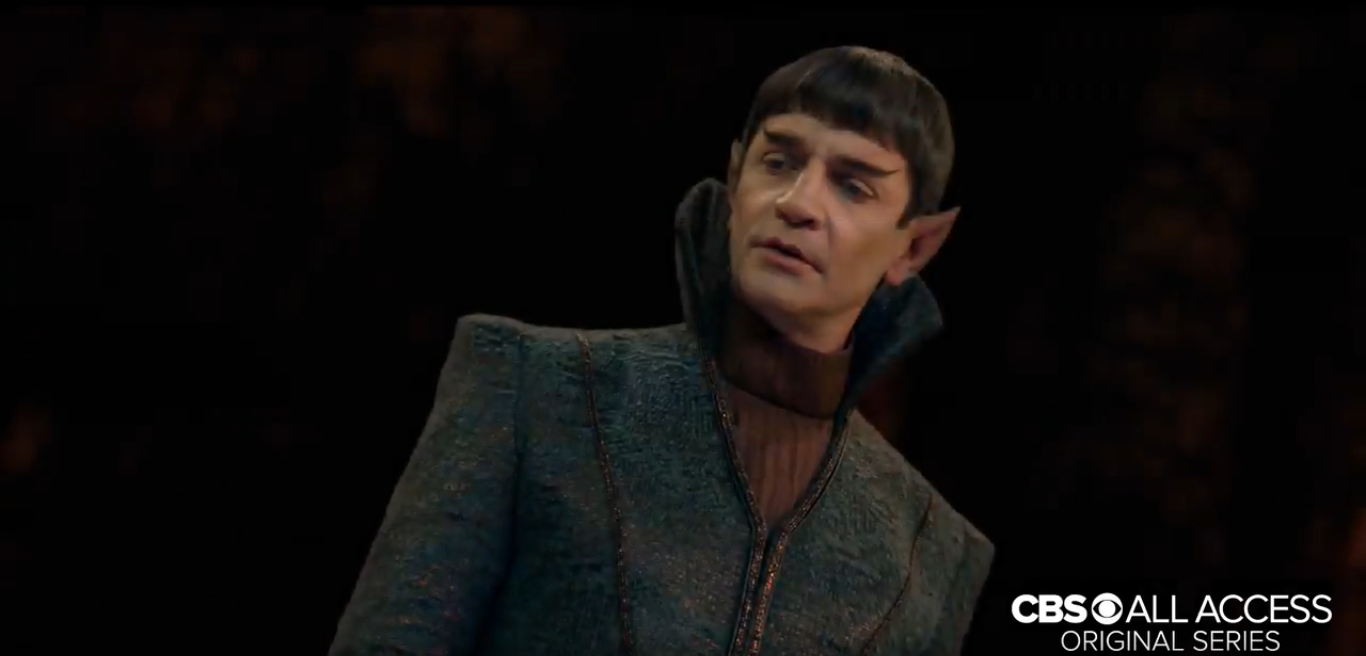 This is just speculation, but Sarek is the one Vulcan you'd expect to handle a human child living on Vulcan. He's an ambassador, and he married a human: a rare interspecies marriage in a rather xenophobic culture. His son Spock (who at this point is a young Starfleet officer elsewhere) is half-human and may even have met Burnham as a child.
3. A conflict with the Klingons
Discovery's Klingons look very different from earlier series. It's already a controversial choice, but Star Trek has gone through several makeovers over the years, and fans always find something to complain about. The new Klingons avoid the uncomfortable blackface elements of the '90s-era makeup and herald a fresh start for the Klingon Empire's political role in the franchise.
We already know the show involves three ships: the Discovery, the Shenzhou, and a Klingon vessel. According to the trailer, some kind of conflict begins when the Shenzhou discovers an unidentified object in space. Soon enough, Burnham is facing off against a Klingon in a spacesuit.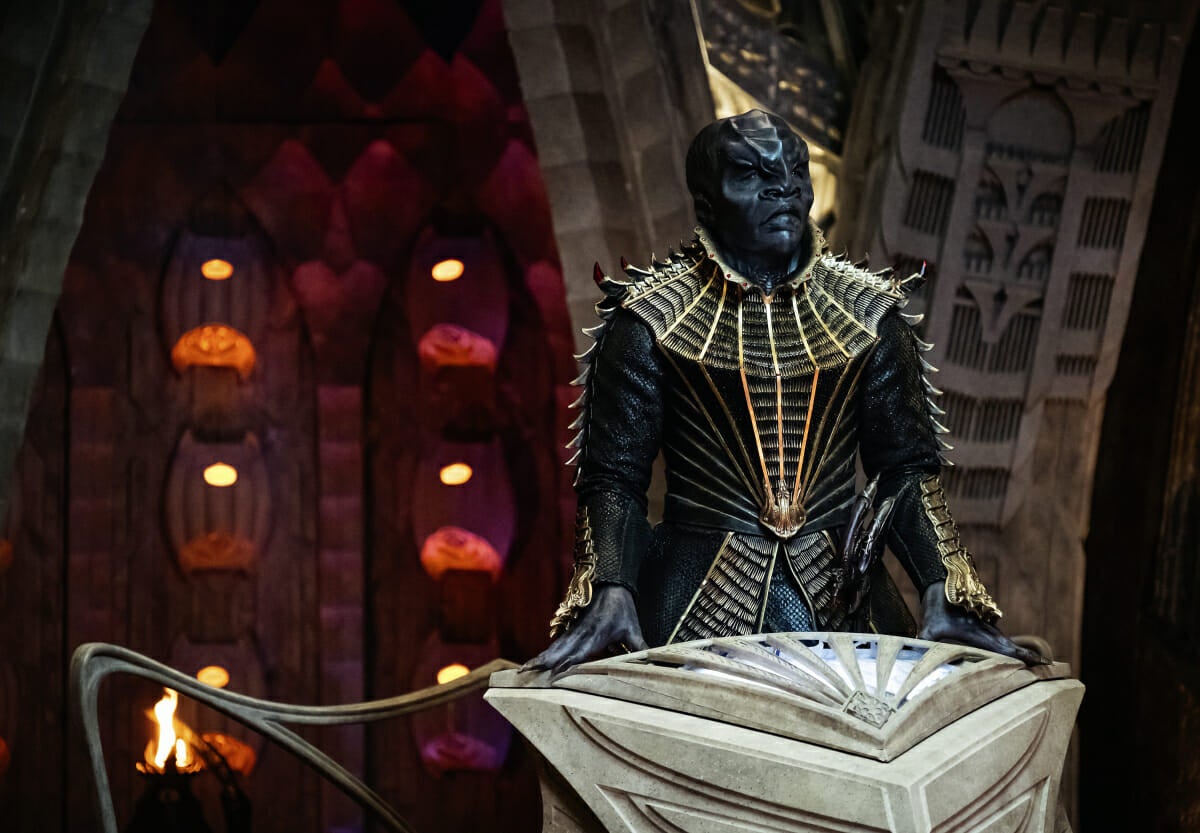 The trailer introduces T'Kuvma (Chris Obi), a Klingon political leader who wants to unite the feuding Klingon "houses." His role links up to an interesting line from Sarek: "Great unifiers are few and far between, but they do come. Often such leaders will need a profound cause for their followers to rally around." Is he talking about T'Kuvma, and is that "profound cause" a Federation/Klingon conflict over that unidentified object?
4. A brand new alien species
Veteran monster movie actor Doug Jones is ideal casting for a Star Trek alien, known for playing non-human roles throughout Guillermo del Toro's filmography. He plays Lt. Saru, a science officer on the Shenzhou and Discovery. Saru belongs to a new alien species, and the trailer introduces his idiosyncratic power: the ability to sense death.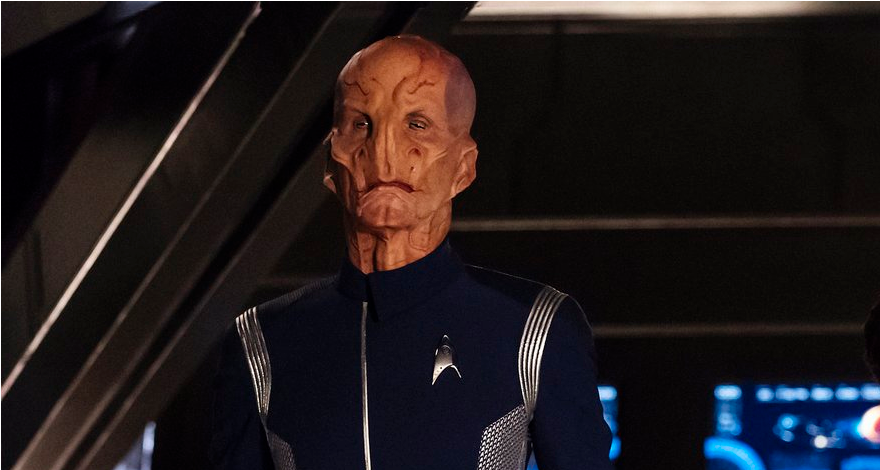 For more Star Trek: Discovery information, here's our up-to-date article about everything we know so far.