At some point during the current geological era, Marvel Studios is going to make a female-led superhero movie. Unfortunately, it seems less and less likely to be about Black Widow.
People have been demanding a Black Widow movie for years, for obvious reasons. Scarlett Johansson is interested in filming a solo spinoff, Black Widow has grown more popular with each new Marvel appearance, and audiences are crying out for a superhero who isn't a muscular white man with daddy issues.
As Andrew Wheeler of Comics Alliance pointed out, Marvel Studios will soon have made 10 movies starring blond men named Chris before it has made a film with a woman or a person of color in the lead role.
The most obvious explanation for Marvel's lack of a female-led superhero movie is, of course, sexism. The explanation for the lack of a Black Widow movie specifically is rather more complicated. 
Marvel Studios president Kevin Feige has often voiced his support for the concept of a Black Widow movie, but he always makes it sound like he's discussing events far beyond his control. Of course, the truth is that if he could push for Guardians of the Galaxy, Ant-Man, and Doctor Strange to be made, then he could greenlight a female-led superhero movie any old time. He does not actually have to wait for the planets to align.
Feige's most recent explanation was, "I think it comes down to timing… it comes down to us being able to tell the right story." Previous offerings include the gloriously passive, "The notion of exploring [Black Widow's backstory] in her own film would be great, and we have some development work with that." Then there's the excuse that Marvel Studios is already excellent at including well-written female characters in supporting roles, so they're already doing a pretty good job of representing women on screen. "In terms of a solo stand-alone female hero," Feige added "I'm not sure when that will be."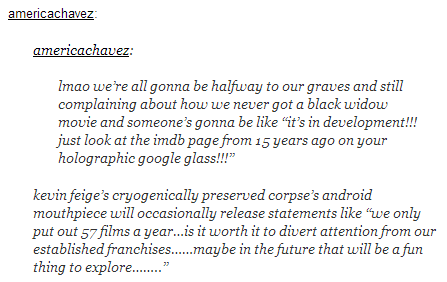 Photo via americachavez/Tumblr
With the Marvel Cinematic Universe (MCU) entering its third phase of spinoffs and sequels, Feige has a new excuse for the absence of a solo Widow movie: The increasingly complex schedule of Marvel storylines.
Marvel Studios has spent years building up a web of character arcs and plotlines linking its various franchises together, and new movies have to be scheduled years in advance. Guardians of the Galaxy recently added interstellar sci-fi to the MCU, while Doctor Strange is tipped to introduce some magical elements from the comics. Younger characters like Quicksilver and Scarlet Witch are now being added to the core Avengers team, to replace older members when they leave the franchise.
Obviously it's total nonsense to suggest that a Black Widow solo storyline couldn't be inserted into the MCU. It could. The real problem is that Marvel didn't get to it fast enough.
At the moment, Marvel Studios only seems interested in making movies with serious franchise potential. Guardians of the Galaxy was a risk, but they still confirmed a sequel before the first movie had even been released. Actors are routinely signed up for six or even nine movies at a stretch, with the ideal new Marvel star being someone who will agree to film and promote several year's worth of movies for comparatively little money.
Chris Hemsworth, Tom Hiddleston, and Chris Pratt are all good examples, because none of them were major stars when they signed their first Marvel contract. Sebastian Stan famously signed up for nine movies, which in his eyes meant steady work for at least a decade, and from Marvel's perspective meant they could continue the Captain America franchise with Stan in the lead role after Chris Evans completes his six-movie contract. 
Johansson reputedly signed a six-picture deal, but after Avengers: Age of Ultron and presumably Captain America 3, she only has one movie left. If Marvel wants a Black Widow franchise, then they'll have to renegotiate and pay her more money. And because Marvel Studios is known for paying its actors as little as humanly possible (unless they're Robert Downey Jr., who can demand the big bucks), they'd probably prefer to launch a female superhero movie starring someone much cheaper.
When promoting Captain America: The Winter Soldier this year, Kevin Feige said, "Frankly if we do a Black Widow movie after Age of Ultron, when she's been central in three or four movies, I don't think we'd get the quote unquote credit for it. People would say 'She's already a big giant superhero!' But if we had a great idea, we'd do it."
The truth is that Marvel Studios already has at least one completed Black Widow screenplay, written by Guardians of the Galaxy's Nicole Perlman. Feige, Johansson, and various other Marvel reps have also made noises about a film being "in development" for the past few years, but we've learned the hard way that that doesn't necessarily mean anything.
Hey folks, before rumors get out of hand: I wrote a treatment for Black Widow in 2010/2011, but I am not actively developing it right now.

— Nicole Perlman (@Uncannygirl) August 4, 2014
Technically, Marvel Studios is under no obligation to make any kind of female-led movie, ever. Their current roster of male heroes is already a huge box-office success, including with female audiences. So in the end, their main motivation to launch a female superhero franchise would be to stay ahead of their competitors and make more money.
If Black Widow is more profitable as a side-character in other movies, then that's where she'll stay. However, there is a light at the end of this tragic, Black Widow-less tunnel: Captain Marvel.
Carol Danvers would be a popular choice among comics fans, and is currently the frontrunner to become Marvel's first female lead. According to the Hollywood Reporter, the studio even has a Captain Marvel screenplay on hand. Most importantly, Captain Marvel could be launched in the same way that proved successful for the rest of Marvel's franchises to date: With a cheap, enthusiastic new actor in the lead role, and the potential to appear in a long string of sequels afterwards.
Photo via ansoro/Tumblr