This article contains minor spoilers for Knives Out.
Knives Out is a thrilling whodunit with a star-studded cast and a clever script from writer-director Rian Johnson that keeps the audience on its toes, a film that's won over critics and audiences alike. But amid the film's striking commentary woven throughout and twists to spare, it's also a film that's rather, dare I say it, cozy?
Its Massachusetts setting, the specificity and details of the intricate mansion that famed mystery writer Harlan Thrombey (Christopher Plummer) calls home until his untimely and suspicious death, and even the time of year it takes place (November) all lend themselves to the film's big cozy energy. But the work of costume designer Jenny Eagan (Widows, Beasts of No Nation, Maniac), is just as significant of a thread. From the moment we meet the Thrombeys, we're given a view into exactly who they are—even as Harlan's surviving children, their spouses, and their respective children try to paint a different picture of themselves.
"Rian wrote an amazing script that had quite a lot of detail about each character," Eagan told the Daily Dot via email. "He didn't write specifics on exact details [about costuming], but an overall essence of who the person was which gave me an incredible place to begin. It was very clear and defined, which made it so much fun to find pieces that brought those characters to life on screen."
Eagan's costuming manages to stand out in the Thrombey mansion, which easily could've overpowered everything else on-screen. Knives Out manages to highlight both place and costume, thanks in large part to Eagan's collaboration with production designer David Crank.
"[W]e discussed a lot about specifics of each [of the] characters, especially Harlan Thrombey and what the house would look like, why something was important in the house to inform the audience about the person that lived there," she said. "Which also helped me refine the characters['] costumes, by knowing where they lived, the paintings on the wall, the kinds of things on a shelf, what color a room was, etc…"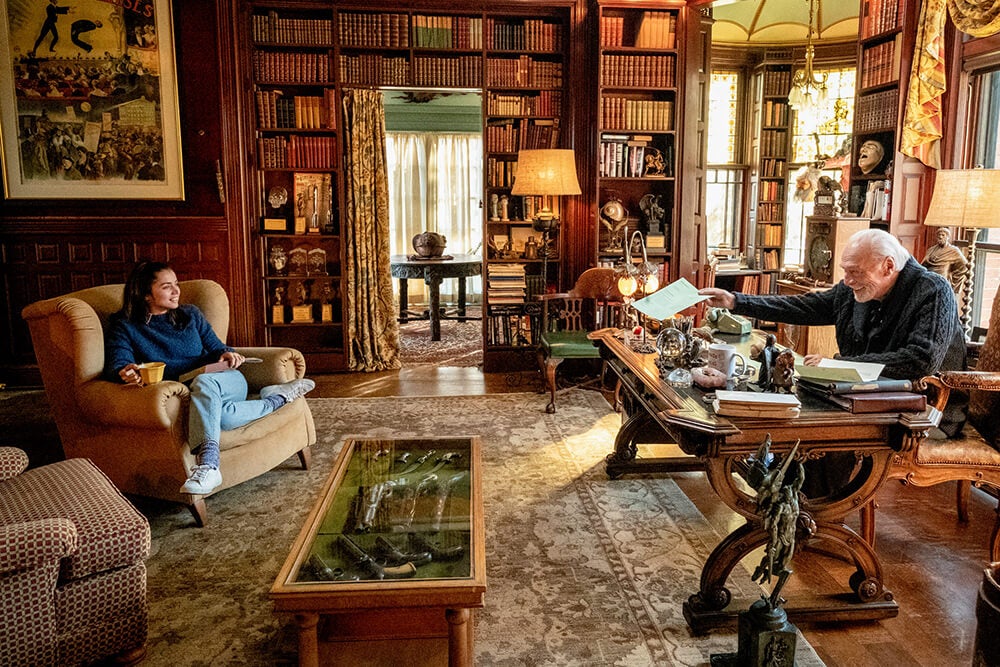 The costume work in Knives Out weaves together bright and often flashy colors, floral prints, furs, and knitwear; oftentimes, outfits featured clashing patterns and textures that normally shouldn't work together. (For the ultimate example of this, look no further than Great Nana Thrombey, Harlan's elderly mother, who seems to wear a bit of everything.) Eagan said that she loves mixing those elements together and pointed to Joni Thrombey, the Goop-esque influencer played by Toni Collette, as someone whose wardrobe Eagan wanted to "quickly explain who Joni was" through the use of floral patterns and light and airy clothing.
At its core, Knives Out channeled Clue in that every character had their own distinct look. Outfits like the loud and colorful power suits that are worn by Linda Drysdale (Jamie Lee Curtis) speak volumes about her character without viewers having to know anything else about her, as do the much more casual—but just as materialistic—half-zipped tops her hapless husband Richard (Don Johnson) wears. Sometimes, the family's outfits appear similar to one another, like the light blue cable-knit sweater worn by Donna Thrombey (Riki Lindhome) and the white v-neck cable-knit sweater worn by her alt-right troll son Jacob (Jaeden Martell) at Harlan's will reading, each with a collared shirt underneath. Their sweaters both feature simple, twisted cables, but upon close inspection, one twists to the right while the other twists to the left, creating a mirror effect between two minor characters.
It's details like that that ensure the real fashion standout of Knives Out is its knitwear. We see the characters wear a variety of sweaters, cardigans, sweater vests, scarves, and gloves throughout the film, a vast array of threads and cables. (Eagan noted that it was very cold while shooting, so the sweaters also served the practical purpose of keeping the cast warm.) In a recent interview with the Atlantic, Johnson even said that he told Eagan to "go nuts. Make everything cozy: sweaters, blankets, rugs."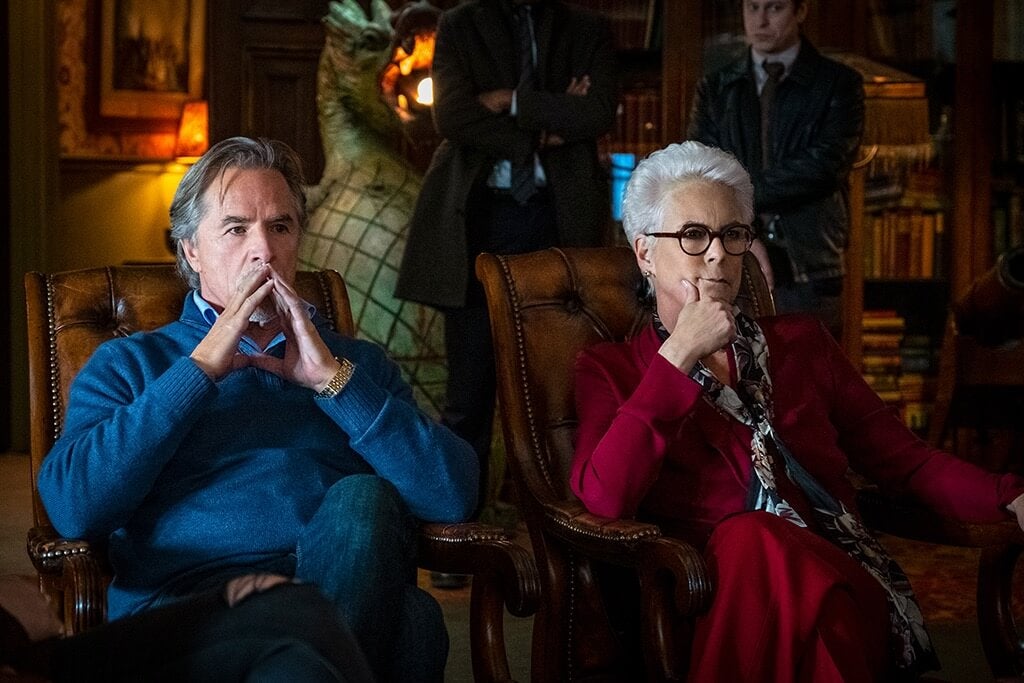 There are dozens of knitted pieces throughout Knives Out, some of which are part of a character's most memorable outfit while others make only a brief appearance in a flashback. In one poignant scene toward the end of the film, Harlan's caretaker, Marta Cabrera (Ana de Armas), is the living embodiment of hygge with a blanket wrapped around her and a hot drink in hand.
For Eagan, the knitwear in Knives Out is "a winter cozy snuggle feeling, so by using it more it gives [the film] texture and warmth, as if to connect people to the family."
However, if there was a single piece of clothing to embody Knives Out, it's easily the white Aran sweater that Hugh "Ransom" Drysdale (Chris Evans) pairs with a cashmere coat and a fine wool and silk scarf when he makes his grand entrance at Harlan's manor right before Harlan's will is scheduled to be read aloud. Ransom's Aran sweater is soft and regal, by far the most intricately crafted sweater in the entire film, although the sweater itself was purchased. Aesthetically, it's pretty much the knitwear equivalent of extra, with at least four types of cables amid knits, purls, and a ribbed collar and cuffs, all in a traditional white hue. That sweater has taken on a life of its own in recent months, even overshadowing a similarly complex brown honeycomb cable-knit sweater worn in multiple scenes by Walt Thrombey (Michael Shannon), whose wardrobe Eagan described in the production notes as "tries, but just misses the mark."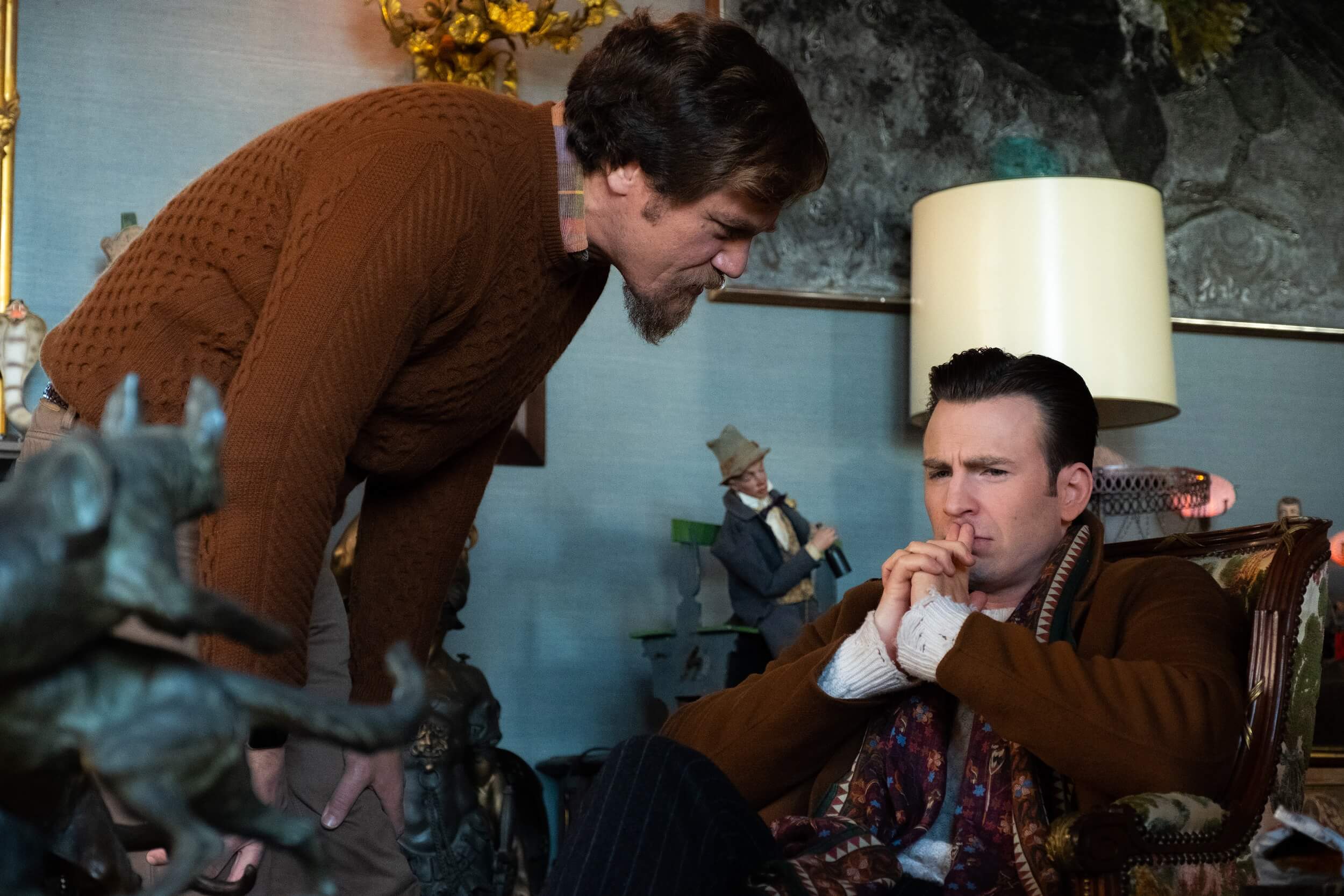 "I think the Aran sweater, in particular, fit Chris so well and it looks very cozy," Eagan said. "He looks quite handsome in it and I wanted it to make you feel at ease with him. We thought that if we created some holes and distressing into the sweater that it would give it this very lived-in feeling. I know I have my favorite sweater that is a little worse for wear, but I can't let it go."
There is also a sense of irony to Ransom Drysdale, who never worked a day in his life and largely depended on Harlan's wealth like the rest of his family, wearing this particular fisherman's sweater. Although it's now often a trendy (and often expensive) item of clothing, Aran sweaters date back at least 100 years while guernseys (or ganseys), another version of fisherman's sweater that was traditionally navy or gray, date to the mid-19th-century. The wool originally used in those sweaters was water-resistant for fishermen but were also acceptable to wear on special occasions; guernseys were also sometimes made to sell. (While some legends purport that the intricate and often unique designs of fishermen sweaters were a way for your family to identify your body if you ever died at sea, there is very little historical documentation to actually support that claim.)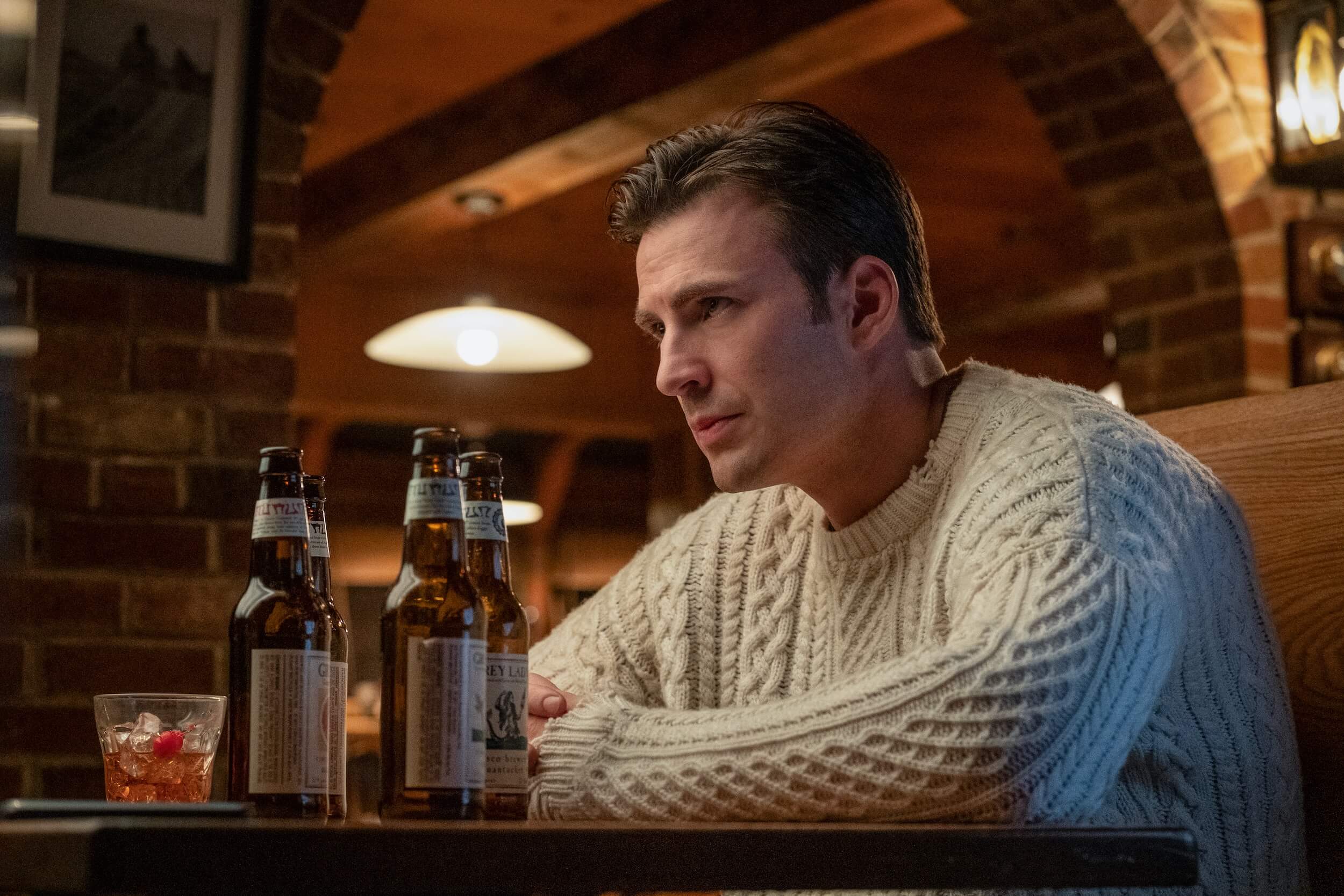 Humble origins aside, if you were to make a version of Ransom's sweater yourself, it'd take a lot of time, effort, potentially thousands of yards of yarn (which can be incredibly expensive depending on several factors like sizing and quality), additional materials like needles, and the use of at least four different cables (right cables, left cables, Celtic cables, and plait cables) that could cause a headache but, like Paul Hollywood's infamous Eight-Strand Plaited Loaf, yields a massive reward if you can pull it all off. And yes, there is a reverse-engineered pattern for the Aran sweater already in progress.
It's a sweater that you could look at and think, Yes, I could wear that.
Ransom's wardrobe has clearly seen better days: The Aran sweater alone has a noticeable hole on the right side and a frayed collar and cuffs; a light blue sweater he wore later in the film also has a frayed collar and cuffs. That was by design from Eagan, who made an effort to make his clothes look the worse for wear since Ransom is the kind of person who'd throw an expensive brown cashmere coat to the ground without a second thought. It's a quirk that defines who Ransom is, with Eagan explaining in the production notes for Knives Out that the Ransom's lack of care for his own high-end clothing "really plays to a character who disrespects the money, the house, and everyone in it."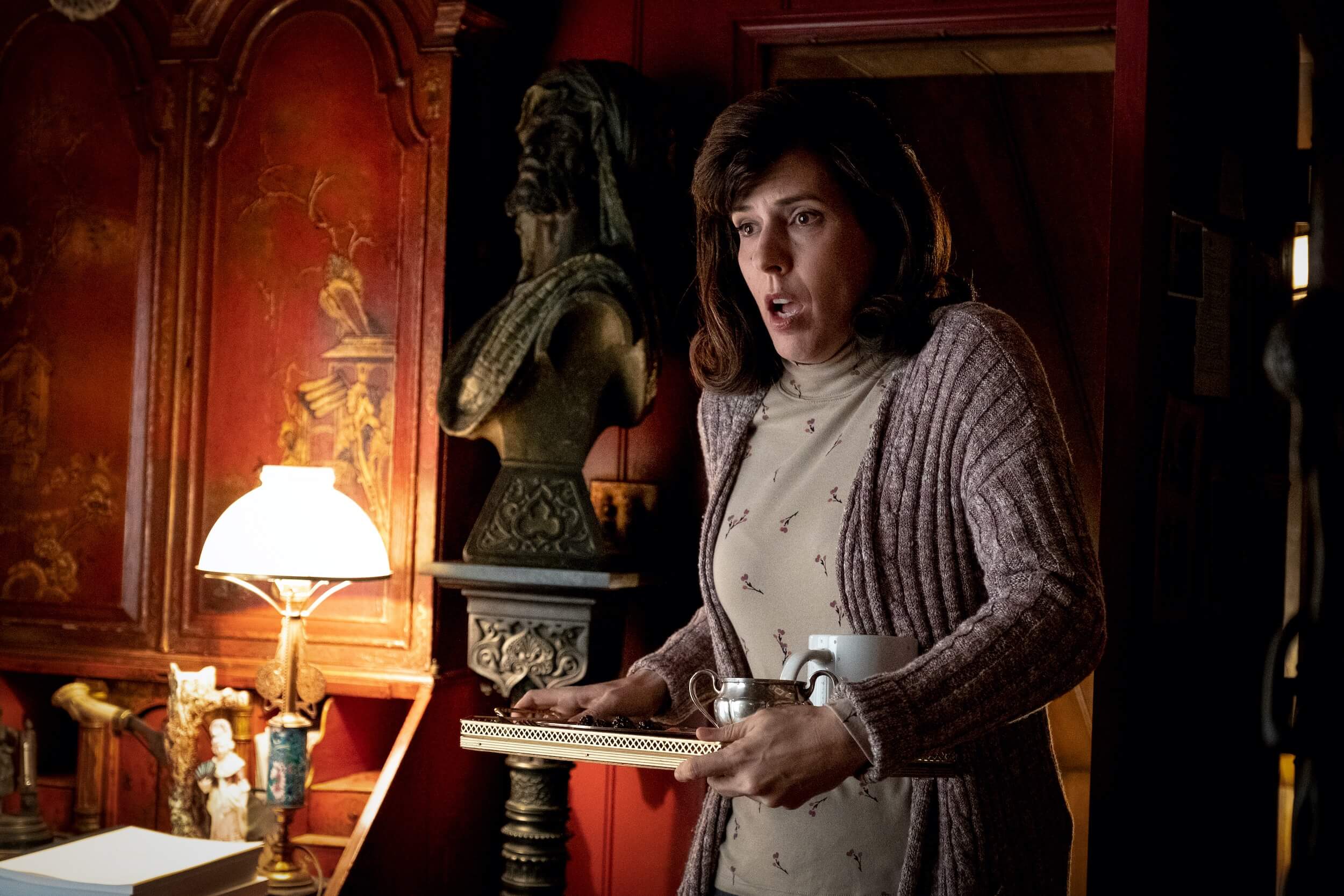 But Ransom's sweater is far from the only one that can tell a story otherwise left off-screen. In vast contrast to the Thrombeys, who quite literally wear their privilege on their sleeves, the wardrobes of Marta and housekeeper Fran (Edi Patterson) are far more practical and realistic. Eagan wanted to make sure that they were comfortable without alienating even further than they already were by having them wear uniforms.
Since Fran seemed to have worked for Harlan for quite some time, Eagan made her outfits more dated, as if "she had gotten stuck in a different time" after being "disconnected from reality in that big house for so many years." On the other hand, Marta's outfits were more on the stylish side, which hinted at her casual friendship with Harlan along with a life outside of the Thrombeys that we only catch glimpses of. And although Marta dons her own array of sweaters throughout the film, the centerpiece of her wardrobe is an accessory: a multi-colored, striped scarf that Marta keeps with her in and out of the Thrombey mansion.
"Rian really loved the bright scarf for Marta," Eagan said. "I believe it gave her a real sense of youth and kept her connected to an outside world. She was very close with her sister and I imagined they shared things, talked about fashion, music, movies and things that were normal for her age. I also felt it made other people realize why Harlan had such a great time with her. He trusted her, she was a little more relaxed than most of his children and grandchildren, which I imagine was a bit of a relief for him."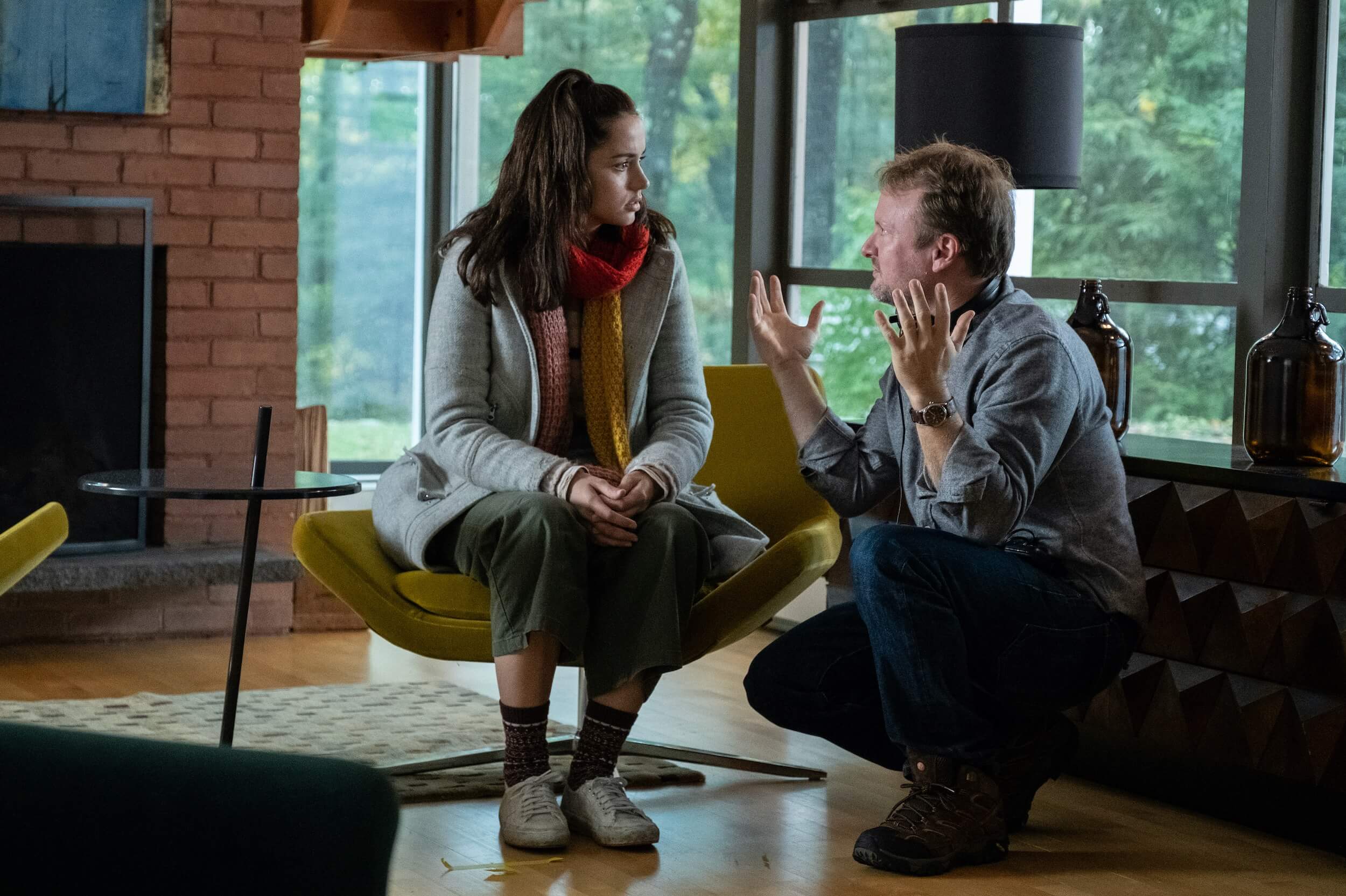 In one sense, obsessing about the knitwear of Knives Out opens the door to talking about Knives Out without spoiling the big reveals of the plot. You can pique someone's interest in the film—"The cast is great and so is the script, but did you see those sweaters?"—and even in a film when the vast majority of the characters are incredibly wealthy, those sweaters can often look chic yet still attainable. It brings a relatability to them and some of their motives, even when their problems are very much Rich People Problems. The knitwear is a snug and comfortable entryway into a modern-day murder-mystery that feels akin to the best that Agatha Christie had to offer, like a crackling fire that masks the ash of deceit.
But as much as we're given insight into who these characters are through their wardrobe, the knitwear also disguises the thorny and repugnant side of the Thrombey family that comes out when it looks like their livelihood is threatened. For some of the characters, the ugly side emerges well before we learn whodunit because as much as they might talk about family, they have no issues with backstabbing their own or resorting to blackmail to hold onto what they think is rightfully theirs. And they do it with a smile on their face—and in a cozy sweater.