Writer/director Rian Johnson makes a triumphant return to original storytelling with Knives Out, an intricate puzzle-box of a whodunnit. Featuring a star-studded cast, it embraces the beloved clichés of Agatha Christie while delivering a contemporary twist on the genre.
Knives Out

RELEASE DATE:
11/27/19
DIRECTOR:
Rian Johnson
STREAMING:
Theatrical
A biting and star-studded whodunnit.
It's tempting to describe this film as a parody, but as Johnson made sure to point out during the press tour, it's really not a spoof. Knives Out may be laugh-out-loud funny, but it's also a thoroughly satisfying murder mystery in its own right. Not to mention a sly piece of political commentary about the toxicity of inherited wealth.
The trailers introduced Knives Out as a comedy thriller about the unexpected death of wealthy author Harlan Thrombey (Christopher Plummer), with the exquisitely theatrical "gentleman sleuth" Benoit Blanc (Daniel Craig) investigating Thrombey's gaggle of eccentric relatives. That's technically an accurate description, but the film's first trick is its unexpected protagonist. Ana de Armas (perhaps the least famous member of the cast) plays our heroine, Harlan Thrombey's beloved nurse Marta Cabrera. Marta is a warm-hearted person surrounded by aggressively selfish millionaires, all of whom like to claim she's "part of the family" while clearly still thinking of her as a servant. When Harlan dies by (seemingly) slitting his own throat, Marta is more upset than some of Harlan's actual relatives, a family headed up by Jamie Lee Curtis as the sharp-witted eldest daughter.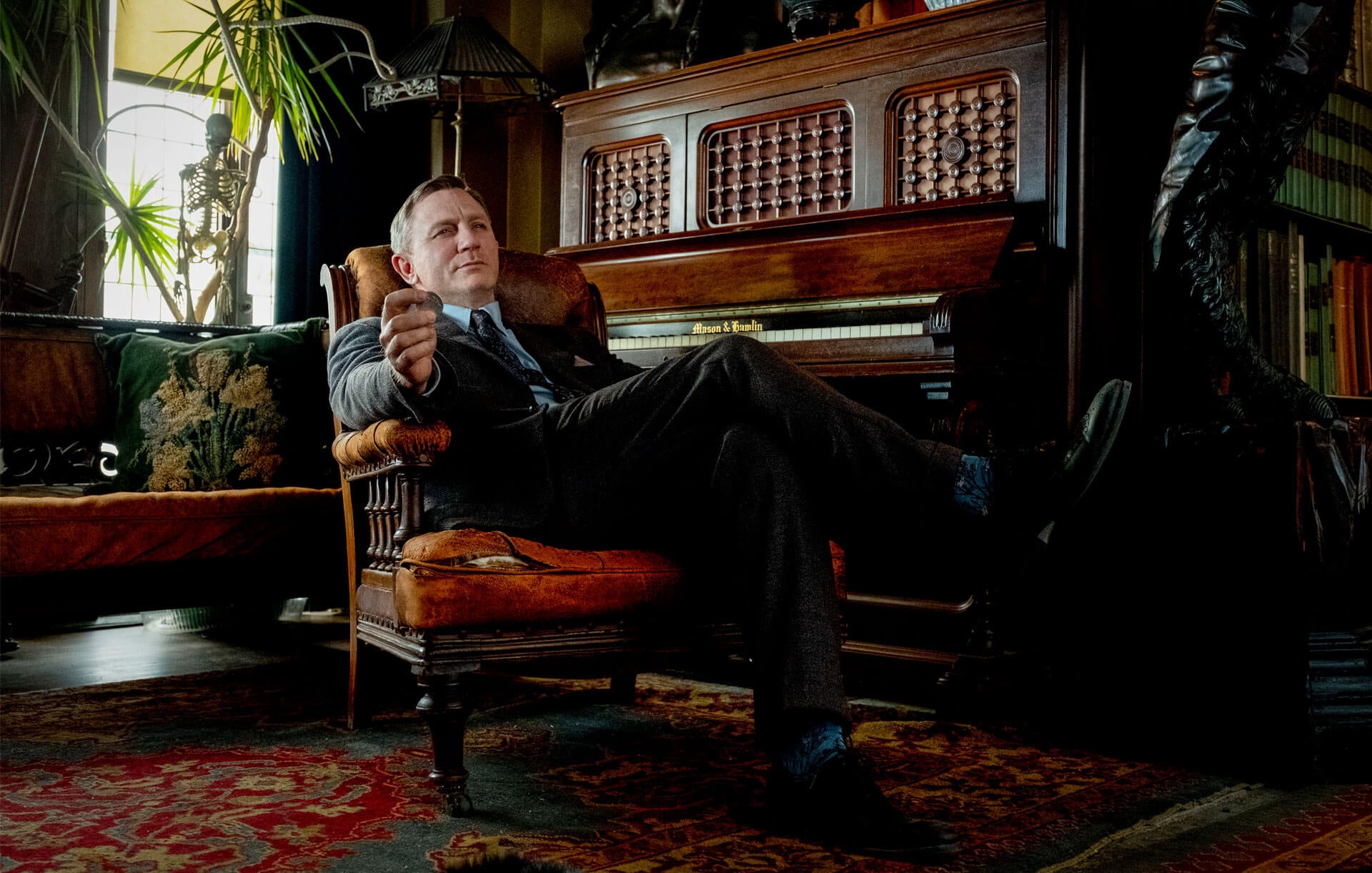 Set in a beautiful old wood-paneled mansion, Knives Out kicks off with a familiar homage to Christie, as the family gathers for Harlan's 85th birthday party. When Benoit Blanc and a local police detective (Lakeith Stanfield) question the guests about his death on that fateful night, it becomes clear that almost everyone had some kind of motive.
If there's any justice, Johnson's screenplay will be up for this year's Oscar. Along with being tightly plotted and unpredictable (as you'd expect from the guy who brought us the structurally complex Looper and Brick), Knives Out is straight-up hilarious. Every character gets a slew of tasty one-liners, with the clear champion being Benoit Blanc. Like Hercule Poirot, Blanc arrives armed with a penchant for drama and an over-the-top accent—in this case a Southern drawl that reveals Craig as a connoisseur of audacious vowel choices. ("I'm here as an obseurveur," he announces, lounging in the background of an interrogation scene.) I wish I'd noted down some of his florid monologues, but honestly, I was too busy laughing. This is definitely a film to catch in theaters, preferably with a rowdy audience.
Harlan Thrombey's family is populated by big-name stars who frequently lead their own movies; a testament to Johnson's draw as a filmmaker. Toni Colette plays a gold-digging Instagram influencer, seemingly channeling the viral YouTube star Freckle. Chris Evans, relishing the end of his tenure as Captain America, plays a trustfund douchebag named Ransome Drysdale (!), the living embodiment of a smirk. He rolls into the film halfway through like the male version of an Old Hollywood diva cameo, hired to stir up trouble as a scene-stealing bitch. To give you an idea of how big and flavorful these performances are, Michael Shannon's role as Harlan's embittered son looks positively tame by comparison. Michael Shannon! Even Marta, the sympathetic everywoman, has an absurd little quirk: she pukes whenever she tells a lie. In a lesser film, this would be a step too far in the direction of twee nonsense, but Johnson makes it work.
While Knives Out is clearly riffing on well-trod ideas, it's a surprisingly rare type of film. We're used to seeing Christie adaptations, but I can't think of a modern equivalent that follows the same genre conventions without being an outright parody like Clue. And Knives Out really is a contemporary film, despite its antique aesthetic. Along with its wry brand of pop-culture savviness ("I read a tweet about a New Yorker article about you," one character remarks to Benoit Blanc), it uses the genre's aristocratic origins to comment on present-day American politics.
Our first hints appear during the initial interrogation scenes, with members of the Thrombey family confidently misidentifying which country Marta's family comes from (Uruguay! Brazil!), and admitting with long-suffering tolerance that Harlan's slimy grandson Jacob (Jaeden Martell) is a Nazi troll. Rather than being a story where the main characters are coincidentally rich and white, it's specifically and intentionally about a rich, white family in 2019. They're all self-absorbed, greedy, racist, or all three at once. A rather different attitude than Christie, who was ultimately quite forgiving toward the British upper classes.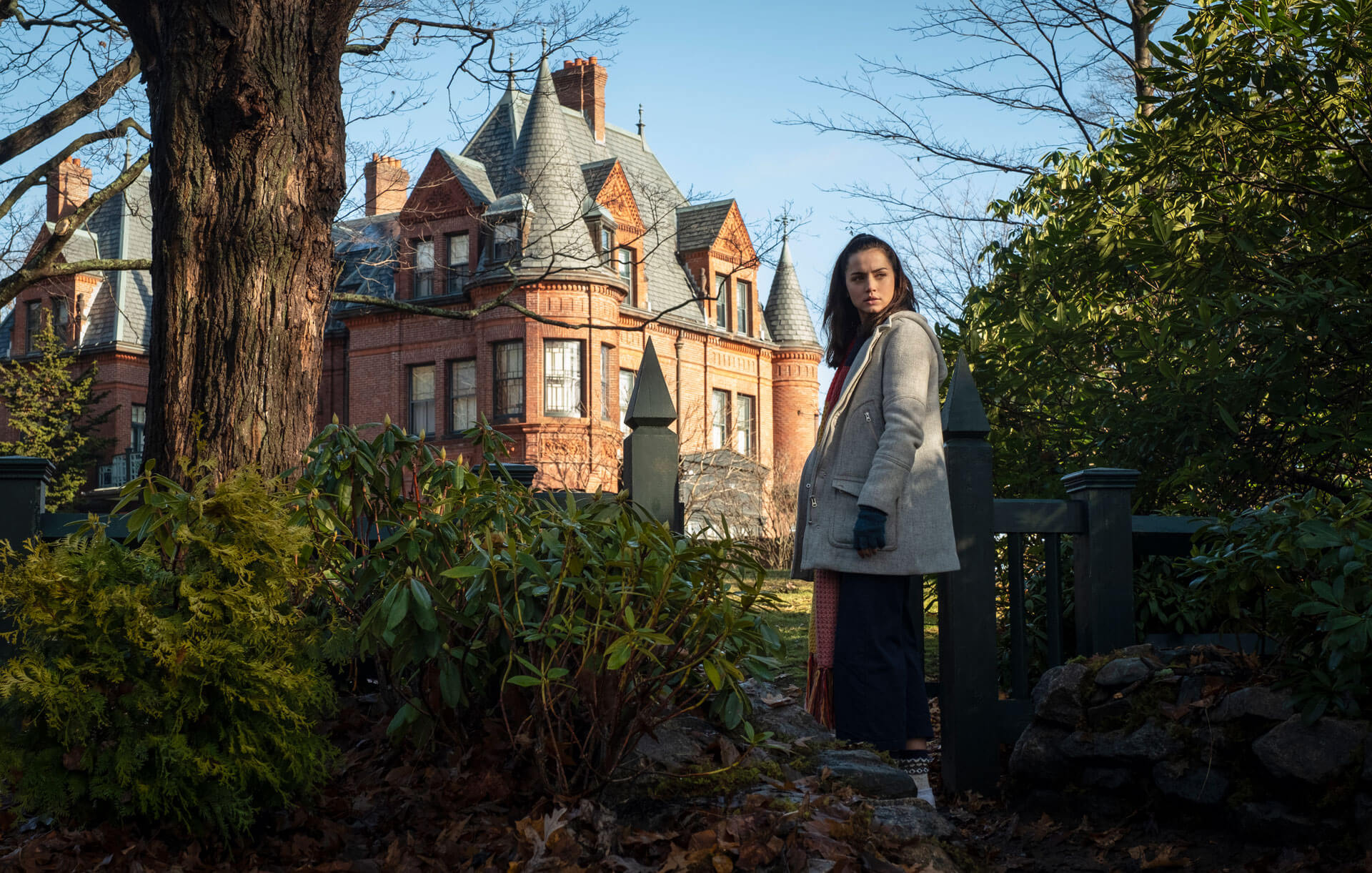 Obsessed with their own problems, the Thrombey family largely ignores Marta, the only person who truly cared for Harlan on a day-to-day basis. Several scenes echo the "I would've voted for Obama a third time" line in Get Out, and at one point Ransome calls someone an SJW. It'll be interesting to see how this film fares in a few years because some of the 2019-era references feel so precise that they may age into irrelevance.
Knives Out reaffirms Johnson's role as one of the most exciting directors working in mainstream Hollywood. On the surface it's a pure entertainment piece, recruiting A-list actors for a rollercoaster ride of plot twists and feisty dialogue. But it's also considerably more complicated and skillful than the crowd-pleasing blockbusters these actors are known for (James Bond, Marvel, the Halloween franchise), delivering an elaborate ensemble drama with deceptive finesse. The lighthearted orchestral score (Nathan Johnson) sweeps us into the correct mindset within the first five seconds. The modern political themes dovetail neatly with 80-year-old archetypes. In a story that consists almost entirely of dense conversations, the dynamic camera work and gloriously showy performances make every scene a thrill ride. Arriving two years after The Last Jedi, it reminds us that Johnson has one of the rarest and most desirable skills in Hollywood: The ability to embrace an old idea, and revamp it into something truly fresh and unexpected.
Knives Out is screening at the London Film Festival and comes out in the U.S on Nov. 27.