In December 2016, Johnny Weir was one of the many, many people who got hooked on Yuri on Ice. Fans flocked to the series for its combination of sports anime storytelling and queer romance, but Weir had another reason to be excited. He's a world-famous figure skater, and without realizing it, he'd become a kind of muse for the show.
Weir is a three-time U.S. champion and competed twice at the Winter Olympics, known for his extravagant fashion sense and former rivalry with fellow U.S. skater Evan Lysacek. Yuri on Ice viewers noticed several similarities between Weir and the show's lead characters, including homages to his costumes and signature flower crown. Alongside reigning world champion Evgenia Medvedeva, he quickly became one of the highest-profile figure skaters to join Yuri on Ice fandom. He even performed an exerpt from one of the routines in the show, something you can really only do if you've had professional training.
Now, Weir is about to visit his first anime convention. He's scheduled to attend the Crunchyroll Expo in Santa Clara this weekend, taking part in panels and meeting fans. In honor of his unexpected induction into anime fandom, we called him up for a chat about his relationship with Yuri on Ice.
https://www.instagram.com/p/BVbTQ1LA07p/?taken-by=johnnygweir
It must have been a strange experience to find out you partly inspired such a popular show. What was your initial reaction?
So, I don't follow anime or that world. It's not that I'm not a fan, but I have very little time and, you know, I watch Game of Thrones when I have time to watch something. For me, when people started tweeting about Yuri on Ice I had no idea what it really was. I had to ask my web team to help me figure it out.
I was hooked immediately. I was going to try to limit myself to one episode a week, and then very quickly I found myself binge-watching it. To see my figure skating world and so many of my life moments, whether it's the rose crown, or switching coaches, or being in specific arenas around the world… it was amazing to see the attention to detail that the creators put into the show.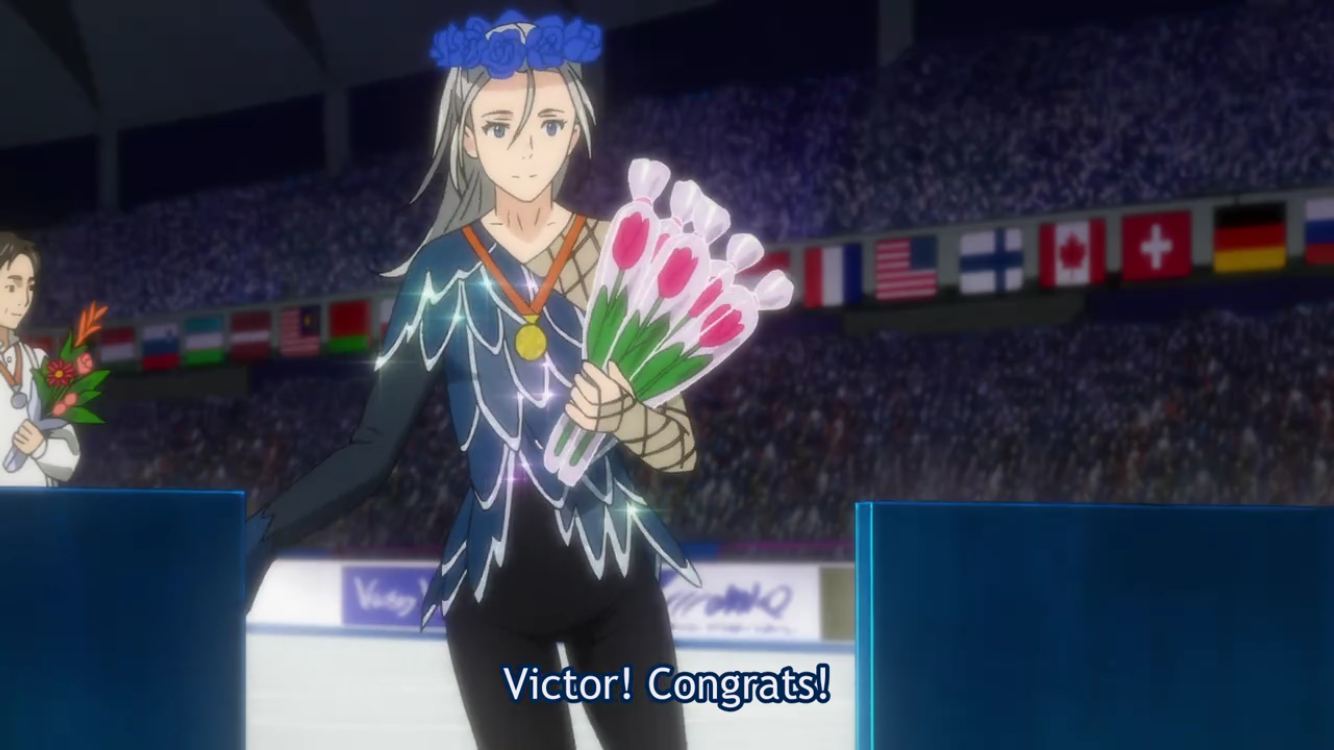 A lot of skaters have said the show is surprisingly accurate. What kind of details did you notice as someone familiar with the lifestyle? I remember you tweeting that a couple of characters reminded you of people in real life.
Of course there are pieces of Yuri and pieces of Victor Nikiforov that remind me of me and my career, and almost seem to be taken directly out of my scrapbook, so to speak. That's incredibly humbling, but then to see other skaters that have similar techniques to skaters I've competed against… Obvious parallels between Victor Nikiforov and [Russian Olympic champion] Evgeni Plushenko, who's a dear friend of mine.
Even just the details of the hotels. There's the hotel when they go to the Cup of Russia in Yuri on Ice, and we stay in that hotel every time we perform at this particular arena. The fact that they were able to depict it so beautifully and so accurately is really amazing, for figure skaters who are in a sport that isn't appreciated on a daily basis like American football. When you're in a niche sport, to see someone appreciate your world so clearly, it's very inspiring. 
As far as the actual skating is concerned, and the scoring, it's very much on parallel with what's going on in men's figure skating at the moment. The technical elements that the anime performed… I knew immediately that the characters were choreographed by Kenji Miyamoto, who I've worked with on choreography. It's just truly amazing and special that there's an anime that appreciates figure skating and the figure skating world so much!
Is there any particular character that you identify with, or are you kind of a Yuri and a Victor?
I would say that I'm a combination of Yuri and Victor, but I think of the two, the one I would associate myself with the most is Yuri. I mean, Victor wore the rose crown, which is kind of a signature moment in my life, after I competed at the 2010 Olympics, my dear friend Machiko gave me a crown of roses. She's been my fan and followed my career for a long time and over the years we've become friends. As soon as I was finished my long program she gave me those roses and I sat in the kiss-and-cry area, and it was the picture of my Olympic games. It was the moment that I left my heart on the ice in front of the entire world, and we capped it off with not a gold medal but a crown of roses.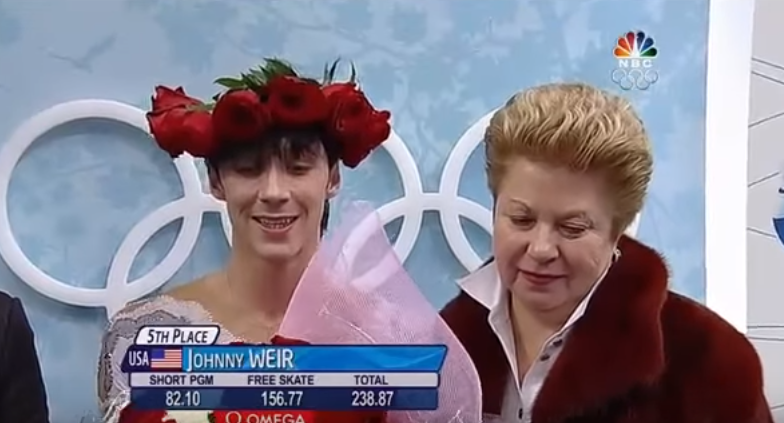 So that is very special to me to see Victor in the series wear a rose crown, but who I identify more with is Yuri. There are lots of parallels where at 23 years old we both switched coaches, we both had the Cup of China and the Cup of Russia in our first season with a new coach, and both qualified for the Grand Prix final. And I definitely thought about giving up the sport a few times in my career before I made that big move to my final coach, when I was really at the lowest point in my career and really wanted to hang up my skates. I changed coaches because I needed that to reinvigorate me in the sport.
One of my favorite aspects of the show was the costumes. It felt like a very accurate portrayal, both of the really beautiful, graceful costumes you see in figure skating, and also the more lighthearted and silly ones. Did you have a favorite costume in the show?
Probably the ones that were inspired by me! There's one costume that Victor Nikiforov wears where he's got fishnets in one arm and the rest of it is feathers and he's very birdlike, and that obviously is a reference to my 2006 olympic games short program costume where I dressed as a swan. I had a fishnet arm and a red glove as the beak of the swan, and the rest of me was full feathers. That has a very special place in my heart and when I saw it on Yuri on Ice it was just like, "I'm gonna cry!"
The short program costume that Yuri wears is very similar to a costume I wore when I performed to "Poker Face." My "Poker Face" performance was a big hit in skating and even in pop culture when I was doing it, because Lady Gaga was just sort of coming up in fame around the world, and I was performing it in Japan, in Korea, in countries where figure skating is very popular. It was a very successful program for me, so to remember that and to see that costume also portrayed in Yuri's short program… I loved those two, that's for sure.
You kind of have a cult following of your own, but it kind of feels like you and other figure skaters had your first experience of being fans yourselves with Yuri on Ice. Has that drawn you into anime fandom, and what are your expectations for your first convention this weekend?
I definitely feel like I'm a part of the Yuri on Ice fandom, I definitely feel at home with everybody. Something I've learned about the anime community is how accepting they are of each other, and I think that's a beautiful thing. That's a big part of why I wanted to be part of the Crunchyroll Expo. Because everyone is free to fly their freak flag, everyone is free to be themselves.
I think there are so few fandoms and so few areas of our world that really accept everyone for who they are… you know, there are characters in Yuri on Ice that I don't like because they remind me too much of people I don't like in my own life. But you know, there are people that are fans of those characters, and the fact that they respect me and accept me saying that I don't like their character is just a signal in itself how accepting the community is.
https://www.instagram.com/p/BTuu0uqA7Vm/?taken-by=johnnygweir
I'm so excited to see how everyone dresses for this convention! I know cosplay is a big thing. I won't be dressing in costume, but I'm excited to see what people wear, what they bring, hair and makeup-wise. And just how interesting and diverse the fandom can be. Because it goes everywhere from an 8-year-old ice skater to part of my management team, Jonathan, who's a 20-something straight dude from Texas. It goes all the way up to my mother, at 60, who's watched Yuri on Ice and really responded to it. To have that wide of a fanbase is something amazing, and I'm just happy to revel in the glory that is anime with all the other fans.