Star Wars: The Last Jedi pushed our favorite characters and took them in new directions, but that meant that two of the new trilogy's heroes spent most of the movie on opposite sides of the galaxy. Now John Boyega says that Episode IX will bring back a familiar dynamic first introduced in The Force Awakens.
While attending Awesome Con in Washington, D.C. this weekend, Boyega divulged a little of what he knows about Episode IX, which will start shooting in July. Although Boyega says he hasn't read the script yet, he does have one piece of information that should please many fans.
"Daisy [Ridley] did shoot me a text saying, 'Oh my gosh, I just heard from J.J., and we're back together,'" Boyega explained. "That's what I'm really excited about, is Finn and Rey back together again."
Finn and Rey's relationship—introduced at breaking speed on Jakku—is one of the cornerstones of The Force Awakens, but they spent most of The Last Jedi apart as their respective journeys took them down different paths. Rey spent much of the movie on Ahch-To with Luke Skywalker while Finn teamed up with Rose Tico and traveled to Canto Bight in an attempt to help the Resistance escape the First Order.
And when they were in close proximity to one another on the Supremacy, their tasks—Rey trying to turn Kylo Ren to the light side of the Force, Finn to shut off the hyperspace tracker with Rose—led them to completely different areas of the ship.
They were constantly on each other's minds for much of the movie, but they only reunited in the final minutes of the film after Rey removed the rocks blocking the Resistance inside of Crait's mines. Even some fans who loved The Last Jedi rejoiced at seeing them together again, and we imagine that they'll have plenty to catch up on while the last remaining members of the Resistance are all on board the Millennium Falcon.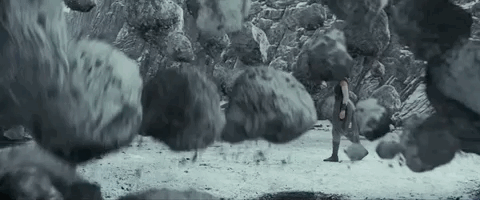 Of course, just because Finn and Rey will be together in Episode IX doesn't mean they'll necessarily stay that way. As Boyega told audiences, "I think it's going to be all-out war in this final chapter," which means all bets are off on who will make it out of the new trilogy alive. But for now, it's great to know that we'll at least get to see Finn and Rey together again before the end.
H/T Slashfilm