HBO's security woes continued Wednesday after notorious hacking group OurMine allegedly took control of several of its social media accounts. The incident comes just weeks after hackers breached the network's systems and a third-party vendor accidentally leaked a Game of Thrones episode before its official airing.
The main Twitter and Facebook pages for HBO along with several of its TV show accounts posted suspicious messages around 11pm ET on Wednesday.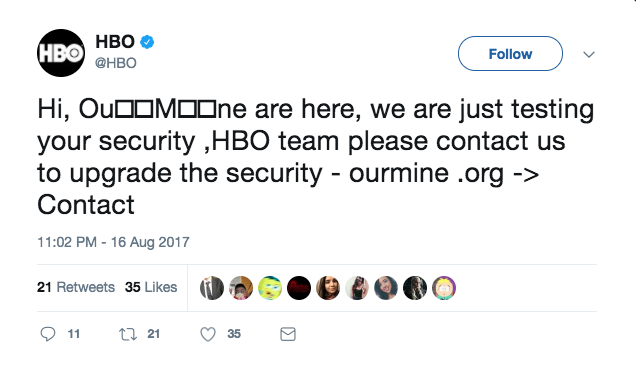 Many of the posts read, "OurMine are here. we are just testing your security." They then ask HBO to contact the hacking group. However, the official Game of Thrones Twitter account ominously attempted (and succeeded) to get #HBOHacked trending.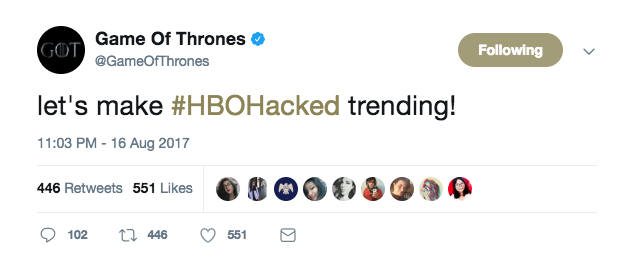 Other HBO accounts hacked within a 30-minute time frame include Ballers, Silicon Valley, Veep, and Last Week Tonight.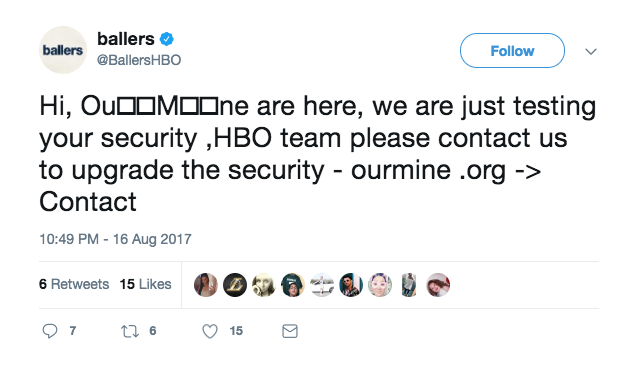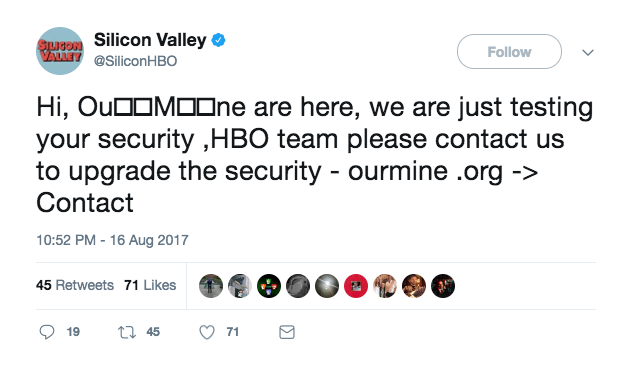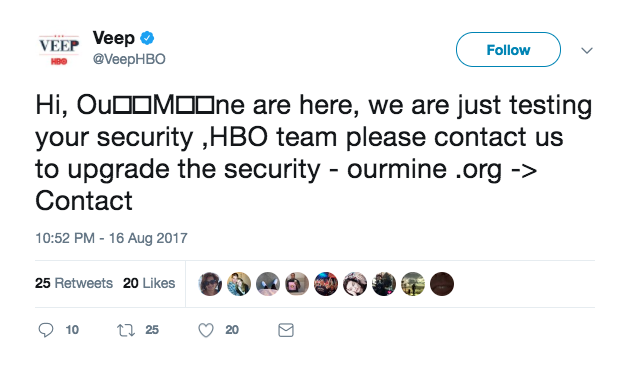 The posts were quickly deleted after the Time Warner-owned network regained control, but not before the Watchers on the Internet took screenshots.
Yikes @HBO'a @GameOfThrones fb account just got hacked… #HBOHack #HBOHacked pic.twitter.com/GGqcV3K2kF

— Holly Miranda (@hollyfmiranda) August 17, 2017
OurMine gained notoriety over the past few years for hacking a range of high-profile social pages, including the NFL, Netflix, Mark Zuckerberg, and TechCrunch. The group posted similar messages in those attacks, but never released private information.
The HBO hack comes on the heels of a devastating security breach and untimely leaks, which resulted in the release of Game of Thrones and Curb your Enthusiasm episodes. A hacker going by the moniker little.finger66, who allegedly obtained 1.5 terabytes of data, sent HBO a ransom note asking for an undisclosed sum of cash. HBO reportedly offered $250,000 worth of bitcoin as a bounty payment.
In an unrelated incident, an HBO partner in India leaked a Game of Thrones episode before its scheduled release. Four men were arrested in connection with the leak. Another season 7 episode was accidentally leaked by HBO Spain Wednesday.
HBO told NBC News that it is investigating the social media incident.