The most surprising thing about picking up Kylo Ren's crossguard lightsaber is that it's much heavier than it looks.
Of course, the red lightsaber in my hand is a high-quality replica; there's no fear of me losing any limbs or getting singed by fiery sparks coming off of Kylo's blade. But when your main frame of reference on physical lightsabers is the kind of plastic blade that extends when you wave it (kind of like this one) from close to 20 years ago, any lightsaber is going to feel heavy. In comparison, Rey's lightsaber is much lighter yet more difficult to turn on to reveal its blue hue, which almost feels like a built-in metaphor for the often trying path of a Jedi versus the simplicity of giving in to the temptations of the dark side of the Force. When the two blades clash, sounds emerge from the lightsabers, as I found out when I tested it out with a Dolby SoHo employee. (I wielded Rey's blade while he had Kylo's blade in hand. Yes, it was as cool as it sounds.)
https://www.instagram.com/p/B5vtc-QHWIC/
But no matter how long it's been since you last held a lightsaber, real or not real, there's something undeniably awesome about the moment you can wield one for yourself. Any cynicism you might have just falls out the window as, for the briefest of moments, you get to live out a childhood fantasy.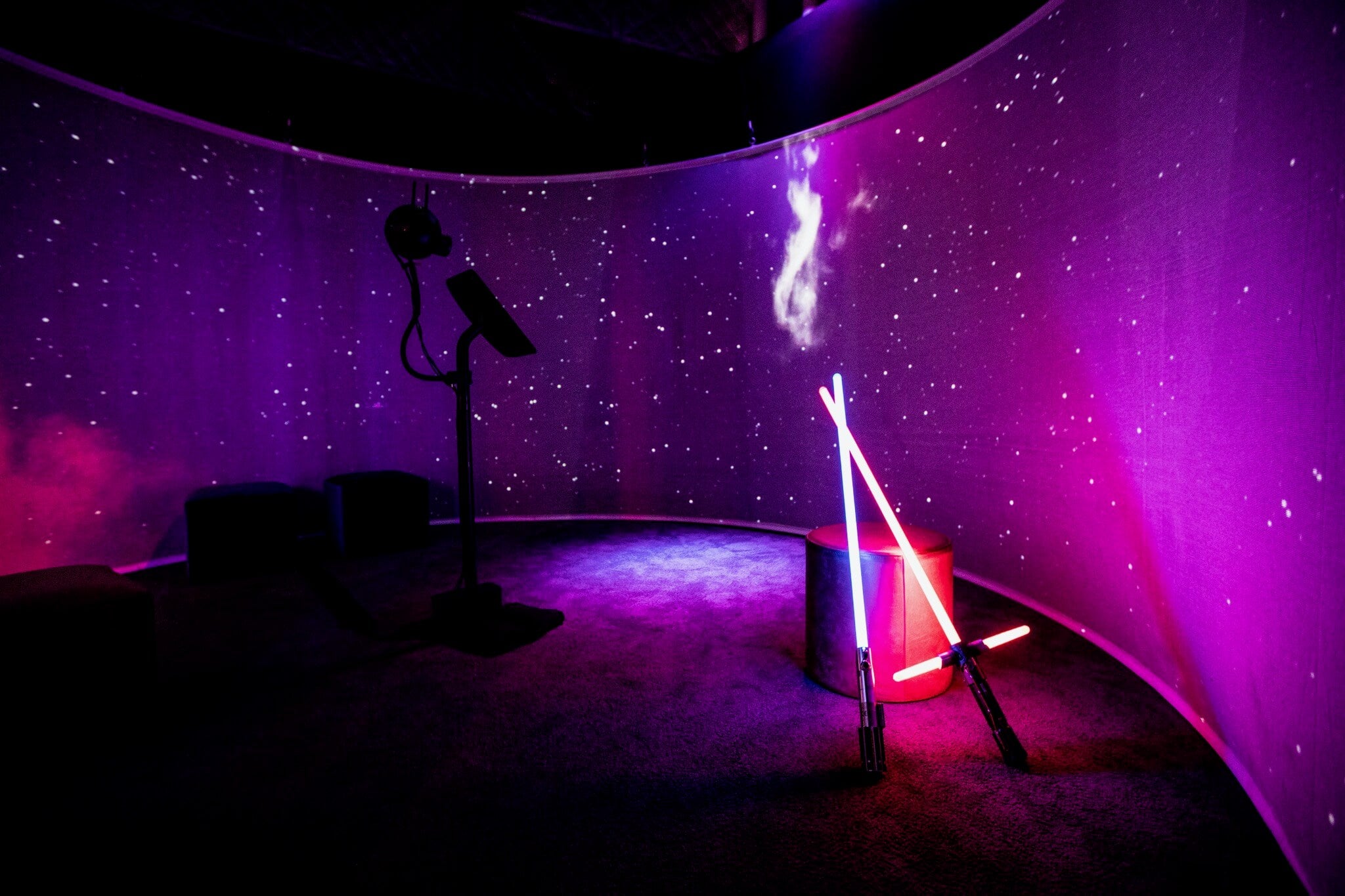 The lightsabers are one way for Force-sensitive beings to channel the Force. For us mere mortals, you can choose whether to follow the light side or the dark side of the Force (labeled Jedi vs Sith, respectively) and wield the respective lightsaber for a short video clip. The Hypno Pod, where the lightsabers are located, is one of 11 rooms that Star Wars fans will be able to explore at Dolby SoHo in New York, which is host to a free Star Wars interactive exhibition celebrating the series leading up to The Rise of Skywalker that's running now until Jan. 5, 2020.
"For 42-plus years, Dolby has a long heritage with working with Lucasfilm and the Star Wars saga," Stuart Bowling, Dolby Laboratories director of content and creative relations, told the Daily Dot. "From 1977, helping to bring Star Wars to movie theaters in the U.S. and around the world. In-surround sound really helped catapult the capabilities of what Dolby could do with surround sound and filmmakers like George Lucas."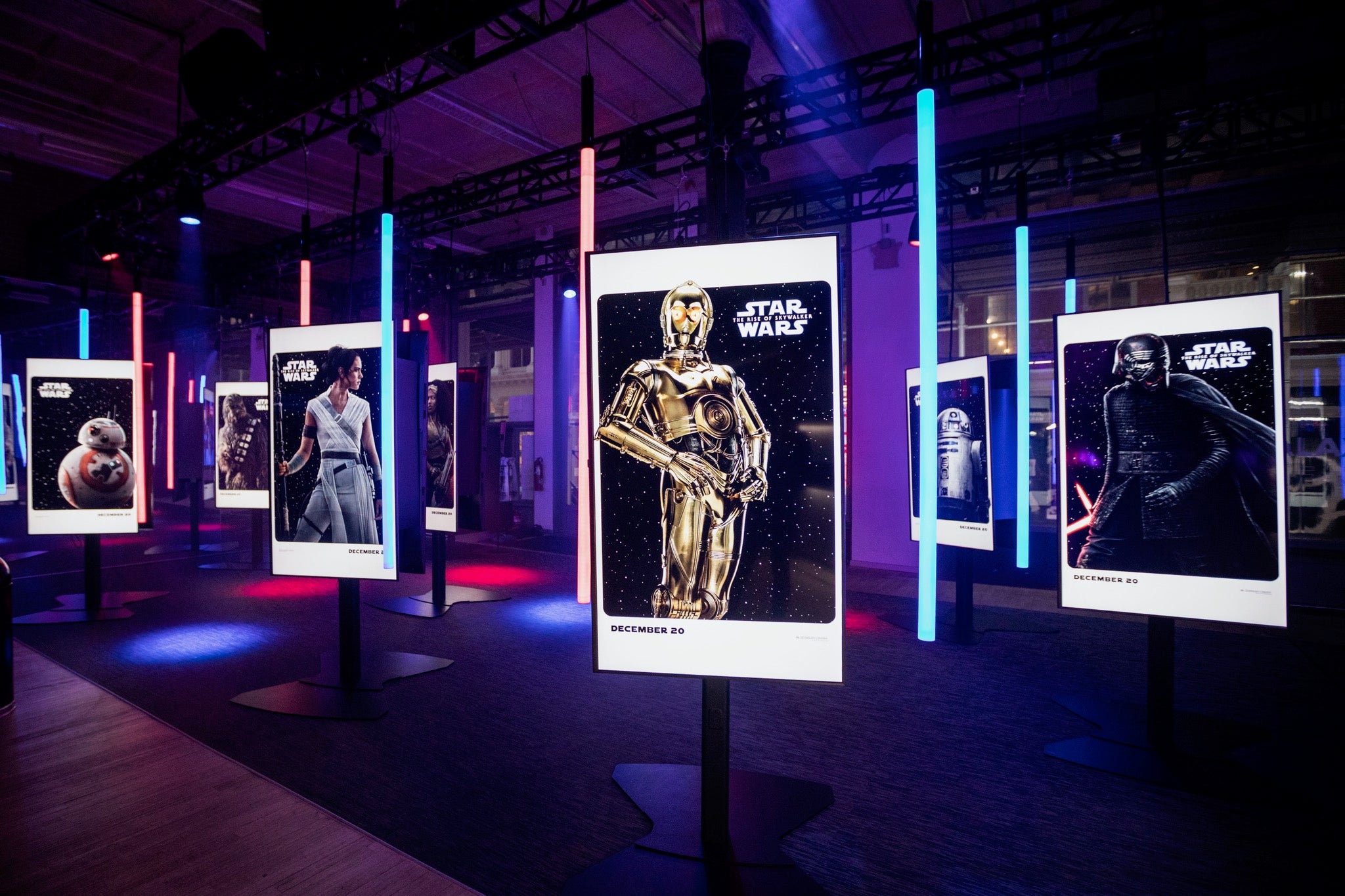 Having already previously teamed up with Disney earlier this year for an installment on The Lion King, Dolby Laboratories designed a series of rooms that highlight its visual and audio capabilities. A small theater on the lower level (which seats 26) brings the theatrical experience it offers with several rows of seats and aired a trailer for The Rise of Skywalker. Another room features a 360-degree view of the trailer, with larger-than-life images of Rey, Finn, Poe, Leia, Lando, and more no matter where you turn.
If you want a more intimate view, check out the Infinity Space, which is located near the front of the installment. Visible from outside of Dolby SoHo, the trailer will play around you. But if you need a short reprieve, you'll be able to take a peek into a lounge area complete with a couch, plenty of tie-in books and toys to examine, and a TV with the first seven Star Wars movies, which were remastered for Disney+ by Dolby, playing on repeat. (The Last Jedi is streaming on Netflix until Dec. 26.)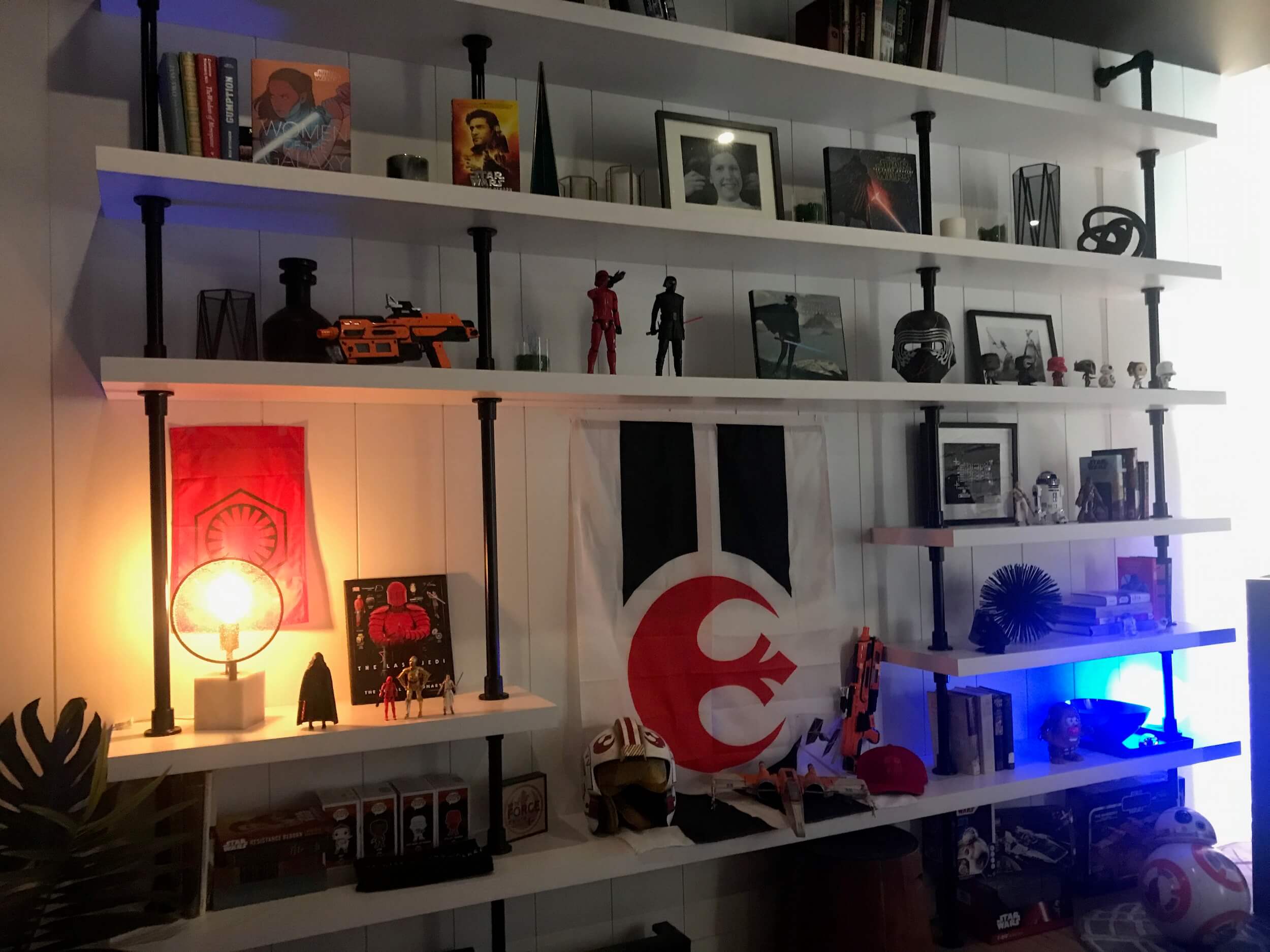 Toward the back, you can walk around a "forest" of red and blue lightsabers surrounding 18 screens, which rotate a number of the Skywalker Saga's epic lightsaber battles—I caught scenes from The Phantom Menace, A New Hope, Empire Strikes Back, and The Force Awakens—with a number of The Rise of Skywalker's character posters.
You can also test out a pair of noise-canceling headphones to watch a trailer or featurette that plays at random. By the time I had gotten around to putting those on, I lost count of how many times I had seen the two trailers (the ones released in April and October) and the special look that debuted at the D23 Expo; by the time I left the exhibit, I probably could have quoted at least half the trailer to you. But it didn't matter: I still teared up upon watching the footage yet again as John Williams' score from all nine films played before me.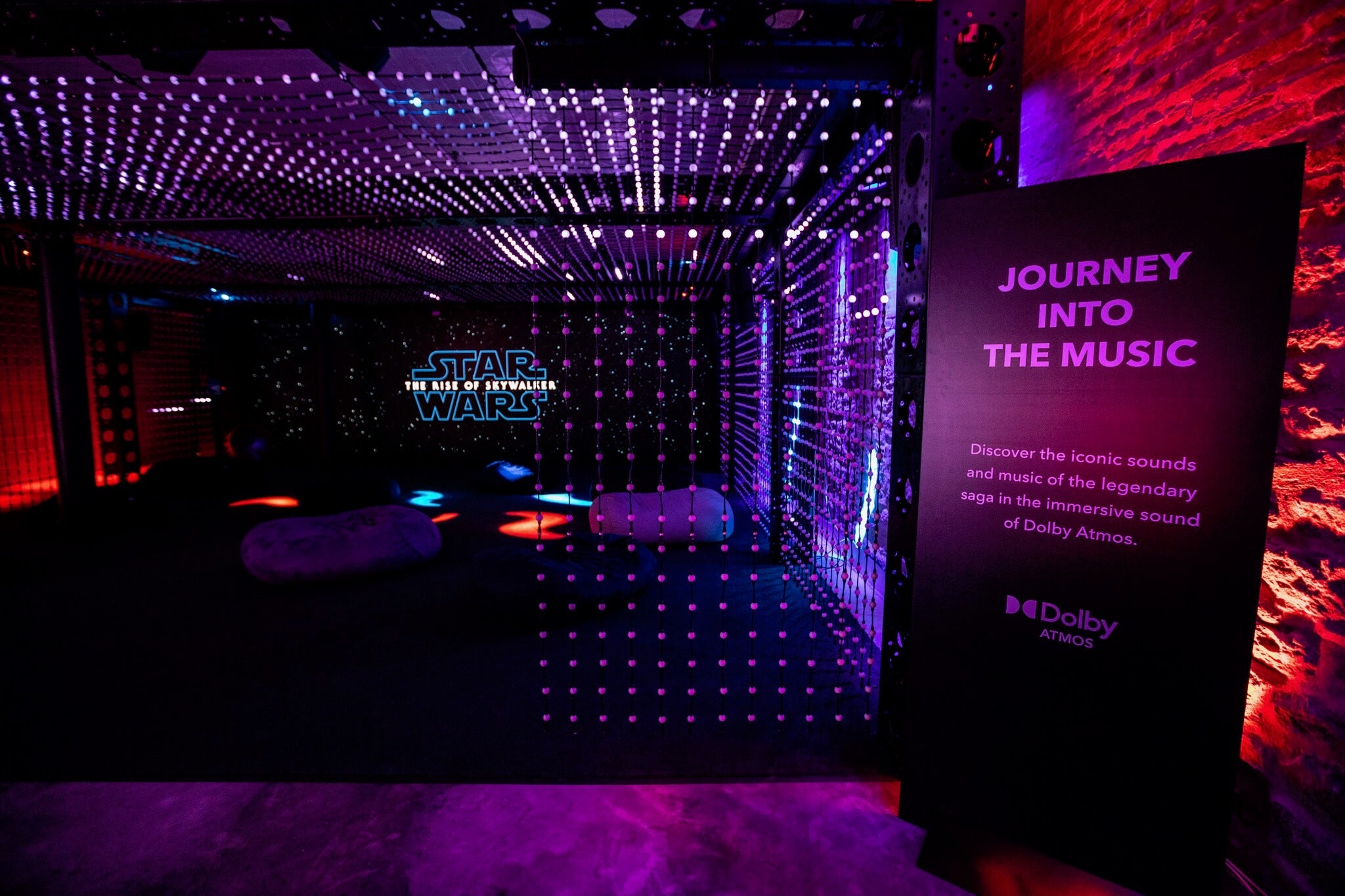 If you're a fan of Williams' Star Wars scores, I have good news for you. It's never in short supply at Dolby SoHo. You can hear it throughout the trailers, of course, and as you walk through a corridor that features the posters from all nine films in the Skywalker Saga. But the sound doesn't bleed into other rooms, so you're never overwhelmed by dueling soundtracks throughout the exhibit. On the lower level, there is a section where you can sit and relax for a bit as certain sections of the saga's score play.
Nearby, a small gallery includes behind-the-scenes photos from several of the films, three Sith trooper uniforms, and a mural by artist James Raiz that includes scenes from each of the nine films along with one character at the center of each panel. At the center of The Rise of Skywalker's panel is Kylo Ren, the complex villain who's at the center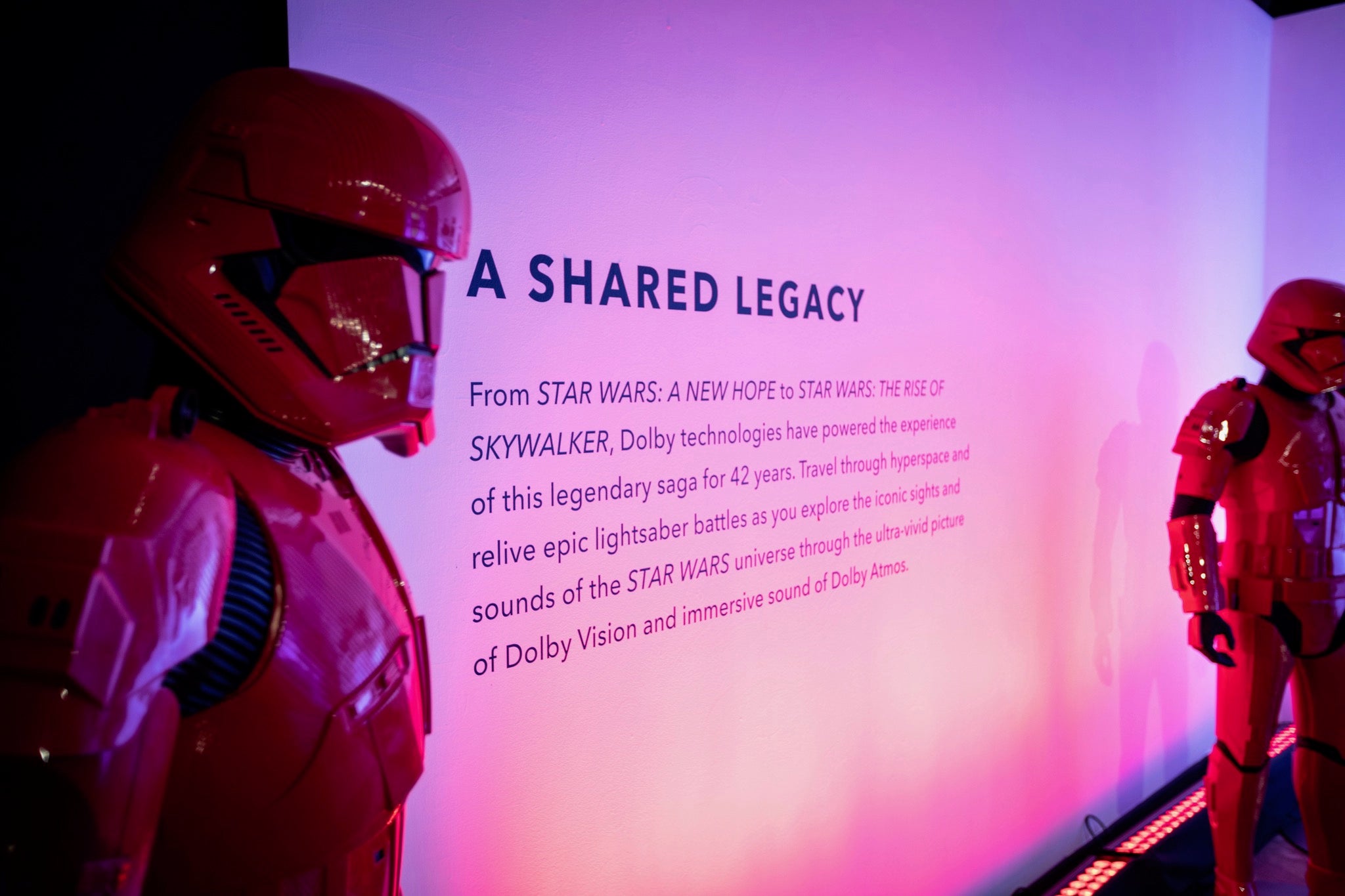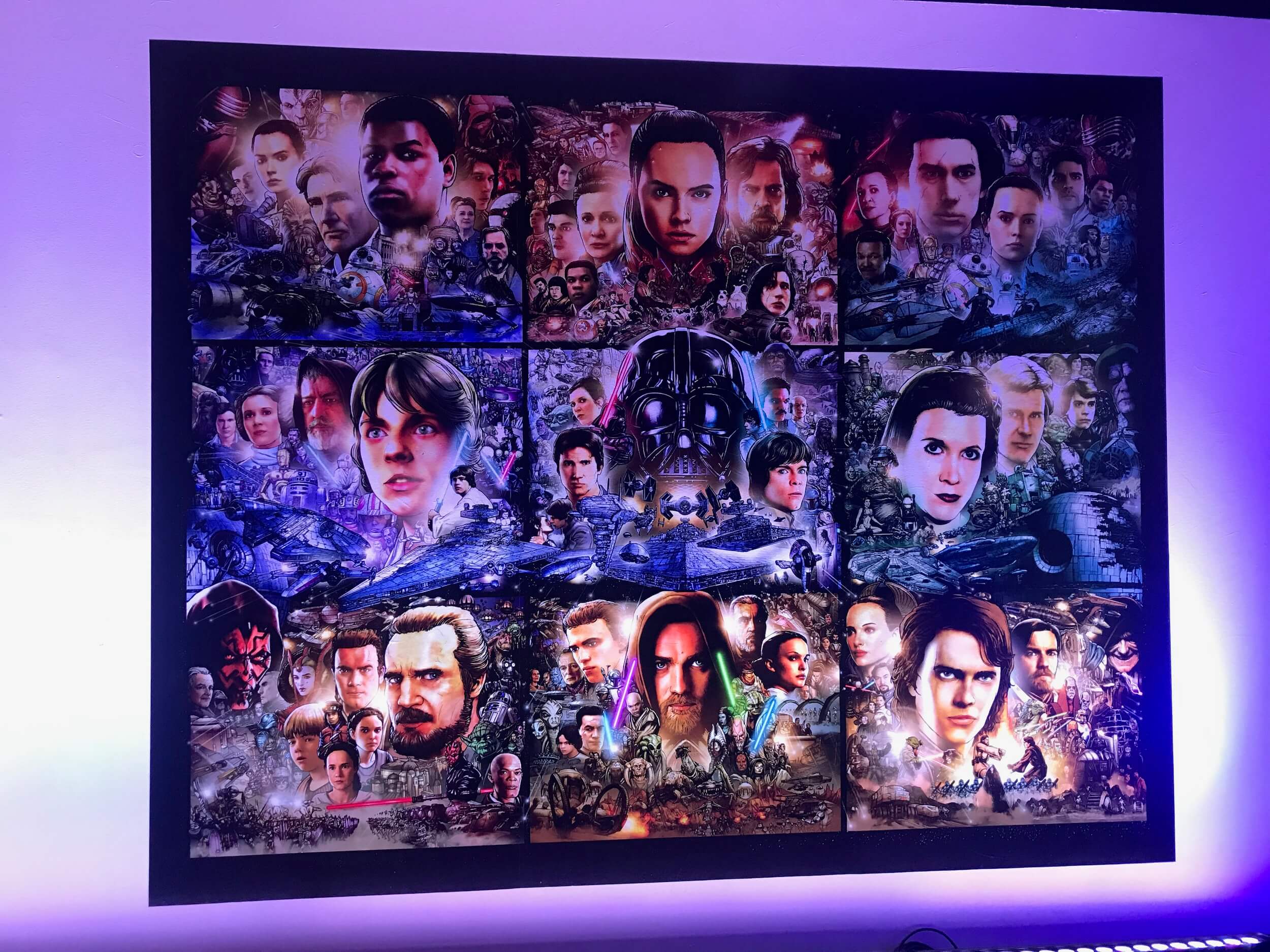 At its core, Dolby's Star Wars installment is a preview of how it might look and sound if you were to watch The Rise of Skywalker in a Dolby format, complete with plenty of Instagram-friendly rooms. (One such section exists near the stairs with red and blue lights that harken to lightsabers.) But for Star Wars fans who live in or near New York (or are visiting the city for the holidays), it's a nice getaway from the cold that also lets you indulge in celebrating and saying goodbye to a life-changing saga.
The Star Wars installment at Dolby SoHo will be open Wednesday to Sunday from 1-8pm ET between now until Jan. 5 (with the exception of Christmas and New Year's Day) and is free to the public.
READ MORE: