A man involved in a deadly shooting rampage near the UC Santa Barbara campus Friday night left a trail of chilling and bizarre YouTube posts.
In 10 videos he uploaded to YouTube over the past several days, 22-year-old Elliot Rodger reminisced about childhood, showed views of a peaceful golf course where he liked to walk, and recorded drives down scenic Santa Barbara roads with Phil Collins blasting over the radio of his BMW.
Yet the obvious beauty and privilege of his surroundings were overshadowed by Rodger's own gloom—his hate for the "hell" he was living in, the women who didn't return his affections, and his loneliness. In a final chilling post just hours before he went on a killing spree that left the shooter and six others dead, he said he wanted to punish everyone for the injustice in his life.
"You girls have never been attracted to me. I don't know why you've never been attracted to me, but I'll punish you all for it. It's an injustice—a crime," he said while sitting in the front seat of his car. "Because I don't know what you don't see in me. I'm the perfect guy, yet you throw yourself at all these obnoxious men instead of me, a supreme gentleman…If I can't have you, girls, I will destroy you. You denied me a happy life, and in turn I will deny you a life."
The video has been removed by YouTube for violating its terms of service, but it can still be viewed here.
In his final video, Rodger said he planned to go into the college's most popular sorority house and kill everyone inside before taking to the streets. In reality, just before 9:30 p.m. Friday, he went on a shooting rampage near the UC Santa Barbara campus, according to the Los Angeles Times. Deputies were quickly on the scene and returned fire when the man turned his gun on them. He encountered and exchanged fire with another deputy before attempting to flee in a black BMW. The vehicle then crashed into a parked car. When deputies approached, they found Rodger dead of a gunshot wound to the head. He had a semi-automatic handgun.
Investigators have identified the shooter as Rodger, and Santa Barbara County Sheriff Bill Brown confirmed they are looking at Rodger's YouTube videos in connection to the incident.
"We have obtained and are currently analyzing both written and videotaped evidence that suggests this atrocity was a premeditated mass murder," Brown said at a televised news conference. He called the shooting "the work of a madman."
An attorney for Peter Rodger, the assistant director of The Hunger Games movies, confirmed his son Elliott was involved in the shooting.
This isn't the first time Rodger's videos have surfaced. A redditor posted one of the videos, which has since been removed, to r/cringe four days ago. Unsure if it was a joke or some kind of scripted monologue, other posters joked that it sounded like a cry for help.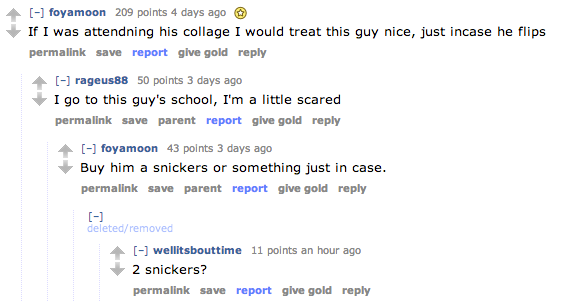 As news of the shooting spree spread, redditors returned to the thread to express shock and to check on those who said they lived in the area.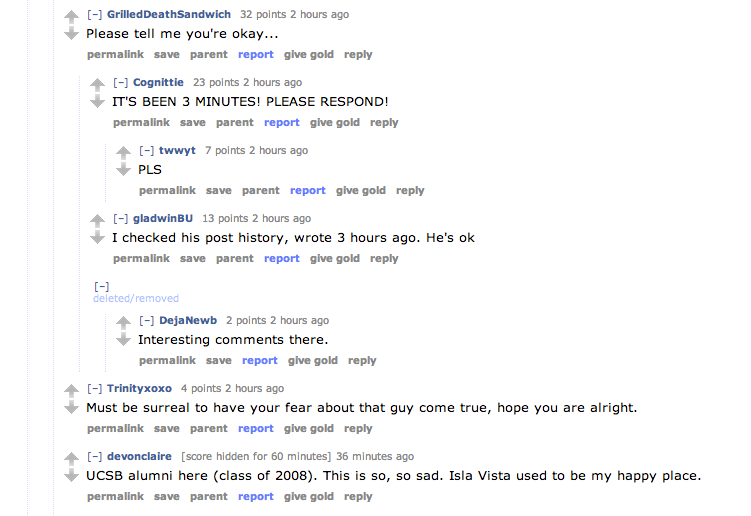 Update: According to Santa Barbara County Sheriff Bill Brown, three bodies were found in the apartment where Rodger apparently lived. The three male victims had been stabbed, and authorities believe this took place before the shootings. 
Screengrab via Elliot Rodger/YouTube