In four short years, Reddit user Unidan had done the seemingly impossible: Become the site's most beloved user, as well as one of the most influential people on Reddit.
Unidan, whose real name is Ben Eisenkop, had used his animal knowledge to educate thousands and earn him the unofficial title of "Reddit's go-to science guy."
"I love this guy," Lonely_toast commented on April 24, 2013, in response to an interesting fact Unidan shared on rainforests. "Almost all of your comments are about ecology and you're so darn psyched about it. You're awesome."
These facts earned him more than 2.3 million comment karma points, Reddit's internal mechanism for recognizing popular content. (The comment Unidan made in April 2013, for example, collected 3,608 karma points alone.)
On KarmaWhores.net Unidan held the the #2 and #4 spots for Top Comment Karma and Top Combined Karma. He racked up sterling profiles on Mashable, Fox News, and the Daily Dot. He even had a subreddit, r/unidanfans, created in his honor.
And if that all wasn't enough, Unidan had been gifted more than 16 years worth of Reddit Gold from the community. Gold is a monthly subscription that gives redditors special tools.
On Wednesday, the spotless statue Reddit and the media had erected for Unidan was torn down.
Unidan was shadowbanned for creating at least five alternative accounts "to downvote people he was arguing with, upvote his own submissions and comments, and downvote submissions made around the same time he posted his own so that he got even more of an artificial popularity boost," stated community manager Alex Angel (cupcake1713).
The act of shadowbanning a user involves Reddit administrators hiding that redditor's submissions from the public while leaving them visible for that user.
"It was some pretty blatant vote manipulation, which is against our site rules," Angel added.
The news of Unidan's downfall has shocked Reddit. The outrage was best summed up by the following comment from karmanaut, a fellow Reddit poweruser.
"What the f**k, man?" he commented. "What bothers me about this is that it is so completely unnecessary. It's not like you were being followed by a downvote mob. Kind of the opposite, actually… Why would you do that?"
Using a new Reddit handle, UnidanX, Eisenkop, 27, broke his silence Wednesday evening to apologize for his actions.
"It was a really stupid move on my part, and I feel pretty bad about it, especially because it's entirely unnecessary," Unidan wrote. "Completely understandable catch on the side of the admins, so good work for them! I've already deleted the accounts and I won't be doing that again, obviously. I always knew I'd go down in a hail of crows, but who knew it'd be on the internet?"
The Daily Dot reached out to Unidan for further comment early Thursday morning and has not heard back.
The "hail of crows" Unidan mentioned in his mea culpa is in reference to an ugly spat he got involved in with another user on Tuesday.
The argument was over one redditor claiming "jackdaws and such are a part of the crow family" to which Unidan responded with "no one calls jackdaws crows." The back and forth ultimately resulted in Unidan responding angrily to the other redditor.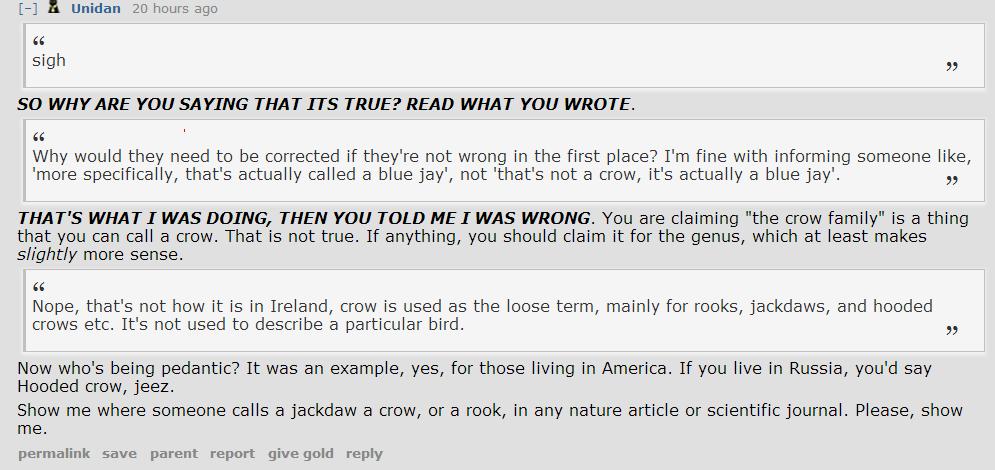 Unidan's fall adds him to a list of power users who have abused their influence or Reddit's system for their own benefit.
In April, maxwellhill was instrumental in bringing default subreddit r/technology to its knees. Maxwellhill, along with anutensil, a controversial r/worldnews moderator and former r/politics mod, used their moderator powers to promote their own posts and strop other r/technology moderators of permissions. In the end, r/technology was stripped of its default status and both redditors were removed or left their positions in r/technology. Maxwellhill and anutensil still have their accounts on Reddit. Both their reputations are permanently tarnished, as is the case with Unidan.
"What you have done discredits everything you write," autobahn66 commented. "You did not just defy the rules of the platform that you use to disseminate your knowledge and opinions, you outrageously abused the democratic spirit of the site. As I said last night the situation was subtle and complicated and required careful discussion. To know that this discussion was so manipulated is a shame."
Illustration by Jason Reed