Biochemist Ben Eisenkop, best known on Reddit as Unidan, was mysteriously shadowbanned from the site Wednesday afternoon.
A shadowban is doled out by Reddit administrators. It allows users to see their own posts and votes—but they are invisible to everyone else.
The exact reason behind the ban is unclear. It happened less than a day after Unidan got into a heated argument about crows on meme hub r/AdviceAnimals.
The argument began in a thread featuring this image macro:
Reddit user Ecka6 wrote about how "jackdaws and such are a part of the crow family," setting Unidan off in an animal science lecture.
"As someone who is a scientist who studies crows, I am telling you, specifically, in science, no one calls jackdaws crows," Unidan commented. "If you want to be 'specific' like you said, then you shouldn't either. They're not the same thing. … It's okay to just admit you're wrong, you know?"
Ecka6 responded to Unidan, pressing him for an explanation as to why he was wrong. He also added that he's "okay with referring to all of the crow family as crows."
"I am not okay with that, that is why we are having this argument, remember?" Unidan responded. "The point is that you shouldn't refer to them all as crows. So if you see a video of a blue jay, and someone says 'hey, look at this crow video!' you wouldn't expect someone to correct them?"
The argument ended in a bold, all-caps response from Unidan, who refused to be told he was wrong.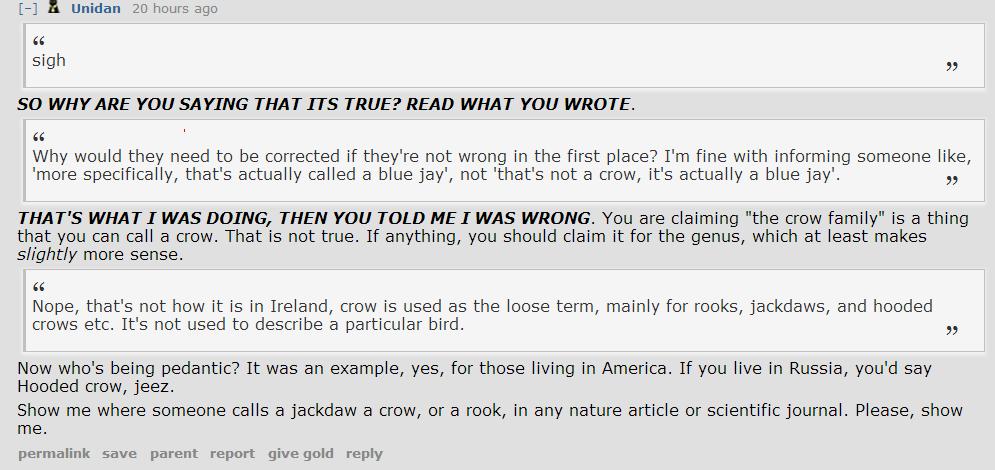 These responses are uncharacteristic for Unidan. He built his Reddit fame on calmly and succinctly educating people on topics like insects and careers in biology.
Unidan tried to explain his outburst in a thread on r/subredditdrama.
"It happens, I say stupid stuff all the time, no biggie," he said. "I get death threats at my house over posting animal facts on Reddit, haha, the downvotes aren't that big of a deal in hindsight!"
Update: According to Reddit community manager Alex Angel, Unidan was shadowbanned creating "at least five alternative accounts "to downvote people he was arguing with, upvote his own submissions and comments, and downvote submissions made around the same time he posted his own so that he got even more of an artificial popularity boost." Read more on Unidan's rise and fall here.
Illustration by Jason Reed