Don't fret too much over the #jail4bieber hashtag that's been floating around Twitter this afternoon, devoted Beliebers.
The whole gag is the charming little ruse of the perpetually disturbing content hivemind 4chan, whose minions decided Tuesday afternoon that they'd like to have a little fun at the Bieber faithful's expense.
#jail4Bieber derives from the rumor 4chan's perpetuating that globally beloved pop star Justin Bieber molested a 13-year-old girl while in England on tour the other week. The story kicked off mid-afternoon Tuesday after an anonymous 4chan poster went into the classically demented 4chan forum /b/ and wrote that fellow rapscallions should "spread the news" that Bieber was "late to his first gig because he was sorting legalities out with the [13-year-old girl's] parents" and had to "cancel another gig due to 'breathing difficulties' caused by a panic attack over what he had done."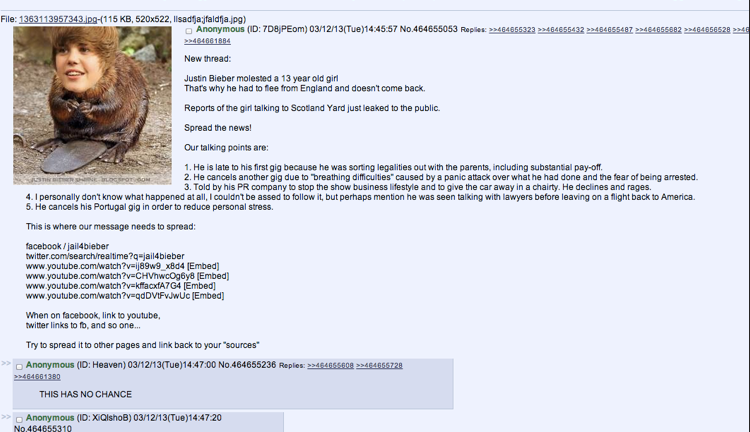 Rumormongers disseminated the fake news throughout Facebook, Twitter, and YouTube, where 4channers have taken to sockpuppet accounts to perpetuate the myth that Justin Bieber is a heartless, bloodless child molester.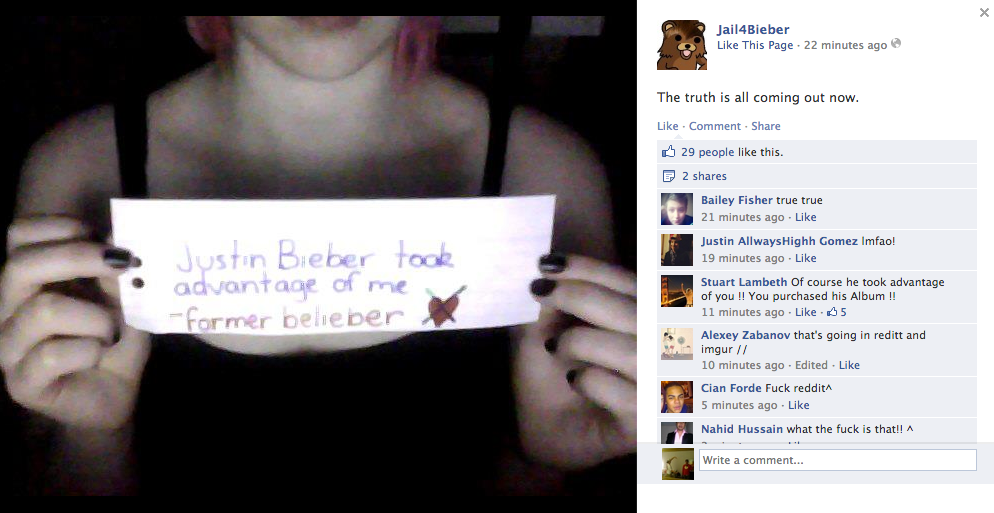 On Twitter, where 4channers regularly turn to spread a rumor in a more mainstream forum, the hashtag #jail4bieber has been used more than 300 times.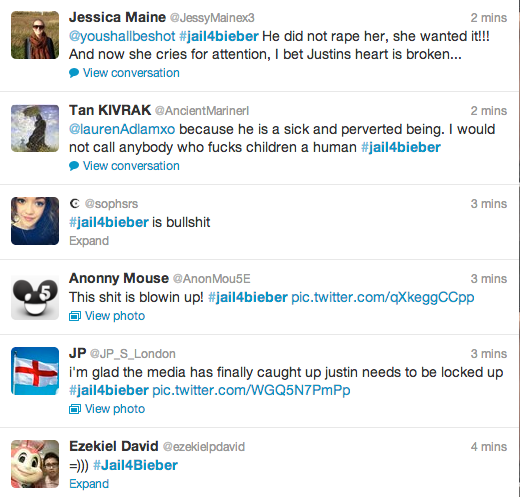 The antics fall in line with a long history of 4channers running Bieber-centric rumors in hopes of a quick laugh.
More than 900 turned out to convince Beliebers to shave their heads in response to Justin Bieber's obviously fake cancer diagnosis in October. In January, 4channers launched #cut4bieber, an online cry for fans to cut themselves in response to news spreading that Justin Bieber liked smoking pot. The same community pushed #boobs4bieber three weeks later, an ill-fated attempt to get some more underaged boobs onto the Internet.
Time will tell how successful the latest attempt to corrupt Beliebers turns out, but here's guessing the ruse won't last for long.
As for Bieber, the pop star's currently in Madrid prepping for another show on his worldwide Believe tour. He has yet to address 4chan accusations of sexual assault, but did take to Twitter to connect with his 35 million fans just a few hours ago. His message was simple, and it was retweeted 65,000 times. "Hola," he wrote. OMG, Justin, that's soooo poetic.

Photo via Jail4Bieber/Facebook