Warning: This story contains graphic images that may not be suitable for children.
The absolutely terrible #cutforbieber hashtag became a worldwide trending topic on Twitter on Monday, an unfortunate truth that owes its existence to the perpetually scheming deviants on 4chan.
Long known for their affinity for disturbing, often sexually graphic or violent content, 4chan users schemed the hashtag this morning, when an anonymous poster wrote on notorious Web forum /b/ that community members should "start a cut yourself for bieber campaign."
"Tweet a bunch of pics of people cutting themselves and claim we did it because bieber was smoking weed," the individual wrote. "See if we can get some little girls to cut themselves."
The teen sensation showed up on in the news this weekend thanks to a leaked photograph that showed him smoking marijuana, an act that likely doesn't jive with his teenaged fans.
4channers immediately jumped on board, likening the idea to October's #baldforbieber hoax, which encouraged Beliebers to shave their head to support their hero after a fake news report surfaced, claiming the Canadian singer had cancer.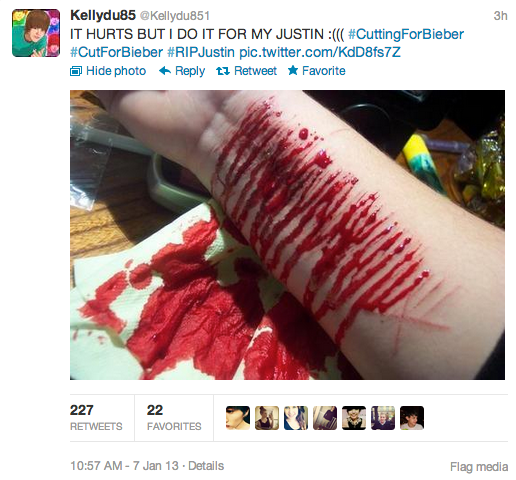 @Kellydu85's account popped up at 10:44am EST Monday morning and posted this photo after two tweets about Justin Bieber.
"Make a Twitter account that looks like a Bieber fan," one 4channer wrote. "Post it here. Follow each other. We need to make this look legit."
The hashtag #cutforbieber went worldwide shortly thereafter, inspiring gruesome cutting episodes grotesque enough to make you lose your lunch. It became  the most popular hashtag on Twitter some time around 2:30pm.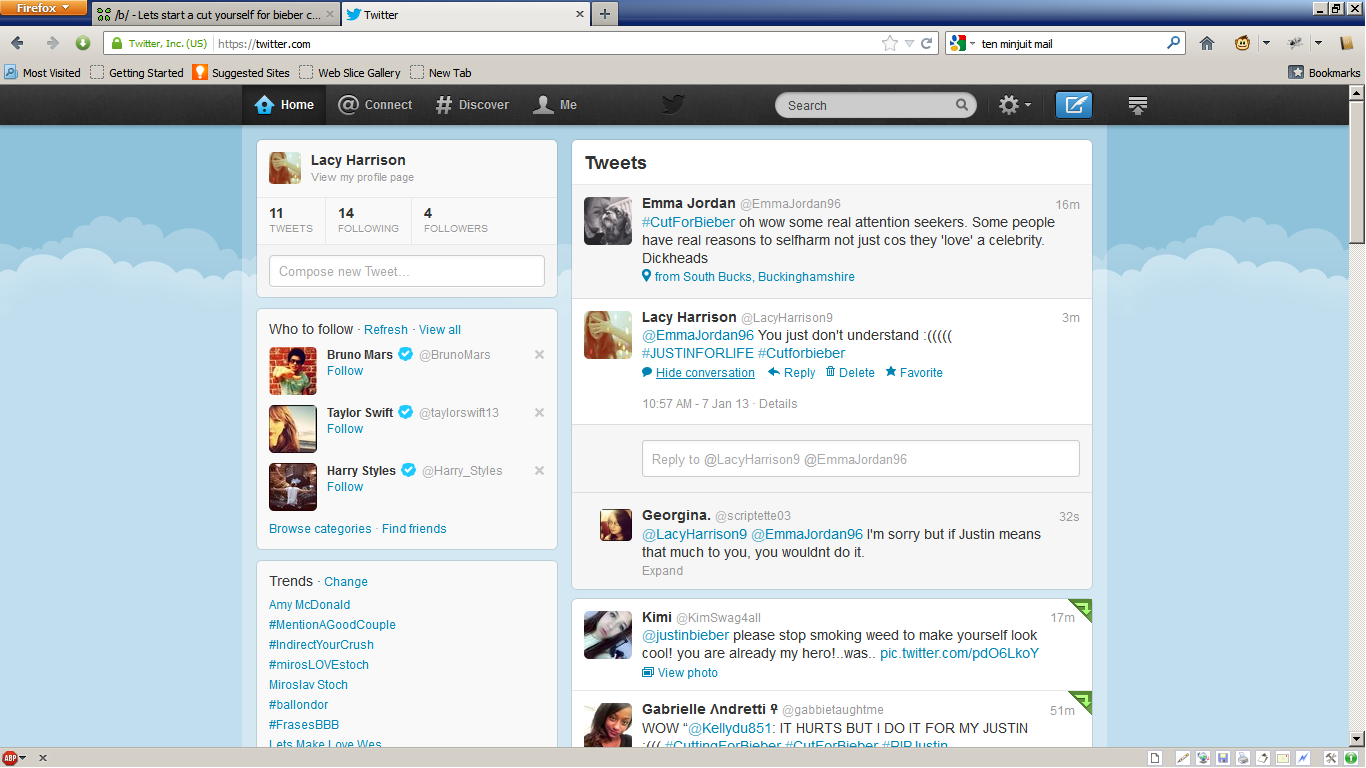 By 3pm, the thread had been taken down. Clicking on its appropriate URL now redirects to a 4chan 404.
The work of 4chan had been done, however, and the gullible had fallen victim to their tricks. On both Twitter and Tumblr, more than enough photos of bloody arms, whether real or not, had once again proven that an online hoax only needs a few hours to do a serious amount of harm.
Correction: It's unclear if any users have actually cut themselves or if all of the images circulating are parts of the 4chan prank. The original headline of this story has been changed accordingly. 
Photo via Justin Bieber/Facebook