Last week, Facebook suspended Gays Against Groomers, an organization that made its name by falsely accusing LGBTQ people of grooming children.
According to a screenshot provided to the Daily Dot by LGBTQ advocacy nonprofit GLAAD, last week, Gays Against Groomers' Facebook page displayed a message stating that the "content isn't available right now." This message often indicates that an account has been suspended.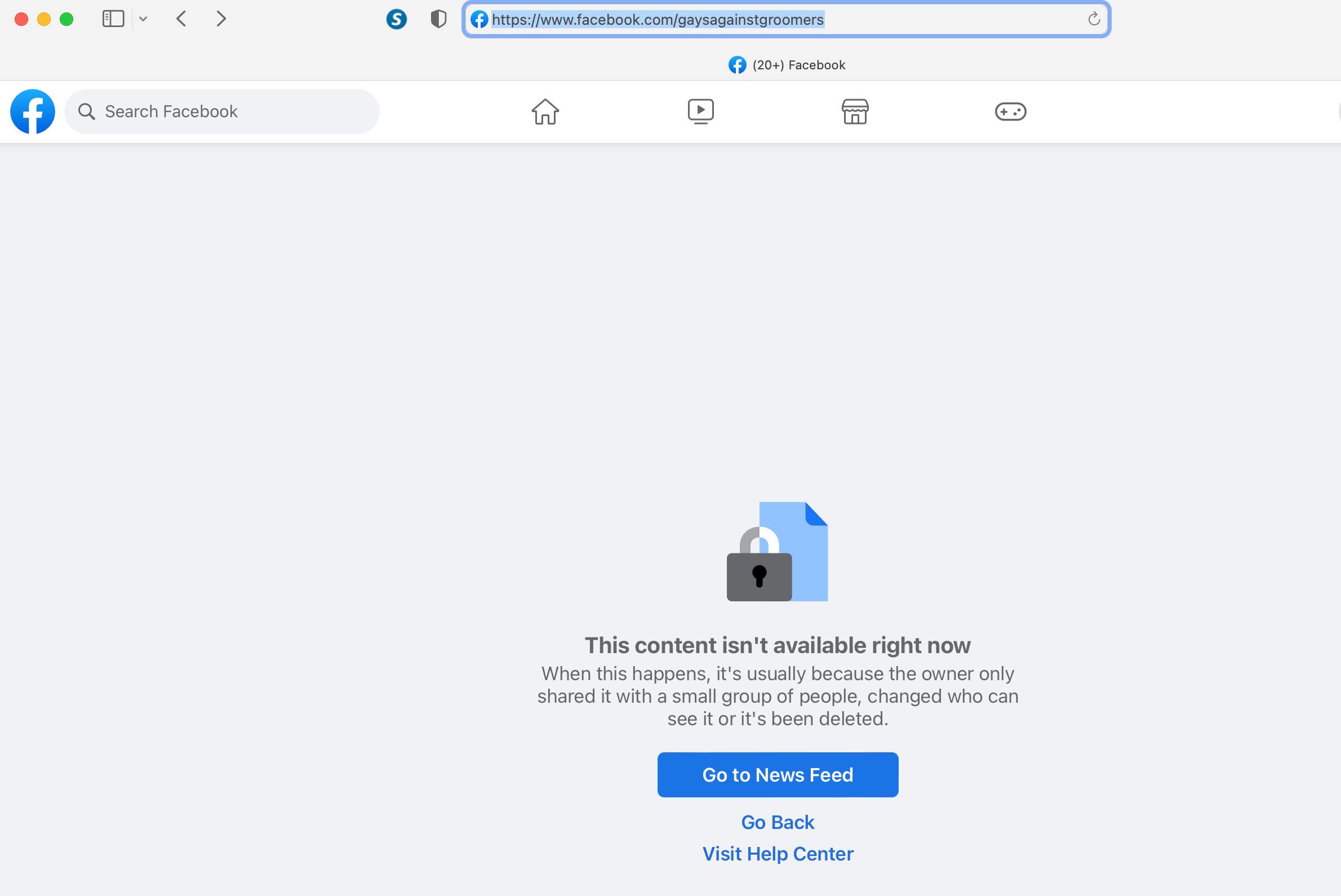 Gays Against Groomers' (GAG) account has since been reinstated. It is not clear how long it was inactive. Its account shows that it didn't post anything from Sept. 19 through Sept. 22.
Since its June 2022 founding, GAG has repeatedly come under fire for spreading malicious narratives that LGBTQ people sexualize and indoctrinate children. Earlier this year, the Anti-Defamation League identified GAG as "an anti-LGBTQ+ extremist coalition."
Conservatives have made attacking the LGBTQ community, particularly transgender people, the front line of the culture war. These attacks have coincided with increases in violence and hate speech targeting LGBTQ people. Many believe that such rhetoric is partly to blame for these attacks.
Last summer, Facebook parent company Meta and other major social media platforms told the Daily Dot that their policies prohibit baselessly using the "groomer" slur.
Enforcement of these policies has been uneven at best. X has suspended and reinstated GAG at least four times.
Facebook prohibits content that attacks people on the basis of protected characteristics, including sexual orientation, gender, and gender identity. Prohibited content includes "violent or dehumanizing speech, harmful stereotypes, statements of inferiority, expressions of contempt, disgust or dismissal, cursing and calls for exclusion or segregation."
Meta reiterated this in a March 2023 document explaining its gender identity policy and user tools.
A confidential source suggested that GAG's account was suspended in error. Curiously, no one from GAG appears to have made a public statement about the suspension. Representatives from the group have not hesitated to complain about previous suspensions, such as when it was suspended by Google, Venmo, and PayPal.
Neither Meta nor GAG responded to inquiries sent via email Monday morning.
Posts on GAG's accounts on Facebook and Instagram, which is also owned by Meta, show it claiming that the trans movement has a "dark pedophilic history" and attacking a gay politician in a post referencing "groomers." The former post suggests that there is a sinister reason why the trans pride flag is "baby pink" and "baby blue." In reality, the trans woman who designed the flag said that the colors merely represent traditional masculine and feminine colors.
A spokesperson from GLAAD told the Daily Dot that GAG's Facebook account was nevertheless reinstated on Friday.
In a statement, a GLAAD spokesperson highlighted the fact that platforms widely prohibit anti-LGBTQ content and called on Facebook to enforce its own policies.
"As highlighted in GLAAD's 2023 Social Media Safety Index report, the anti-LGBTQ 'groomer' trope, and similar baseless and dangerous rhetoric falsely asserting that LGBTQ people are threats to children, is dangerous hate speech which has been popularized to foment fear and hatred, and ultimately violence, against LGBTQ people and the LGBTQ community—specifically on the basis of gender identity and sexual orientation," the spokesperson said.
"This is in direct violation of the hate speech policies of all major social media platforms and it is causing real-world harm."
Update 2:32pm CT, Sept. 25: A representative for Meta told the Daily Dot via email that the platform has long insisted that it endeavors to ensure all its platforms are safe for LGBTQ people. It has repeatedly affirmed that attacking people as "groomers" based on them being part of the LGBTQ community violates its policies and said that it works with advocacy groups to constantly update and evaluate its approach. This task is complicated by the fact that groups and individuals are constantly altering their online behavior to evade enforcement, such as by substituting numbers for letters and coming up with new code words for slurs. Meta also confirmed that the suspension was the result of a platform error.