We crawl the web so you don't have to.
Sign up for the Daily Dot newsletter to get the best and worst of the internet in your inbox every day.
Hello fellow citizens of the internet! Andrew here. Welcome to today's edition of web_crawlr.

Happy Friday! Our top stories today are about: A discovery that a dumpster diver found at TJ Maxx, a look at what it means to be in your "villain era," how people think President Biden referenced a Chumbawumba song during a recent speech, and how the FCC officially kicked off its effort to restore net neutrality.
After that, our trending team shares with you their pick for "Main Character of the Week."
Also, don't forget to take our weekly news quiz! Just scroll down below to answer the question. If you answer correctly, you might win a "Crawl Into Fall" shirt just in time for Halloween!
See you tomorrow!
— A.W.
---
⚡ Today's top stories
In a video with a staggering 3.8 million views, a woman's video about what she "found in this dumpster" at TJ Maxx is sparking a lively debate about the lengths to which folks will go to snag a good deal.
The "villain era" is a phenomenon that's swept the internet.
President Joe Biden appeared to reference the popular Chumbawumba song "Tubthumping" during his recent speech in Israel. "When we get knocked down, we get up again," Biden said.
Net neutrality has been a source of constant fighting for nearly a decade.
---
We crawl the web so you don't have to. Sign up to receive web_crawlr, a daily newsletter from the Daily Dot, in your inbox each day.
---
💾 Are you extremely online?
Are you the most online reader of web_crawlr?

Prove it by answering our question of the week! The answer can be found somewhere in one of our newsletters from this week.

If you answer correctly, you'll be entered to win our brand new "Crawl Into Fall" shirt, and we'll shout out five people who won the shirt!
In a recent viral video, a woman refused to get out of the car on a first date after she saw which chain restaurant they were at. What restaurant was it?
Think you know the answer? Sign up for web_crawlr so you can answer next week's question!
---
👑 Main Character of the Week
By Ramon Ramirez
Managing Editor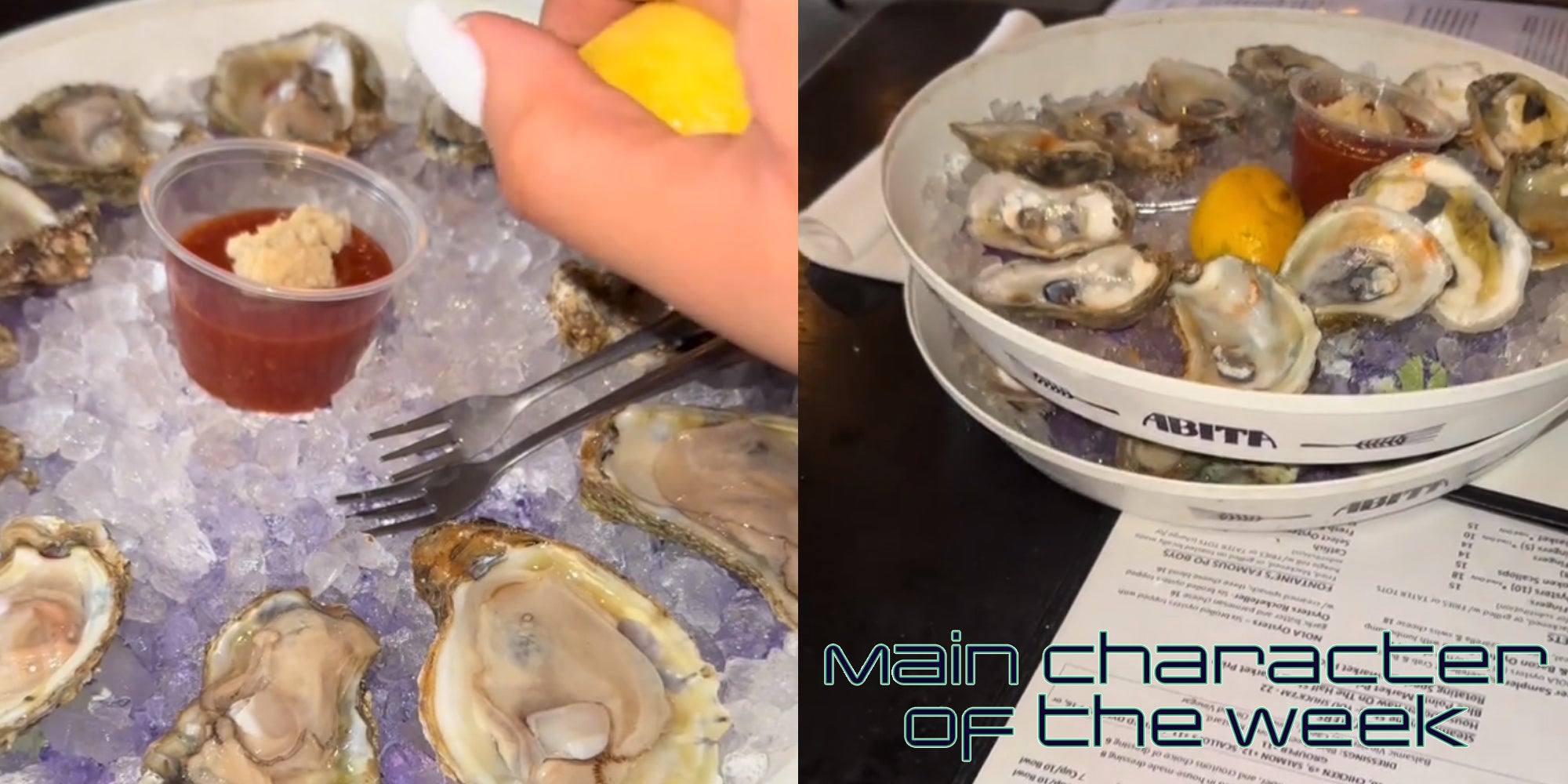 Main Character of the Week: 48 Oysters Girl
Main Character of the Week is a weekly column that tells you the most prominent "main character" online (good or bad). It runs on Fridays in the Daily Dot's web_crawlr newsletter. If you want to get this column a day before we publish it, subscribe to web_crawlr, where you'll get the daily scoop of internet culture delivered straight to your inbox.
---
🕸️ Crawling the web
Here is what else is happening across the 'net.
🔌 If you have an air fryer, you might want to watch this woman's PSA about leaving it plugged in.
🏠 A college student posted a viral video in which he claims he has never met the roommates of his four-bedroom apartment. It's been two months since he moved in.
⌚ New fear unlocked. In a viral video, a nurse revealed that one of her patients got an infection after not cleaning the area in and around their smartwatch.
🍟 This worker is going viral for calling out customers who split the bill on a single dish like a plate of fries.
🍗 A Chick-fil-A customer went viral on TikTok after documenting her bizarre experience trying to obtain extra sauce packets from the fast food chain.
🎤 Here's why Eminem didn't trust Kendrick Lamar.
💼 A hiring manager has gone viral on TikTok after venting about a candidate showing up to their job interview in pajamas.
🏳️‍🌈 From the Daily Dot archive: How a Sims 2 fan forum became an unwitting safe space for queer creatives.
*The Daily Dot may receive a commission in connection with purchases of products or services featured here.
---
👋 Before you go
A couple living in a remote community in northern Canada has gone viral for showing the extreme cost of groceries in the Arctic.
In a TikTok, user Willow Allen (@willow.allen) shows a regular trip to the grocery store with her husband Cale.
The first item shown is a bag of tangerines for a whopping $16.99 CAD, or $12.50 USD. A container of blueberries is listed at $7.35 USD; a frozen pizza is $12.50 USD.