One week, famed New Zealand-born hacker Barnaby Jack was telling Reuters "that he could kill a man from 30 feet away by attacking an implanted heart device." The next, he himself was found dead in San Francisco at the age of 36. 
Jack, ever a showman, had intended to demonstrate the vulnerabilities of pacemakers and defibrillators to digital attack at the Black Hat hacker convention in Las Vegas. Instead, he was memorialized at the event while rumours about his mysterious death took on increasingly paranoid hues. The San Francisco Medical Examiner's Office has said it's performing an autopsy, but word on the official cause of death could be months away.
Barnaby Jack was obviously murdered and if you don't believe that you're blind

— Denis Tomazzi (@DTomazzi) July 27, 2013
Some Redditors offered a slightly more sophisticated spin:

That uncertainty has only served to stoke the conspiracy theorists, who took to the web to voice their rapidly multiplying suspicions. Most who presumed murder posited a nebulous "they" as the party (or parties) responsible, and tended to overlook how valuable Jack had become as a "white hat" hacker to the banking and medical industries, demonstrating security bugs in everything from ATMs to insulin pumps before someone else could exploit them for more nefarious purposes.
If big business didn't kill Jack, what did? Described as a charming extrovert, Jack was also said to be into drugs and "partying," but some people would rather point the finger at the "Obama Regime," which apparently offed him "for refusing to use his hacking skills for good, rather than evil."
Barnaby Jack – Did the Obama Regime murder another American citizen in California who was adverse to the regime? https://t.co/TMhBQxB1wq

— Gabrielle Verdier (@GabyVerdier) July 30, 2013
Shortly after that post, however, user ThaFuck put to bed the idea that we could hope to deduce anything from the allegedly suspicious timing of Jack's demise:
As for this conspiracy, or the fact that his death comes "a week before he was due to demonstrate it" – He already has. A year ago. He hacked a pacemaker and forced it to deliver an electric shock on stage in 2012 (Melbourne, Australia). It wasn't a secret to anybody. Just new for this particular conference.
So neither the U.S. government nor the medical industry would seem to have any real motivation to murder Jack, but that didn't stop anyone from connecting the dots between Jack and Michael Hastings, the political reporter who died in a Los Angeles car crash this summer, as well as the death of Aaron Swartz and Edward Snowden's ongoing odyssey.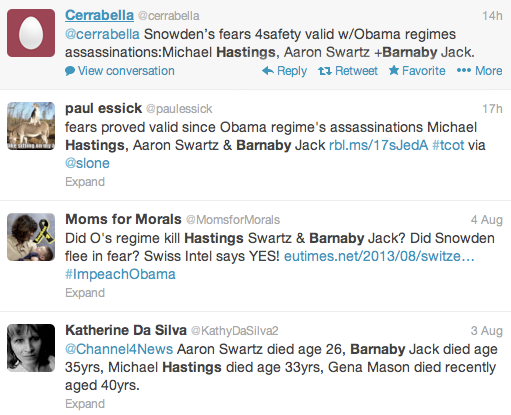 On that score, the NSA also received some scrutiny in the matter:
For its part, the Daily Mail touched on both the flimsy Hastings connection and the idea that industry giants may have silenced Jack for continuing to show how their products could be wirelessly sabotaged, thereby forcing them to rethink their designs:
Dan Kaminsky, a security researcher and close friend, says Jack had recently had 'uncomfortable meetings' with cash machine manufacturers and makers of electronic medical devices. 'I'm sure he made enemies,' he adds.
As sinister as that sounds, Kaminsky went on to explain that Jack was essentially "a pain in the butt" for such companies—hardly the sort of threat that calls for a covert assassination.
Photo via cgreene34/YouTube