After a highly publicized appearance at Amsterdam's Anne Frank House, the site where Frank and her family hid from the Nazis from 1942 to 1944, an "inspired" Justin Bieber left some deep thoughts in the museum's guestbook. "Anne was a great girl," he wrote. "Hopefully she would have been a belieber."
If only this poor teen could have been able to hear the YouTube single of "Beauty and the Beat," or been one of Justin's 37 million Twitter followers, or read Justin's Rolling Stone interview, or seen Justin's haircut change before she was rounded up by the Gestapo, transported to Auschwitz concentration camp, and exposed to typhus at Bergen-Belsen, where she died. 
There are lots of things you could take away from a tour of the Anne Frank House. "It's too bad she never heard 'Baby'" is one, I guess.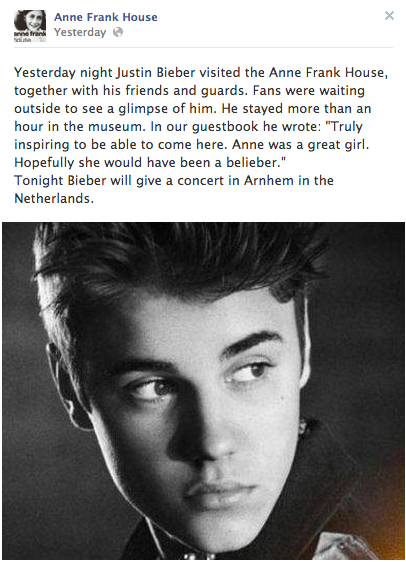 Naturally, followers of the Anne Frank House on Facebook weren't exactly cooing over the 19-year-old after the event: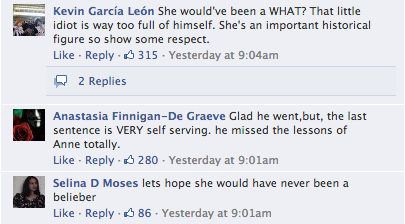 And Twitter had a field day: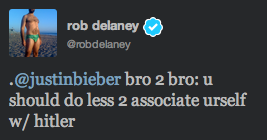 Bieber has yet to respond to the incident. During his tour of the Netherlands so far, he's complained about his bowels and taken a moment to let his followers know he's "resting up."