The Boston Police Department revealed Wednesday that three further suspects have been taken into custody in the Boston Marathon bombing case.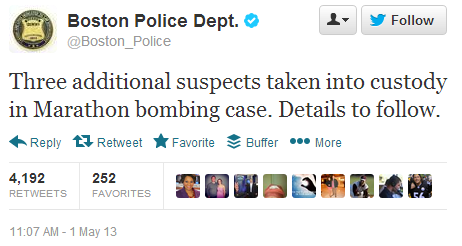 The three, all college students, were arrested by federal authorities, reported the Boston Globe. They were apparently connected to bombing suspect Dzokhar Tsarnaev, 19, at the University of Massachusetts Dartmouth. Tsarnaev was a student there. The arrested students allegedly helped Tsarnaev after the fact.
Dzhokhar Tsarnaev faces charges of using a weapon of mass destruction and malicious destruction of property after three people died and scores were injured in two explosions at the Boston Marathon finish line on April 15. He was apprehended following a manhunt that put the Boston area in lockdown for a day.
Tsarnaev's brother Tamerlan, 26, was also a suspect in the case. He was killed amid a confrontation with police a few days after the explosion. 
Police say the Tsarnaevs killed a Massachusetts Institute of Technology police officer during an escape attempt, though no charges have been filed as yet.
The saga played out online as well, with redditors and 4chan users attempting to track down the suspects. Two redditors even joined in the manhunt on the ground.
Update: The Globe reported two of the men are Kazakh nationals. A law enforcement official named them as Dias Kadyrbayev and Azamat Tazhayakov, both of whom came to the U.S. to study at University of Massachusetts at Dartmouth. The third man is a U.S. citizen, according to Reuters.
Update 2: The men face charges of conspiring to obstruct justice and making false statements, according to a tweet from the U.S. Attorney's Office in Massachusetts. They will appear in federal court this afternoon.
Update 3: According to the FBI affidavit (via Gawker), one of the three arrested today texted Dzhokhar Tsarnaev when the suspects' photos were released. Tsarnaev's response was "lol."
Update 4: Kadyrbayev and Tazhayakov appeared in court Wednesday afternoon, and WBZ-TV reporter Karen Anderson was tweeting from the scene. The men confirmed they are Kazakh nationals and waived request for bail, agreeing to voluntary detention. Police say the men disposed of Tsarnaev's laptop and backpack. They face a maximum sentence of five years in prison and a $250,000 fine if convicted. Their next court date is May 14th. 
Robel Phillipos, the third suspect arrested today, appeared in court after Kadyrbayev and Tazhayakov. He was charged with lying to investigators. He faces eight years in prison and up to a $250,000 fine if convicted. His attorney said Phillipos is waiving his right to a detention hearing, and his next hearing will be Monday.
Illustration by Fernando Alfonso III