One of the Boston Marathon bombing suspects is dead and another remains at large after a night of mayhem and bloodshed on the streets of Boston. 
Here is what we know:
Around 10pm ET Thursday evening, a Massachusetts Institute of Technology police officer responded to a report of an armed robbery on the campus. He was found shot dead in his car.
Shortly thereafter, there were reports of a carjacking in Cambridge and a police chase through parts of Cambridge, Boston, and finally the suburb of Watertown. Police spokesmen told reporters the suspects had thrown explosive devices from the car as they careened through sleeping Boston neighborhoods.
Witnesses in Watertown described a showdown between police and two heavily armed men who at one point threw "a large, unwieldy" bomb into the middle of the street. It exploded, one of the men ran towards police, and was captured. The other man lunged back into the carjacked SUV and drove through the lines of police, according to a resident who watched the scene from the third floor window of his home and spoke to the New York TImes. During the shootout, an MBTA police officer was critically injured and was rushed to a local hospital.
Police told the Boston Globe that one of the men—the one the FBI described as suspect number one in its press release earlier today—has died after the gun battle. The other man, who's seen wearing a white hat in the photographs, is still on the loose, and police warn he may have an explosive device strapped to his chest.
Police have warned residents of Watertown to stay indoors as the search for the second suspect continues.
UPDATE 5:22am ET: NBC News is now reporting that "law enforcement sources said the suspects have international links and have been in the country legally for about a year."
UPDATE 5:28am ET: Redditors have created a Google Map of the reported incidents. (H/T @marco_j_perez)

View Shootings 4/19 MIT && Carjacking related to boston bombers in a larger map
UPDATE 6:49am ET: Police have identified the surviving suspect as Dzhokhar A. Tsarnaev, 19, of Cambridge, Mass. The suspects are brothers from Chechnya who have lived in the United States for at least a year, police say.
UPDATE 7:09am ET: Russian news site RT has dug up a photograph of Tsarnaev from his account on the social media site VKontakte (below). A Dzhokhar A. Tsarnaev won a $2,500 scholarship from the city of Cambridge in 2011. On his VKontakte profile, he listed himself as a student at Cambridge Rindge & Latin School.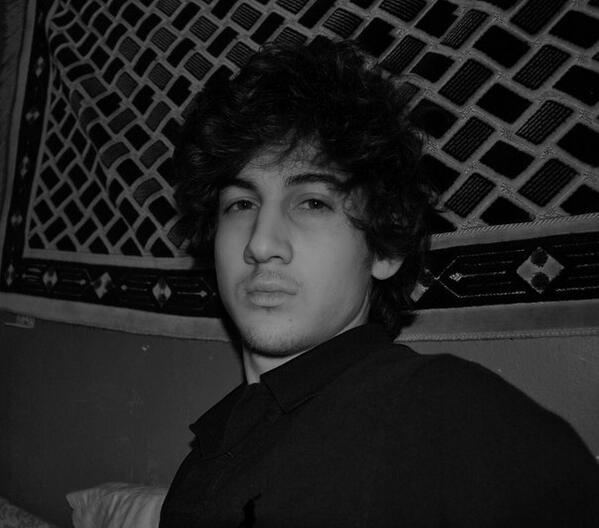 UPDATE 7:27am ET: NPR's Dina Temple-Raston reports that a third man has been arrested. Police say he is an accomplice, aren't calling him a suspect yet.
UPDATE 7:53am ET: As Watertown remains in near total lockdown, Boston's Regional Intelligence Center has released a flier shoing Tsarnaev warning that "HE MAY BE ARMED AND DANGEROUS."
UPDATE 11:00am ET: The Boston Globe reports that Dzhokhar Tsarnaev has abandoned his vehicle and is believed to be fleeing on foot.
UPDATE: 7:20pm ET: Just minutes after a press conference ended, announcing the end of the citizen lockdown, multiple shots were fired in Watertown. At 4:05pm, Boston Globe reported that the suspect is "pinned down," surrounded by police and SWAT teams. Local radio station WBZ confirmed that it's Tsarnaev, trapped underneath a wooden boat in a backyard. Police have reinstated the stay-inside order. Four children were successfully removed from the standoff.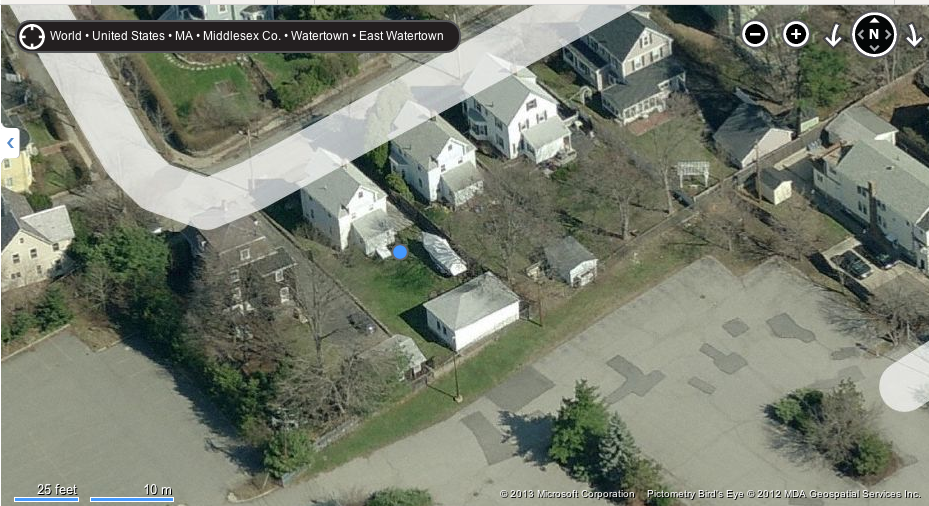 Photo via Micah Ghoulart/Twitter
Photo via FBI.gov