The Internet hivemind continued its vigilante search today for individuals who planted the two bombs at the Boston Marathon finish line. Some believe they may have actually found a culprit.
Users on 4chan's /b/, an imageboard known publicly for its disturbing humor and strange porn, have sifted through countless photo galleries and circled in on a man who went to the marathon's finish line wearing black pants, a black shirt, and a white hat. He brought a black backpack to the race—one 4channers believe looks an awful lot like backpack shown ripped to shreds by explosives in this Al Jazeera story—but, as one 4channer pointed out, the man's backpack seems to be missing in subsequent aerial shots taken of the finish line crowd.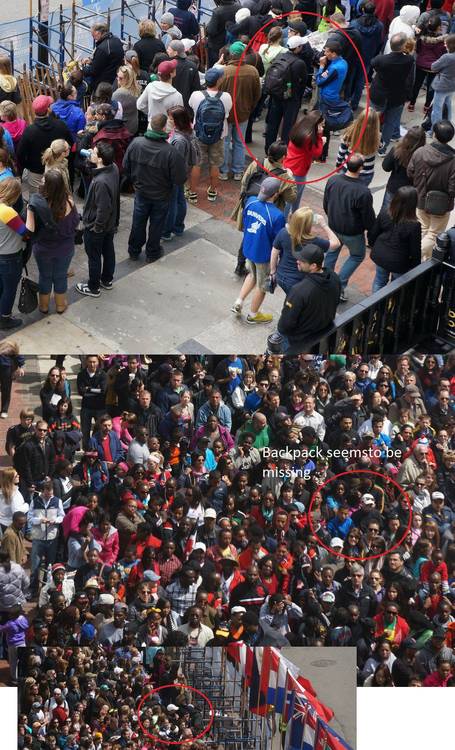 The image thread has become a popular talking point on Tumblr, where a post by Based Heisenberg, a user who claims to have been "in the 4chan thread when this discussion went down," has received more than 7,000 notes. 
Other 4channers have used that same Al Jazeera photo to implicate a taller man who wore a maroon T-shirt and blue jacket to the race on Monday. 
That individual carried a similarly black backpack to the race that day. The big difference: That backpack, like the one shown in the Al Jazeera photo, had a silver trim across both straps.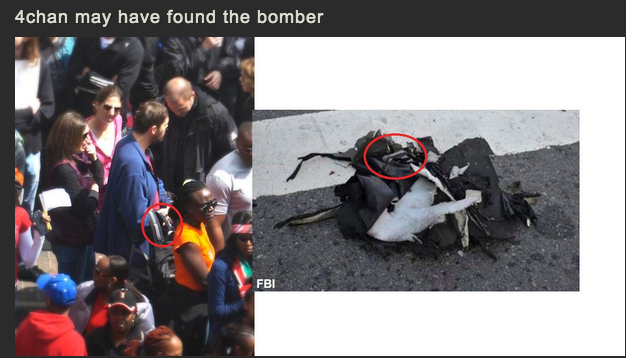 Those working behind the scenes have also opened up a Google Docs spreadsheet to keep track of all the ideas and information coming in from likeminded researchers. Separated into eight tabs, the spreadsheet breaks down recognized Bomb Info, Victim Info, Scene and Evidence Photos, Suspect Information, and four individuals in specific: Mr. Cardigan, the 4Chan Music Man, Bending Over guy, and the two aforementioned "Backpack Bros."

Not everyone has taken the search as seriously as the individuals operating that spreadsheet, however. Other 4Channers have mocked the search, bringing Where's Waldo? references into the picture and adding obsessive footnotes and citation marks to each image, many of which have nothing to do with the bombing whatsoever.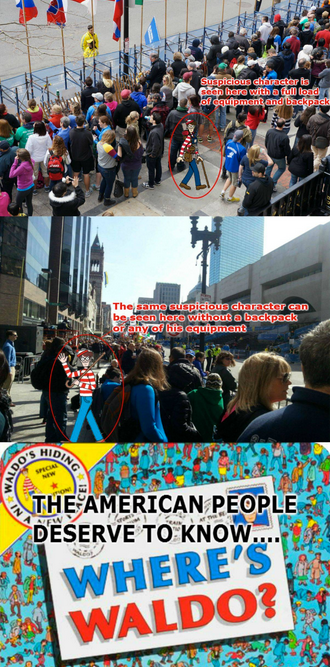 That sentiment, as well as the general notion of accusing potentially innocent race-goers, has irked a few involved with the search. One redditor was even moved to reference Richard Jewell, the security guard originally suspected of planting the bomb at the 1996 Olympic Games in Atlanta.
"This sub[reddit] is dedicated to pointing out random people in a crowd photograph and declaring your suspicions," the individual wrote in the Reddit subreddit r/findbostonbombers. "You're starting the trial by public aspect.
"Who knows? You may get lucky and your pet suspect turns out to be the bomber. But I've seen at least 10 people singled out, and not all of you are correct. You should be very very careful about picking and choosing who you think killed three people and wounded many more, based on where they were standing and if they were carrying a backpack or not."
Update: Meanwhile, on Reddit, the leader of the chaotic r/FindBostonBombers forum lashed out at the media for bringing innocent people into the spotlight. This redditor isn't entirely wrong—consider the New York Post's shameless misreporting—but he should know by now that, as Kevin Morris points out, there can be very real consequences when you post something to the Internet.
Photo via Imgur