Kellyanne Conway, counselor to the president, strongly defended President Donald Trump and his family on Hannity last night—but her choice of prop has sparked a quickly spreading meme.
Conway was asked by host Sean Hannity, a steadfast supporter of Trump, about the latest controversy surrounding Donald Trump Jr.'s meeting with a Russian lawyer promising damaging information on then-candidate Hillary Clinton last June.
After agreeing with Hannity on the unfairness of the media and thanking him for "talking about America so often," she brought out two pieces of white paper with the words "conclusion," "collusion," "illusion," and "delusion."
Here is what it looked like: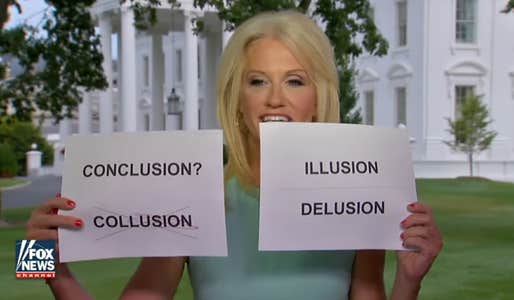 "This is to help all the people at home," Conway said, holding up the first sheet of paper. "What's the conclusion? Collusion? No. They don't have that yet."
Conway continued onto the next piece of paper, as Hannity chuckled.
"I see illusion and delusion," she said. "So just so we're clear everyone. Four words: conclusion, collusion, no. Illusion, delusion, yes. I just thought we'd have some fun with words."
Years from now, this will be the ironic opening footage in a documentary about Russiagate pic.twitter.com/JD3z15s6xH

— Allahpundit (@allahpundit) July 13, 2017
The internet had plenty of fun with words following the interview. Soon #KellyCards popped up on Twitter.
https://twitter.com/MelaniaLewensky/status/885464914424410112
https://twitter.com/TheNerdolicious/status/885352136288219136
Thank you @KellyannePolls for clearing up the middle of night tweeting by @realDonaldTrump. Putin is in a different time zone. #kellycards pic.twitter.com/1ligHK9wiC

— Kimberly Brusk (@peaceforus4ever) July 13, 2017
. @KellyannePolls #kellycards pic.twitter.com/Ew9cvv65oF

— Daniel Danger Marin (@dangermarin) July 13, 2017
"He's following a great leader" "He told me he even talks 2 Nixon's ghost"#kellycards pic.twitter.com/VP4r8l0FrX

— MsMannSeñoraHombre (@TeriannMann) July 13, 2017
Up after the break, Kellyanne with sports #KellyCards pic.twitter.com/h6ckndXMDV

— Rodger Dodger (@Rodg3rDodg3r) July 13, 2017
https://twitter.com/Redpainter1/status/885363884755963905
Ok. Had to play this new meme game before bed and here's my entry. 🐔🤣#KellysCards pic.twitter.com/IbFywgcWm2

— ❤️Love❤️ (@MelissaFazli) July 13, 2017
And of course, covfefe came up.
#kellycards pic.twitter.com/VRDUyoVn9J

— Blood Witch (@Gsushatesyou) July 13, 2017
Never use props