Alexandria Ocasio-Cortez, the Democratic socialist who won a primary in New York last week, clapped back against a conservative host who tried to smear her on Twitter by sharing a picture of her childhood home.
John Cardillo, who hosts "America Talks Live" on Newsmax, shared a Google Maps photo of a home in Yorktown Heights, a neighborhood in Westchester County, New York.  The right-wing host tried to discredit Ocasio-Cortez's message that has sparked enthusiasm among left-leaning voters.
"This is the Yorktown Heights (very nice area) home @Ocasio2018 grew up in before going off to Ivy League Brown University. A far cry from the Bronx hood upbringing she's selling," Cardillo wrote on Sunday morning.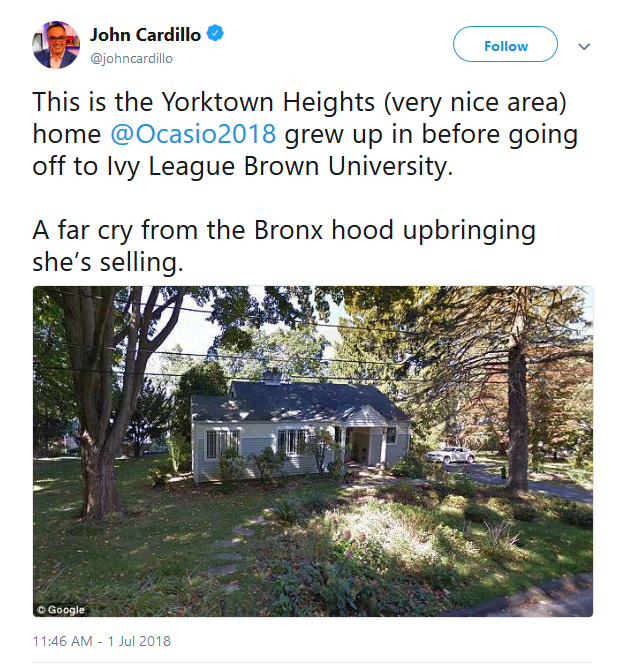 But Ocasio-Cortez shot back.
"Hey John, 1. I didn't go to Brown or the Ivy League. I went to BU. Try Google. 2. It is nice. Growing up, it was a good town for working people. My mom scrubbed toilets so I could live here & I grew up seeing how the zip code one is born in determines much of their opportunity," she wrote in a series of tweets. "3. Your attempt to strip me of my family, my story, my home, and my identity is exemplary of how scared you are of the power of all four of those things."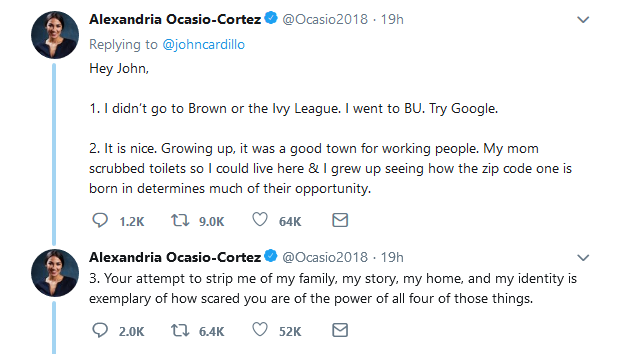 Ocasio-Cortez's response seemed to resonate with people on Twitter. As of Monday morning, Ocasio-Cortez's tweets had been liked more than 116,000 times compared to the 2,900 Cardillo's tweet received.
According to the Democratic congressional candidate's website, she attended a public school in Yorktown growing up because of the "state of the Bronx public schools in the late 80s and early 90s."
"Much of her life was defined by the 40 minute commute between school and her family in the Bronx," her website reads. "It was clear to her, even then, that the zip code a child was born in determined much of their destiny."
Cardillo's tweet wasn't the only right-leaning attempt to discredit Ocasio-Cortez in the wake of her upset win against Rep. Joe Crowley (D-N.Y.) last week.
A report from Page Six, a gossip column published by the New York Post, published an account of a former co-worker—who remained anonymous in the story—who says the now-Democratic congressional candidate didn't split tips properly one night in 2017 while she worked at a tequila bar in Manhattan.
The New York Post report was widely mocked.
https://twitter.com/davitydave/status/1013639254600060928
This is incredibly thorough investigative journalism right herehttps://t.co/Bw20qiO011

— RobΞn Farzad (@robenfarzad) July 2, 2018
lmao at this waitress complaining that when Ocasio-Cortez was bartending she did not tip her out enough. I've worked in a bar and typically it's the waitress that tips out the bartender, bar backs, bussers, and host. Not the other way around https://t.co/UQKRYZuBHl

— kelly bourdet (@kellybourdet) July 2, 2018
While the Post's article is essentially a non-story, it hasn't stopped conservative Twitter personalities from using it as an attempt to smear the new congressional candidate over her Democratic socialist credentials.
READ MORE: