The acronym BIPOC is popping up all over social media, and it's especially in use among young activists and academics. BIPOC stands for "Black, Indigenous and people of color." But why is that term used, and is it the best descriptor for groups of Black, Indigenous, and people of color?
What does BIPOC mean?
BIPOC is meant to be more inclusive than the popular term "people of color," or POC. The additional two letters highlight the specific experiences and struggles of Black and Indigenous people, which can go unacknowledged in conversations about race.
"A term like BIPOC is meant to … recognize that not all people of color have the same relationship to American white supremacy as each other and that even within our collective struggle, there's specific distinctions between us," Cate Young, a freelance writer from Trinidad and Tobago whose work focuses on the intersection of race, gender, and sexuality in media representation, told the Daily Dot.
(To clarify, no, BIPOC does not mean bisexual people of color—though it's easy to see how one would assume that at first glance.)

The term gained more traction in the last month as the nation reckoned with racist systems of power, and protests against police brutality and racism were held across the country.
"I'm not really sure what's behind the like, recent boom in the use of the term, my guess is that it's misguided white people," Young said. Previously, she'd only heard it in Indigenous circles.
When did BIPOC become mainstream?
Young first heard the term years before its online revival, but it remains unclear who first coined BIPOC and when. Google Trends data indicates the term was searched more in June than it had been in the past decade.
A collective called The BIPOC Project is one of the most popular search results connected to the term. Its Facebook page dates back to March 2018. When you look up BIPOC on the people's dictionary, Urban Dictionary, the first definition was posted in October 2018. In a social media deep-dive on the term, the earliest reference New York Times reporter Sandra E. Garcia found was a 2013 tweet.
The term obviously isn't new, but there's question about its lasting power in mainstream language and whether it's a better catch-all word for referring to everyone who's not white. For example, there are still white-presenting people, like white Latinx people, who in certain situations are designated POC.
While the term BIPOC has been heralded by some for giving important visibility to Black and Indigenous people, it also ends up lumping a lot of other groups together.
"So Asian Americans or Asians end up in the category of people of color. Latinxs end up in people of color, although there are, of course, Black Latinxs, so it reminds me that there are no perfect terms that describe the experiences of minoritized populations," said Kabria Baumgartner, a leading expert on African American women's education and an assistant professor of American studies at the University of New Hampshire. 
On Twitter, some people have made it a point to say they don't want to be referred to as a BIPOC.

Young said much of the pushback she's seen is misguided because it "frames the term itself as a problem rather than the usage of the term." The issue with terms like BIPOC and POC is that people, especially white people, use it as a way to avoid being specific about the groups they're referring to, Young explained.
"We should be encouraging people's efforts to be more specific and to drill down into what they mean when they speak about these things. Instead of deciding that we just don't like a bunch of letters and we're not going to use it," Young said. "We shouldn't limit our language usage because white people can't keep up."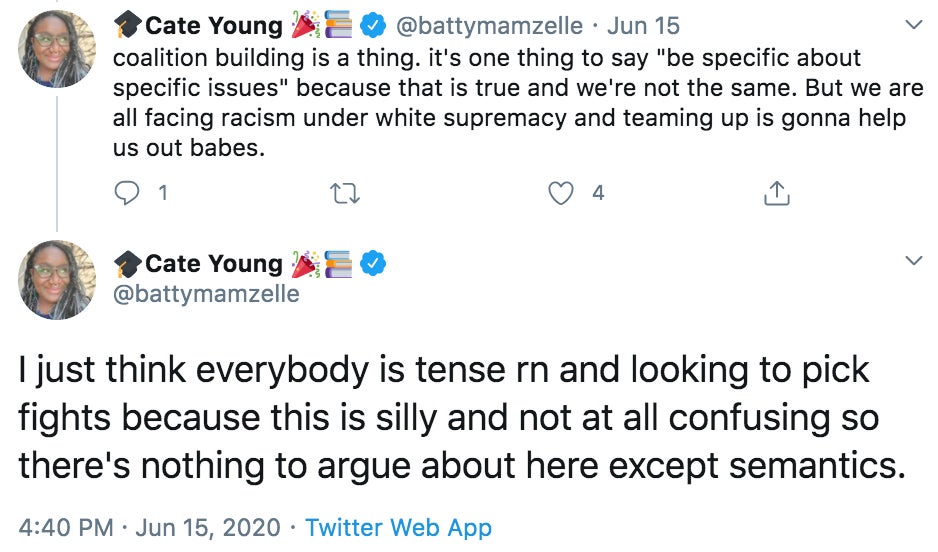 Should you use BIPOC?
While some experts said they can see a use for the term BIPOC to name collective struggles and oppressions, the best approach is to be as specific as possible in naming who you're talking about.
"Each of these racial groups have a different set of problems, a different set of issues, a different set of challenges," Baumgartner said. "Be specific about the group or groups that you are meaning to address, or meaning to discuss."
For example, Baumgartner's work mainly focuses on Black people. She specifically uses "African-American" when appropriate or "Black" when referring to the entire Black diaspora. (If you're curious about what terms to use when referring to Black people, here's a handy breakdown created by journalist Erin B. Logan.)
Bryan Pollard, associate director of the Native American Journalists Association (NAJA) and a citizen of the Cherokee Nation, echoed the call for specificity.
While he and other members of NAJA value that Indigenous people are embedded in the term BIPOC, NAJA advocates for Indigenous people to be identified by their cultural and political identity and the specific community they belong to rather than by a racial identifier.
"Native identity is very complicated. It's complex, and there's a lot of facets to it," Pollard said. "You need to describe them accurately and you need to recognize their sovereign status as citizens of a native nation. You always have to recognize their political status, ahead of, you know, what is their skin color."
But he's glad the acronym includes the word Indigenous over other qualifiers.
"American Indian and Native American were terms that were basically put on us. Whereas the term Indigenous is something that we can have more ownership of," Pollard said.
Though flawed, the term BIPOC does its job of addressing holes in our language and is broad enough that it can be globally adopted. Though flawed, the term BIPOC does its job of addressing holes in our language and is broad enough that it can be globally adopted. As Baumgartner pointed out, Black and Indigenous are not tied to a specific place and can travel in ways that African-American and Native American cannot. So is BIPOC here to stay?
"I find it very hard to find an argument for eradicating the term, which is what people seem to want, when all it is is the next logical extension of our existing collective term," Young said.
READ MORE:
Update 5:11pm CT, July 6: This article has been updated to clarify Kabria Baumgartner's quotes.
Editor's note: This article is regularly updated for relevance.