The internet is forever. However, that hasn't stopped multiple white people from attempting to "reinvent" themselves over the years with Instagram blackface.
On Twitter, two users and a specific call-out account have dubbed the phenomenon "n*****fishing," because these white (mostly) women have tricked their followers into thinking they're Black—even Black social media users themselves.
These white women have darkened their skin, gotten hair extensions to wear hair in styles of box braids or loose curls, and appear to have gotten body modifications such as lip fillers and hip implants, giving them the appearance of being Black women, or at least an ethnically ambiguous person of color. The most jarring thing about this phenomenon, however, is that the Instagram accounts of these women seem to have carried a relatively low profile for being dressed in blackface, flying under the radar and allowing these women to "pass" as Black without followers realizing that these women are white.
Wanna Thompson, a Toronto-based writer and storyteller, and Twitter user @yeahboutella, whose goes by the name Deja, first brought attention to the phenomenon on Nov. 6 when they tweeted about the use of blackface by white women on social media. Deja had shared a screenshot of an Instagram direct message from someone else stating that Swedish Instagram user and model Emma Hallberg is white. The message stated the whistleblower wanted to tell Deja in case she was "n*****fished like the rest of us."
In a followup tweet in which Deja shared photos of Hallberg appearing white, Deja questioned Hallberg's tan, lip fillers, and manipulated hair texture as a means of blackface, to exclusively post photos of her appearing to be a Black woman.
https://www.instagram.com/p/Bp73PuaBQnj/
Later that same day, Thompson, who had shared Deja's tweet about Hallberg, posted a callout to create a Twitter thread of—or at least acknowledge—this practice of white women changing their appearance by using blackface to look Black. Thompson called it "white girls cosplaying as Black women."
"Let's air them out because this is ALARMING," Thomspson tweeted.
Can we start a thread and post all of the white girls cosplaying as black women on Instagram? Let's air them out because this is ALARMING.

— Wanna (@WannasWorld) November 7, 2018
https://twitter.com/ERlTREAN/status/1059978121871527936
https://twitter.com/WannasWorld/status/1060189184202235905
As it turns out, it wasn't just Hallberg misleading followers into thinking she is a Black woman. Following Thompson and Deja's Twitter threads, an old Twitter account created in 2015 was repurposed to call out white Instagram models and social media influencers who have mislead audiences into thinking they're Black women.
The account, @n*****fished, was ran by a Black woman named Odinaka, and outed the white women in question, giving context to how these women have attempted to make themselves appear Black, starting off with Hallberg. Since its first posts emulating Thompson and Deja's tweets, the account amassed thousands of likes and retweets before being suspended on Friday, Nov. 9. (Thompson and Odinaka did not immediately respond to the Daily Dot's requests for comment.)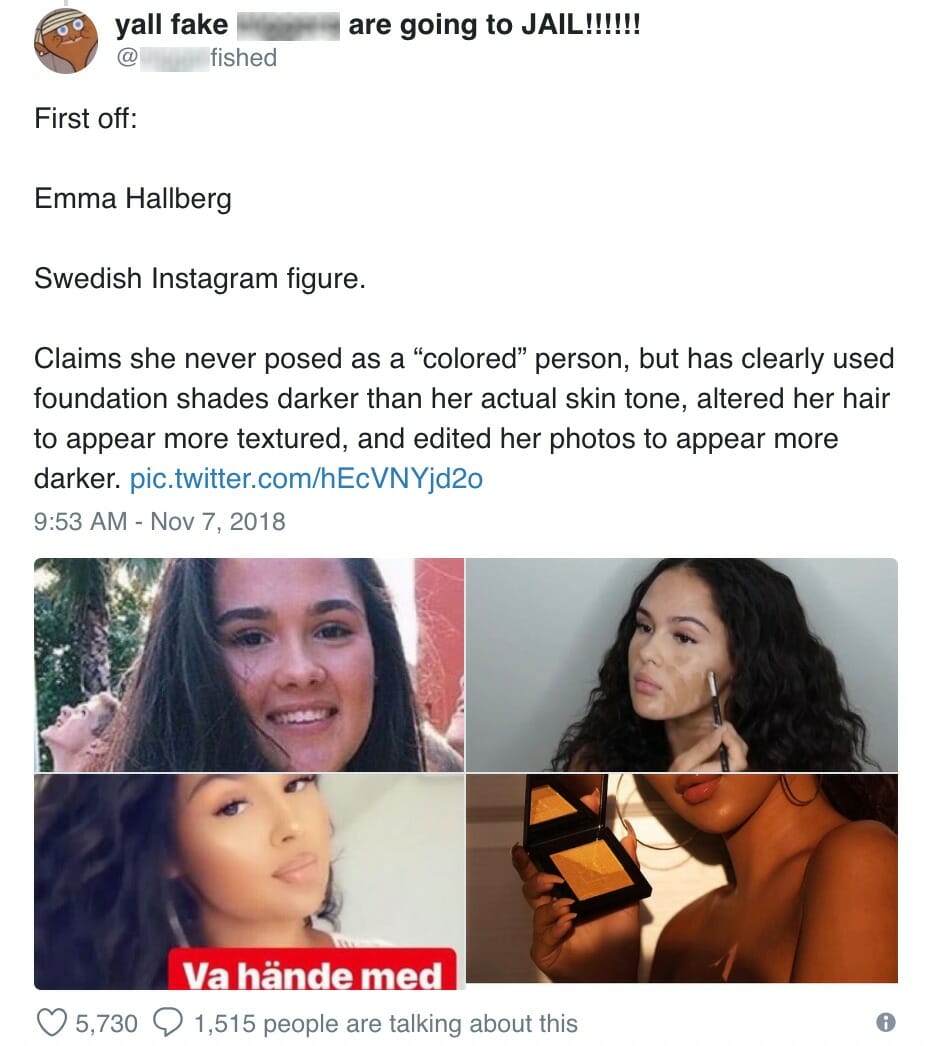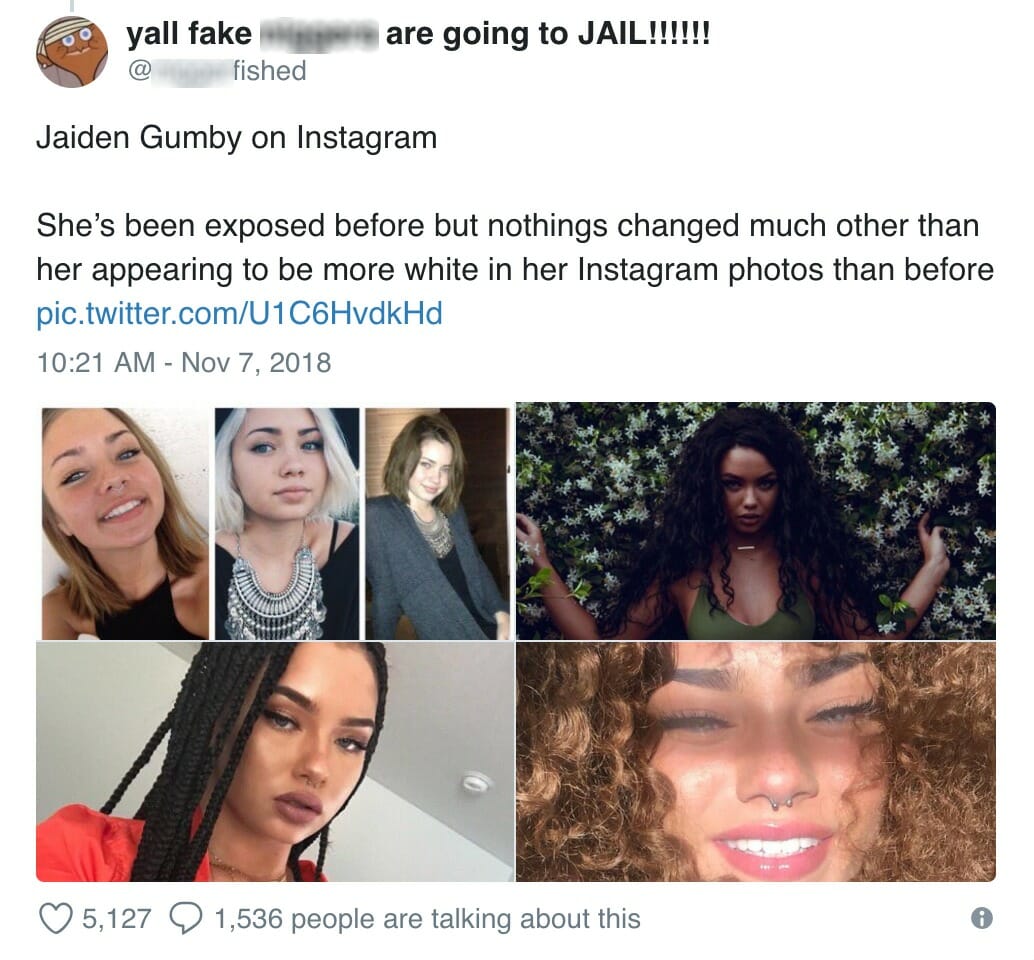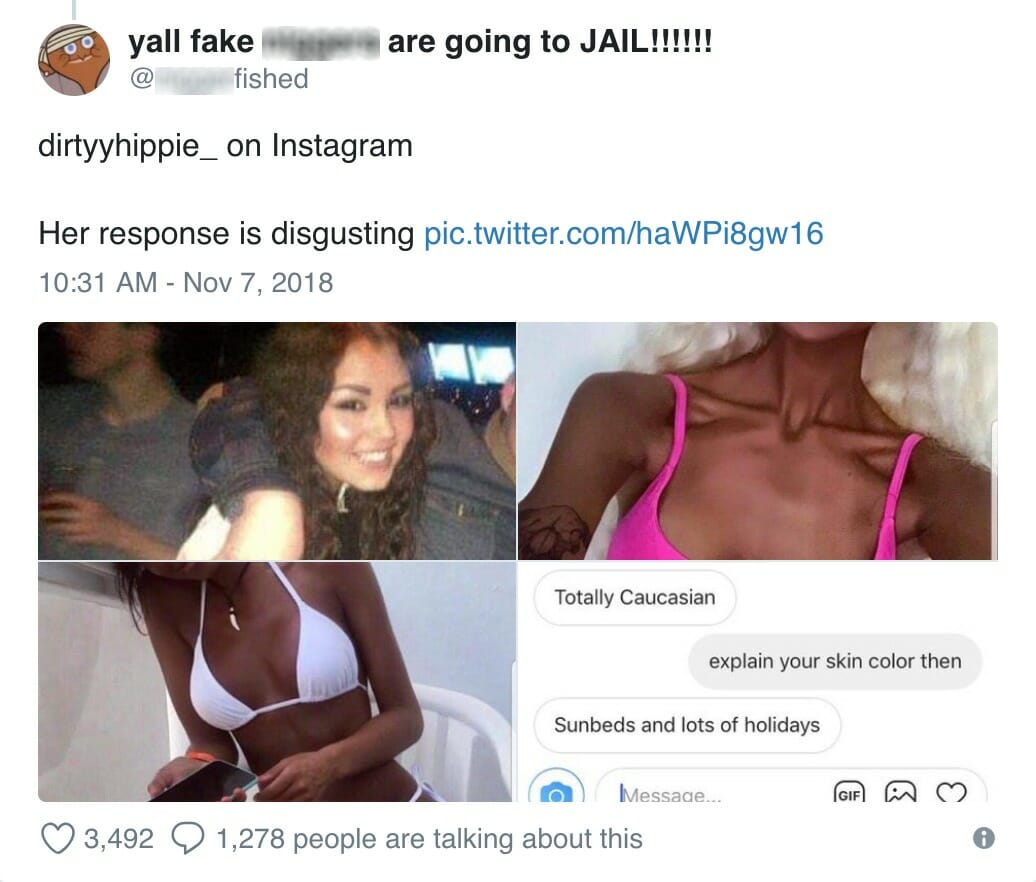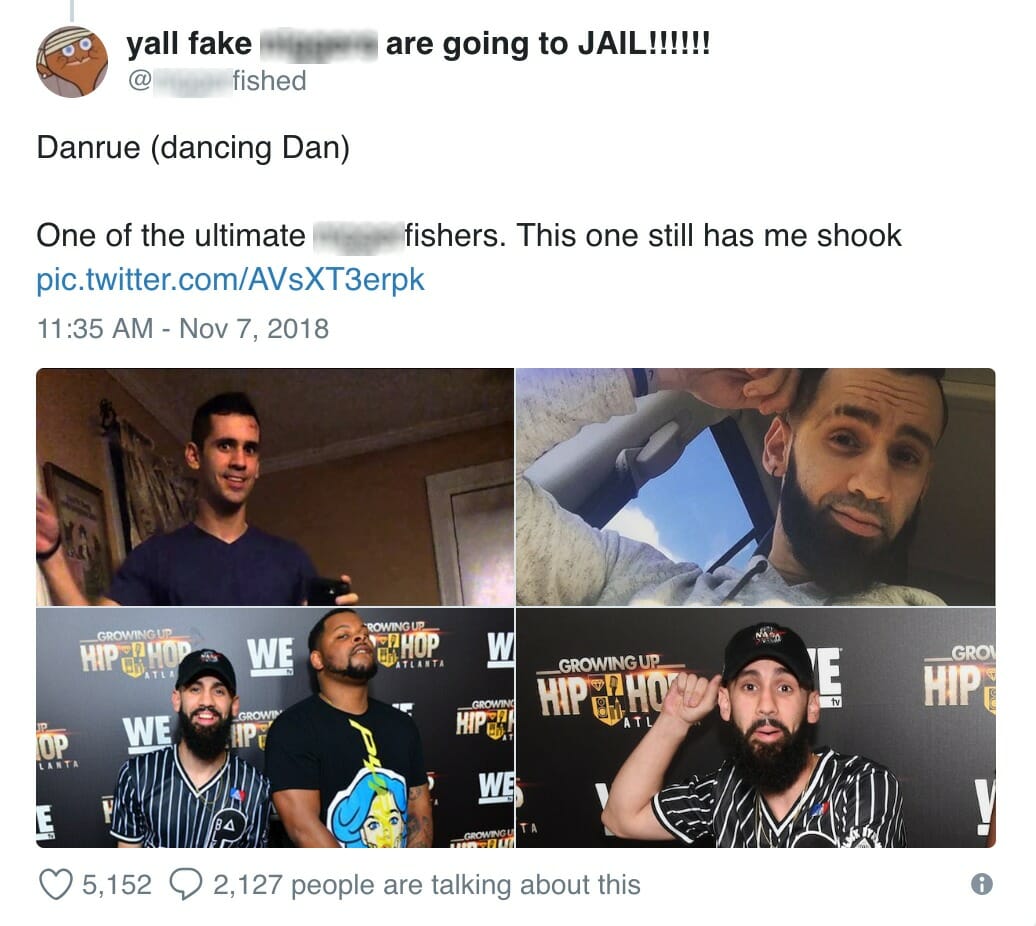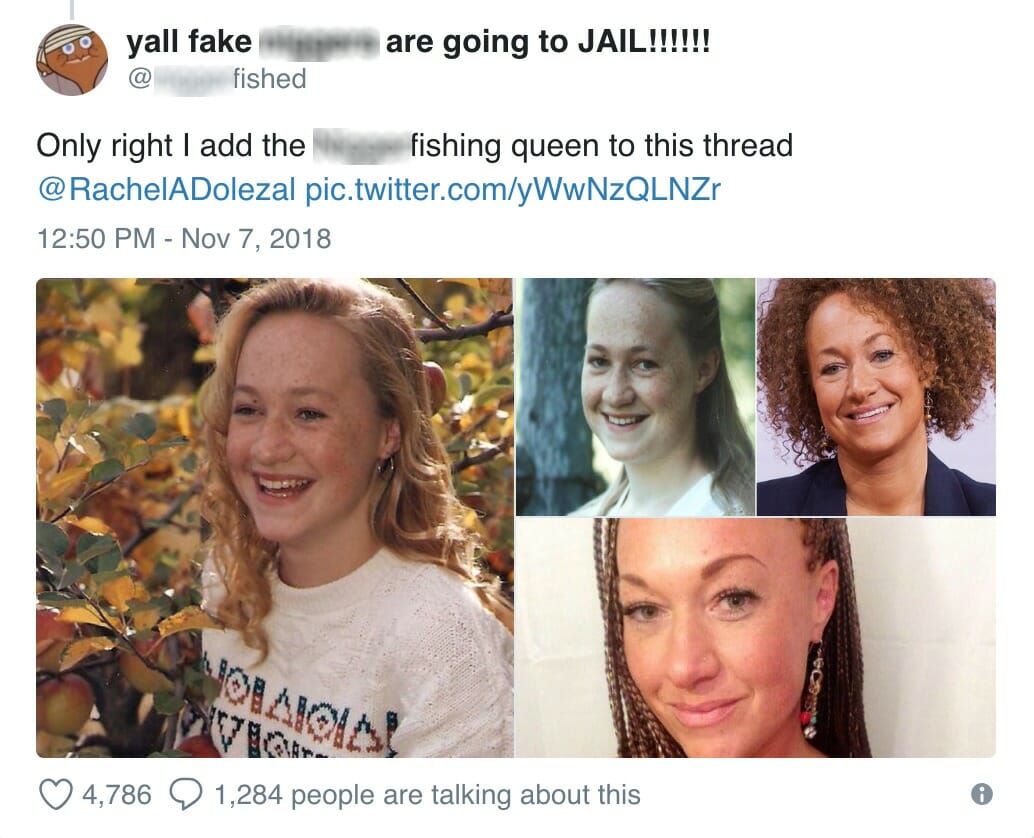 Despite the account's suspension, it did manage to call attention to several social media personalities who are white women dressing up in blackface. Jaiden Gumbayan, a beauty blogger, can be seen with blonde hair and light, white skin on her Instagram account, though her last name Gumbayan, is of Philippine descent. Another Instagrammer called out by the suspended account, Hannah Winifred Tittensor, appears to be white with blonde hair, and had messaged someone that she was "totally Caucasian." Tittensor's boyfriend, identified in other photos on her account, also appears to be deeply tanned, to the point of appearing Black.
https://www.instagram.com/p/-aUf0ktNBQ/
https://www.instagram.com/p/Bp5x2SiAQtn/
https://www.instagram.com/p/5MxAtUJc9d/
https://www.instagram.com/p/BOumfT-gxhi/
Calling out white women—and men—for doing this isn't just necessary to "expose" them, but to bring attention to the fact that even today, white people still think that commodifying the appearances of Black people is valuable, while they also benefit from racist systems that continue to oppress Black people and do nothing to help. These Instagrammers show that white people love to sample and repurpose Black art, people, and appearances, but their whiteness and light skin tone—particularly white women who look like lighter Black women, or have maintained their Eurocentric facial features—allows them to continue to benefit from white privilege and enjoy their modified bodies without facing racism themselves.
In other words, these social media influencers get to partake in appearing Black without facing the discrimination and racism that actual Black artists and social media influencers experience. White people receive praise for their blackface'd appearances, an attempt to look trendy and cool, perhaps even "talented" with hair and makeup; meanwhile, Black people are punished and discriminated against for wearing their hair naturally, or are bullied and called racist names for their facial features. Not to mention they are often forced to appeal to white, Eurocentric beauty standards in order to ward off discrimination and racism—and even that does nothing to stop such hate.
At the end of the day, white people who attempt to make their hair look textured and curly, get dark tans, wear the wrong shade of deep foundation, and do whatever else to live a life of social media minstrelsy, get to take that appearance off. They get to be white again, and enjoy the benefits of looking white and being aligned with whiteness. Looking Black isn't a social media strategy, nor a way to get more followers. But to these white people, fooling their followers into thinking they're Black is but a convenient game that comes with no penalty.

Update 8:10am CT, Nov. 14: Speaking to BuzzFeed News, Hallberg denied having used self-tanners or spray tans, and said she gets a "deep tan naturally from the sun." She also said she never "claimed or tried to be black or anything else," and that she doesn't see herself as "anything else than white." She pointed to photos from 2017 in which she claimed she had the same tan as she does now, and stated that the only difference was that she posted fewer photos onto Instagram that summer because she had fewer followers.
She said she was "distressed and confused" over the accusations of attempting to appear Black, and that her only intention is to showcase her passions for fashion and makeup.
"It made me sad that some of my natural features are hurting and upsetting people," Hallberg told BuzzFeed News. "It also made me upset and scared that I can't look the way I look naturally, without receiving false accusations, hate, and threats."