Nihad Awad doesn't even find the memes frustrating anymore; he just finds it funny. He's reviewing a tweet by user Michelle Maier (@mmba23baer). 
"I believe we are being conditioned for something," the tweet says, along with four photos dated 2020, 2021, 2022, and 2023. 
The first photo shows a woman in a face mask, the second photo shows another woman in a slightly bigger face mask, the third shows a woman in a mask covering her hair and her neck, and the fourth lands on a woman with her face, forehead, neck covered. She appears to be wearing a burqa, a traditional Islamic covering worn by many Muslim women. 
The tweet, posted on June 20 and since removed, was screenshot and shared by numerous other users condemning its messaging. Twitter confirmed with the Daily Dot that the user removed their account themselves. (Based on its username and content, the account may have been a bot.)
"Oops! They discovered our secret plan to take over the United States, my God we have to go to plan B," Awad, executive director and co-founder of the Council on American-Islamic Relations (CAIR), said sarcastically as he reviewed the photo during an interview with the Daily Dot. 
"That's how ridiculous these people are," he added. "You can say ignorance or phobia. Exploiting ignorance and phobia to some people [is] business, to some people it's pure ignorance."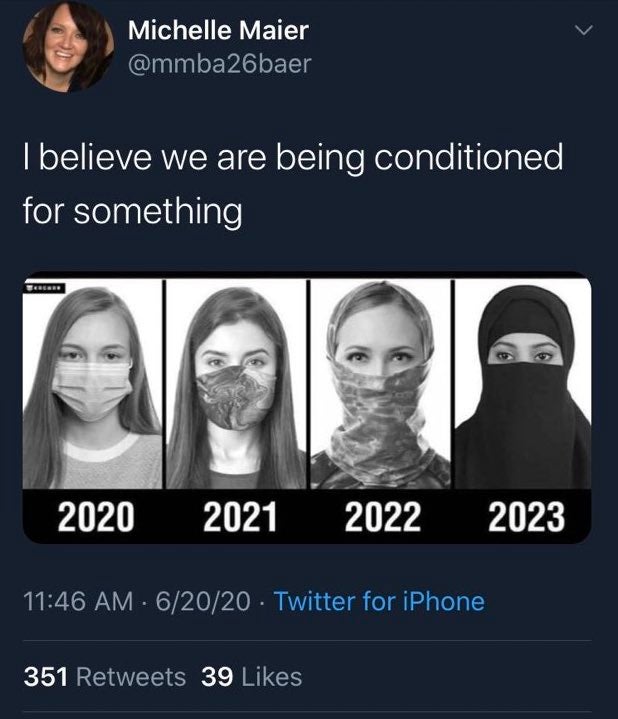 The tweet wasn't the first post to use the coronavirus pandemic to perpetuate Islamophobic content online. Since the beginning days of the pandemic and the subsequent lockdown, many have shared similar memes claiming that practices recommended by the Center for Disease Control and Prevention (CDC) are a conspiracy to transition the U.S. to Sharia, or Islamic, law. 
On Tuesday, Sebastian Gorka, President Donald Trump's former deputy assistant, referred to "COVID-mosques" on his radio show. A caller on the show likened the mask to a burqa, calling it an act of "submission and surrender" to "ideologies of Marx, Mao, and Mohammed."
On May 9, a meme shared by Facebook user Vicki Kirby had a message laden with panic about a potential Islamic takeover of the world.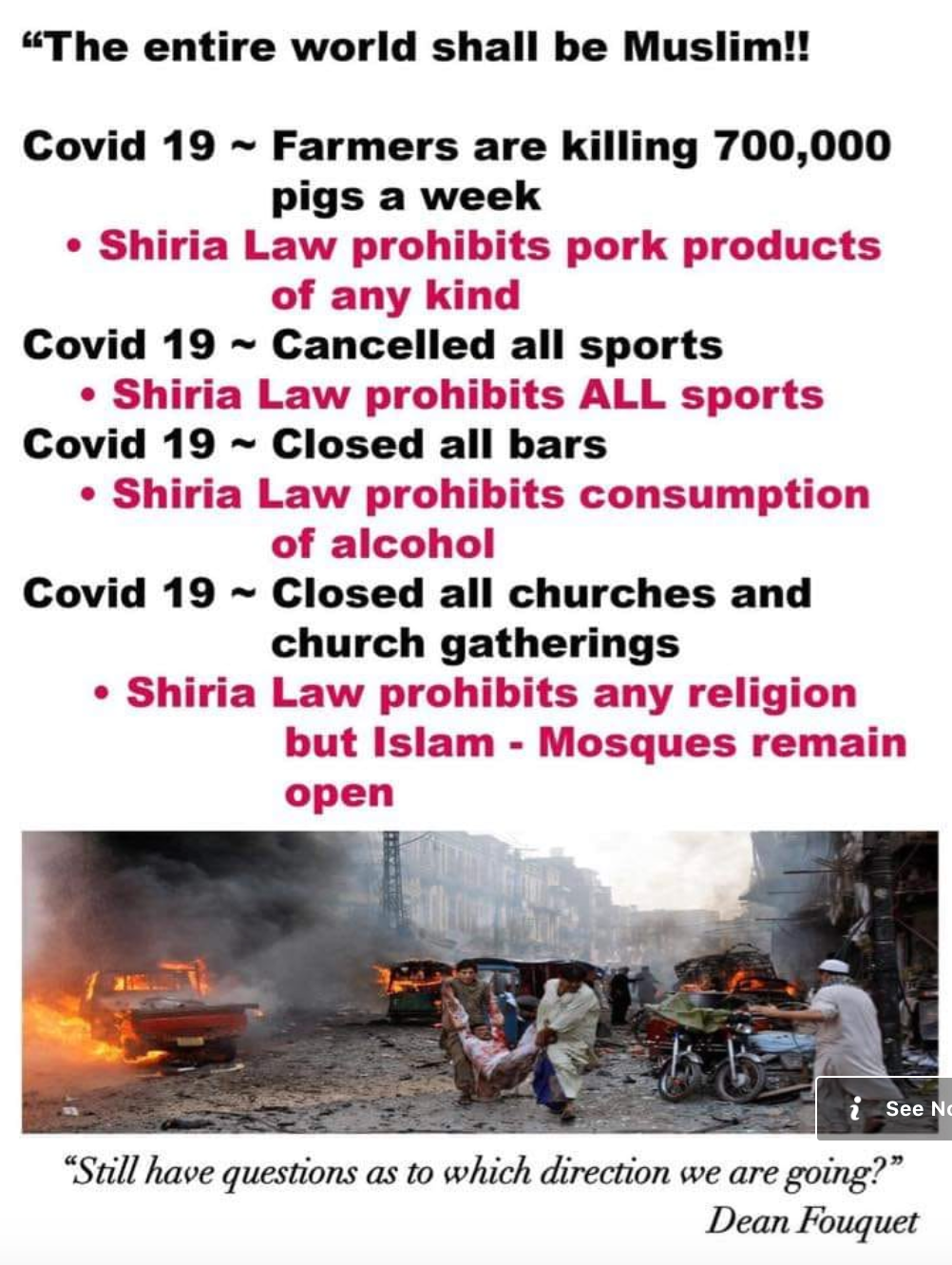 "The entire world shall be Muslim!!" the meme says. It includes a photo of what appears to be an aftermath of a bombing: Vehicles are up in flames, two people carry a corpse, and one man wears Islamic garb.  
The meme claims 700,000 pigs have been killed by farmers and cites the cancellation of sporting events and closure of churches and bars, claiming that these are all banned in Islam.  
The information shared here is, at best, cherrypicked: Pigs aren't the only farm animals being culled. Owing to shutdowns of slaughterhouses amid to the pandemic, hens and pigs have both been killed in ways experts say are "inhumane." 
Sporting events aren't the only ones that are canceled. Religious institutions, including churches, have closed, and South Korea recorded one of its biggest outbreaks following a religious gathering during the pandemic. Other religious institutions, including mosques and temples, have been closed due to similar concerns. 
Facebook initially labeled the photo "false information," but it remained online for days. After the Daily Dot requested information about the photo, Facebook removed the user's post, citing violation of its policy against hate speech.
Scapegoat for hate
Awad and other experts say it doesn't matter whether or not the claims made in racist memes are factually correct because by the time they reach the audience, the main work of spreading hate is done. 
Henry Fernandez, a senior fellow at the Center for American Progress Action Fund, said these messages are often shared in a light-hearted way, through a meme or "as a joke," because they tend to have the biggest impact without holding the user accountable. 
"The idea of dehumanizing people through a joke is not new, but … that's an approach that's used consistently on social media by racist hate groups," Fernandez told the Daily Dot. "The reason is it allows for a more rapid spread: by giving the people who are sharing it the ability to say: 'I was just making a joke.'" 
Meanwhile, Awad said, a lot of the hateful narrative has been perpetuated through Trump's commentary. While his messaging is nothing new, it's adding layers to the already-existing hate under the pandemic.  
"Today Muslims are being scapegoated the same way we see people of color and other minorities have been at the receiving end of hate, ignorance and dirty politics," he said, adding that the listeners also have a responsibility to unlearn their hatred and educate themselves.
"Those who allow themselves to continue to be ignorant and hateful have been just using the pandemic to blame others," he said.
How hate spreads in a crisis
Fernandez, who also co-chairs Change the Terms, a coalition of civil rights and technology watchdogs that monitors hate online, says it's common for haters to use a crisis like the pandemic to forward their messaging.
It's not by chance. Fernandez points out that haters often use these moments to capitalize on algorithms of hateful content online while making sure their messaging stays relevant to what's on the news to draw attention.
"So when COVID-19 happened, it was clearly an opportunity for hate groups and hateful actors online to target Asian-Americans, target Muslims, [and] the people they would've been targeting anyway [but with] new messaging to do that," Fernandez said.
Fernandez said these bad-faith actors are well-versed in technology and quick to adapt to new ones. He referred to the hate-speech attacks on Zoom that increased amid coronavirus lockdowns. As organizations transitioned to remote work on Zoom, racists hacked calls to target people of color—especially Black people—and women.
In some ways, a crisis like the global pandemic merely gives racists just another portal to carry forward their messaging.
"Whenever we have any national crisis, those who want to exploit fear, they resort to their sophisticated PR machinery and unfortunately they have a big base that consumes their hate and it impacts so many lives," Awad said, adding that CAIR has documented similar behavior during economic crises or issues of national security.
Hate that lives on
Despite Facebook's "false" labels and Twitter's efforts to delete offensive memes, people still share them.
As of the time of publication, the Facebook meme was still on the platform in other users' posts and had received tons of shares, including in at least one group that calls Black Lives Matter a "terrorist group" and condones violence on protesters by cops. 
One person who shared the meme received a comment that said, "What's false?… they have been trying for decades. it's their plan for world dominance. it is so written in their Koran."
Another person shared the photo with the comment, "FB fact checkers think this is false. Read the Koran and other Islamic scripts to learn the very real Muslim strategy. This is true."
"Obviously [Trump] has a base who does not think that they have to fact-check him or challenge him because he is speaking to them," Awad said.
Facebook told the Daily Dot that it works with more than 70 third-party, fact-checking organizations to address the issue of misinformation. Once a post is identified as "false," it's given a warning label, and the post's distribution is limited.
Facebook did not clarify how moderators decide whether to label posts "false" or remove them.
But Awad remains hopeful about pushing back against the Islamophobic memes.
"Our communities [are] becoming more active and our friendship circle is expanding," he said, "and we're going to push back against this hate industry [by] telling our own story and empowering the Muslim community to tell their own story."
READ MORE: