A TikToker who claims he did security for one of Taylor Swift's events is accusing the star of having discriminatory dress and grooming standards for workers.
"So fun fact: I actually did security for Taylor Swift. She hates Black people, like, without a doubt. All of her employees are required to have no dreads; no headwear, even for religious purposes; no braids; no beards, even if they're lined up and everything," TikToker @public_villain, who boasts over 4,600 followers, says in the viral video.
The TikToker then points to how Swift remained largely silent on political issues up until 2018. "So, yeah, that's my two cents about Tay Tay—complete racist. But she does make good music. There's no doubting that. She's just a shitty person," he continues.
The TikToker later clarified he got the gig through a third party, the Global Security Group. The event he helped provide security for, he says, was held at the Rose Bowl in Pasadena, California. He adds that the paperwork they had to review prior to working the event detailed dress code and grooming requirements—which allegedly included "no beards, no religious headwear." In the end, he says his boss with the Global Security Group didn't make them "do none of this shit" but that Swift allegedly never hired the company again.
The video has been viewed over 1.7 million times and liked over 150,000 times since being posted on Sunday. Viewers are sounding off in the comments on whether they believe @public_villain or not. "I can believe it and I'm honestly not surprised about it," one viewer said.
"We are going to need some proof," another, more-skeptical TikToker wrote.
Her fans are also rushing to her defense. "As a Black Swiftie, you couldn't be more wrong," one fan wrote.
In response to the skeptics, @public_villain posted a screenshot of a text message from a Global Security Group representative who asked if he was available to work the event, which ran from May 18 to 19. The TikToker said he was available to work and then questioned the alleged grooming requirements two days later.
"Here's your proof. I found my text messages from my employer. You are welcome," he says. The text messages have a 2018 timestamp on them. The TikToker also posted a video featuring his security guard license, which was issued by the Bureau of Security and Investigative Services, to prove his line of work as a security guard.
As for the contract, the TikToker claims he only saves contracts for jobs he gets injured on. "I didn't think twice of saving that contract, but I guess I should have," he says. He then urges those seeking proof to get a guard card themselves and "simply apply for any position with Taylor Swift." "You're gonna find out right away … because it's on the application process, and whatever contracts you sign, she'll say, like, 'no religious headwear, no braids, no beards,' none of that stuff—typically attributes that are found within Black folks and people of color," he alleges.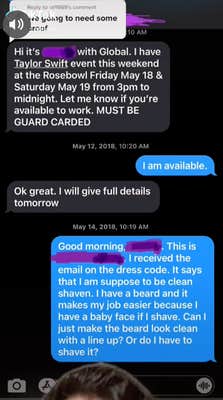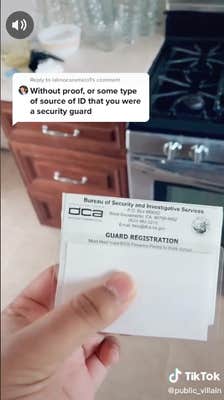 Swift did perform at the Rose Bowl on May 18 and 19 in 2018 for her Reputation Stadium Tour, according to a local news report recapping the first concert. However, Swift's team categorically denied the TikToker's allegation to the Daily Dot and said he has never been hired as one of Swift's personal security personnel.
The allegation was made in response to a tweet comparing how Swift allegedly treats her Black fans to her white ones. The tweet contained several images, one of which features Swift with a Black fan. Swift is barely touching the young girl, a stark contrast to how she is embracing her white fans featured in the other photos included in the tweet.
Only, the viral photo was supposedly taken out of context. Another photo, which was apparently taken right after the first, shows Swift with her full hand on the fan. The TikToker even later addressed how the photo is misleading, calling it "false." "My video is not related to that picture in any way, but I do apologize ahead, because I can see how it can give more of a manipulating kind of story, and I don't want to give that vibe," he says.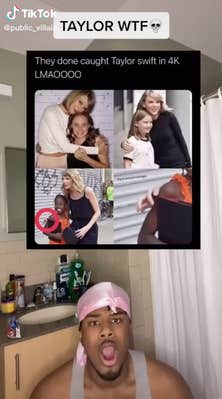 While some think his inclusion of the image discredits the TikToker's allegation, others are expressing support for him. "Still doesn't take away from your experience if it's true which I'm not doubting," one said.
The Daily Dot has reached out to @public_villain.
This story has been updated.
Must-reads on the Daily Dot